Stress and the city
- Michael Kissinger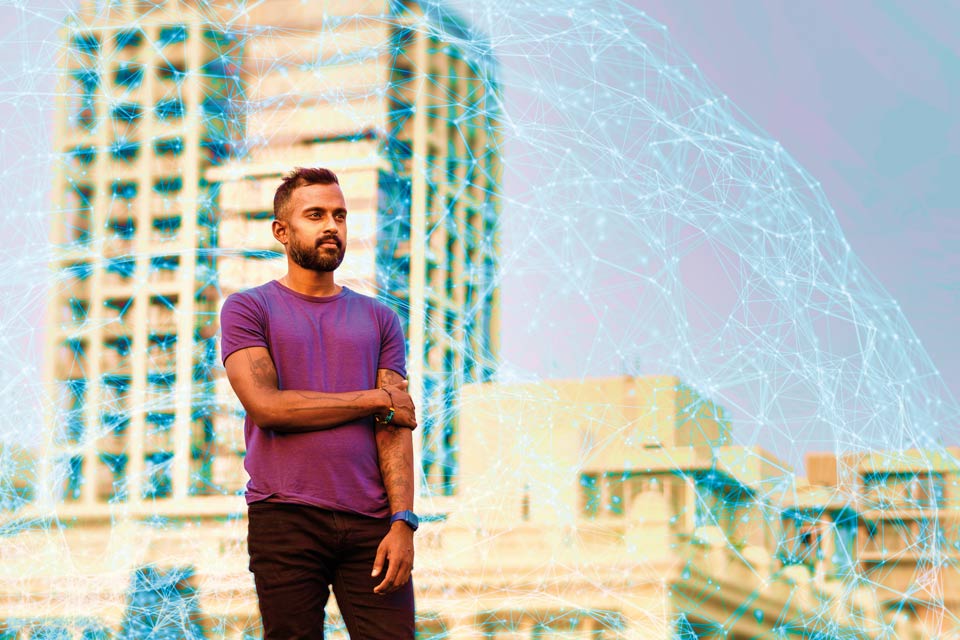 UVic grad and cognitive neuroscientist Robin Mazumder studies how urban design affects our mental well-being.
In his ode to his beloved New York, New York, there's a reason Frank Sinatra sings "If I can make it there, I'll make it anywhere." Living in a city, especially one that "never sleeps," can be tough. Not just financially and physically, but psychologically. For all the perks cities have to offer—whether it's proximity to shopping, public transit, bustling nightlife or an abundance of by-the-slice pizza—they don't fare nearly as well when it comes to the mental health of their residents. According to the Centre for Urban Design and Mental Health in London, UK, city dwellers have a 40 per cent higher risk of depression and over 20 per cent more anxiety than their rural counterparts. And cities are growing. Currently, 50 per cent of the world's population lives in urban areas and that number is expected to increase to 68 per cent by 2050. 
UVic alumnus Robin Mazumder (BSc '08) thinks a lot about this busy intersection of city living and mental health. The cognitive neuroscientist studies the psychological impact of urban design and says, as populations grow, so does the need for better planned cities. 
He says his interest in the subject grew out of his clinical work as an occupational therapist while living in Edmonton and Toronto. "I worked with people in urban environments and wondered how that stress affected them, because I certainly felt that myself." 
Mazumder recalls a time when he briefly lived in a Toronto high-rise. It was on the corner of Bloor and Yonge, atop a Marriott hotel that included a level designated for apartments. And he hated it. Sure, it was cool to have a nice view of the city, he says, but it was also isolating. Interactions with his neighbours, let alone sightings of them, were few and far between. Plus it was cold. "Not just from the emotion of the landscape," Mazumder says, "but also [these buildings] create wind tunnels. So you get out of your apartment; you get knocked over. It's just brutal." 
Mazumder's old high-rise apartment clearly cast a long shadow while he completed his PhD in psychology with a focus on cognitive neuroscience at the University of Waterloo. His dissertation was titled "The downside of building up: An exploration of the stress impacts of tall buildings and urban centres" and has since been published in the journal Cities & Health.
I looked at low-rise buildings versus tall buildings, and how these sorts of architectural pressures might have an impact on our baseline stress level, which ultimately affects our body, but also our relationships with people, because if we're irritated, it's less likely we'll be nice to each other."

—Robin Mazumder
For his research, participants were brought into an urban environment, in the real world, but also via virtual reality, through the use of 360-degree videos of cityscapes. In Study 1, 16 participants were taken to two locations in Central London, one where they were exposed to a high-rise building, and the other where they were exposed to a low-rise building. In Study 2, 121 participants were equipped with VR headsets and exposed to 360-degree video and audio of the same low-rise and high-rise buildings from Study 1. Participants were given a Self-Assessment Manikin (SAM)—a non-verbal pictorial assessment technique that measures a person's emotional reaction to a wide variety of stimuli—as well as asked a series of questions relating to the buildings they were positioned to face. They also had their electrodermal activity (emotional sweating) measured by a wearable device called an Empatica E4, which resembles a Fitbit, and tracks the rate of sweat-gland response.
"Electrodermal activity has a long history of use to determine an individual's arousal state and can provide fascinating insights into understanding how something looks influences how someone feels," Mazumder says.
What he found was that tall buildings make people uncomfortable when they're surrounded by them. Conversely, people have less of a stress response when they're in environments that are built at what's considered "human scale," or the European model where buildings tend to top out at five storeys. 
So how do you design happier cities when the quick-fix is to build higher and "densify" in order to accommodate growing populations? Mazumder says it's a conversation with many moving parts—and levels of government—but it needs to start with not making cars the centre of a city's universe. 
I think that the noise pollution, that threat to safety, the fact that we need people wearing fluorescent suits with flashing lights to cross children across the street, is something that we should pay a bit more attention to fundamentally."

—Robin Mazumder
"At the same time, some people need cars because their work requires it, or they have a disability, or they can't afford to live downtown. So it's a nuanced conversation about how we build our cities in ways to help people move around that's good for our mental health, physical health, but also our environment."
Mazumder points to the "15-minute city," a concept recently championed by Paris mayor Anne Hidalgo and French-Colombian scientist Carlos Moreno, in which residents of a city are able get most of their needs met within a short walk, bike or transit ride from their homes. The underlying thrust of the 15- minute city, which owes much to Jane Jacobs' landmark 1961 book, The Death and Life of Great American Cities, is that getting people out of their cars and engaging with their urban environment on a more local level fosters community and, in turn, healthier citizens.  
"When you consider a city that was built around the automobile, which is like post-industrial cities in Canada, they have big roads and population densities that are quite low," Mazumder says. "And when you have that, you have environments which are kind of hostile to community when you think about social connection as being perhaps one of the most important needs that we have."
For his own peace of mind, Mazumder says he escapes the stressors of city life by seeking solace in parks and other green spaces, away from crowds and vehicles. He practises and teaches yoga, and is contributing a chapter to a textbook on "the intersection of yoga, urban design and healthy cities." He's also working on a solo book project that "explores what transgenerational trauma looks like within the context of the urban environment, and the neuroscience of epigenetics, or how where we live shapes our bodies and our psychologies." 
Despite his fraught relationship with cities, Mazumder maintains there's still plenty to appreciate and, more importantly, strive for. He says cities are "where human potential is on display." And when we get them right, they can be vibrant ecosystems filled with public art, architecture that doesn't feel oppressive, cycling infrastructure, accessible green space for all and affordable housing. 
"Cities are where we come together to create beautiful things, and a future that considers the people who will live in that future. Seeing this expression of human potential gives me tremendous hope and makes me smile on days where I wake up with a heaviness," Mazumder says. 
"When we build our cities with intention, with a reverence for and connection to nature, and a commitment to ensuring everyone experiences the beauty of the city on their terms and safely, we can live in cities that support well-being and equity and hopefully move towards a meaningful sense of reconciliation, with ourselves, and with each other. It's an aspiration."
Photos
In this story
Keywords: alumni, neuroscience, brain, psychology
People: Robin Mazumder
Publication: The Torch