Staging Equality, representing change
- John Threlfall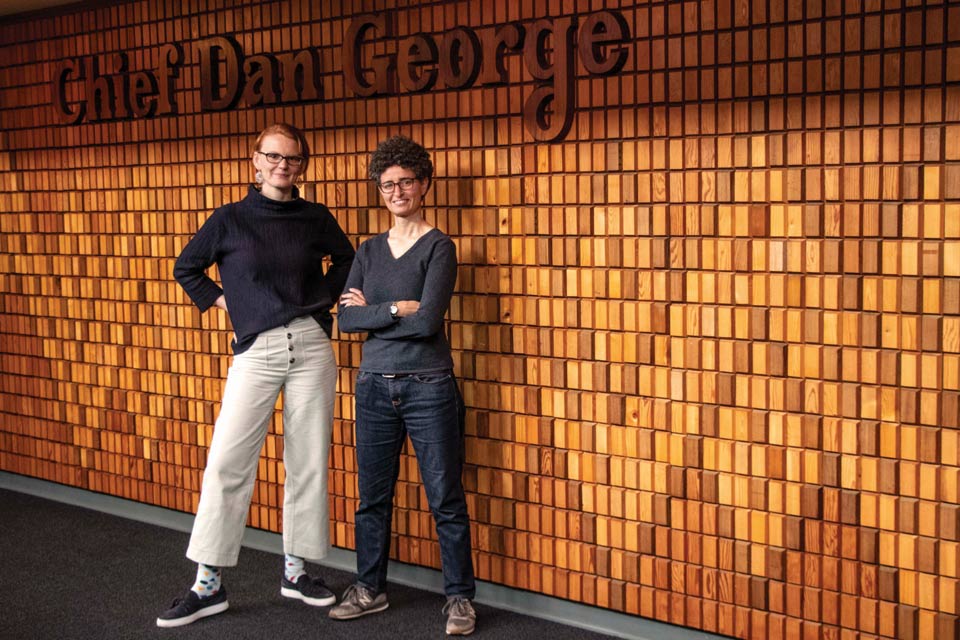 If you've ever attended a play in the Phoenix Building, odds are good you've been inside the Chief Dan George Theatre. Named for the actor and chief of the Tsleil-Waututh Nation whose talent took him beyond North Vancouver to become an Oscar-nominated actor, the theatre also features a striking Coast Salish-inspired wooden-inlay wall panel—both signs of Indigenous respect literally built into the building when it opened in 1981. 
Yet, as professor Yasmine Kandil asked when she hosted the President's Town Hall in the Chief Dan George Theatre in October, has the department done enough to live up to those respectful intentions? Especially when taking into account who has historically come to—and been represented in—that space?  
Enter Staging Equality: a vision of how theatre can address issues of race, diversity and inclusion by building relationships based on trust and respect. 
A collaborative and creative research project
Created out of the Strategic Framework Impact Fund, Staging Equality is a three-year collaborative and creative research project devised by Kandil and fellow theatre professor Sasha Kovacs. 
"Theatre is a tricky space to be contending with stories of racism and to try to work in an anti-racist methodology and decolonize theatre practices," says Kovacs. "These are really challenging things to do."
Currently working with an interdisciplinary team of students, faculty and community partners on a series of workshops and staged readings, Kandil and Kovacs hope Staging Equality will cultivate an environment that respects the legacy of Chief Dan George. 
"It's welcoming through building relationships," explains Kovacs. "What context or work do we need to do before our new partners and audiences enter this space?" 
Now in the second of a three-year framework, Staging Equality is built on a year-long foundation of consulting, questioning, listening and planning alongside their community and campus partners. One early—but essential—shift involved abandoning the standard model of working with out-of-town guests and professionals, and instead focusing on Indigenous and racialized artists who are already doing the work right here in Victoria. 
That led Kandil and Kovacs to local playwright Lina de Guevara, who founded Puente Theatre back in 1988 to showcase the experiences of immigrants and diverse minorities. In September, Staging Equality presented a staged reading of de Guevara's play Journey to Mapu in the Chief Dan George Theatre, which featured a 15-person cast of almost entirely people of colour. 
Staging Kamloopa
Staging Equality's next project is similarly local: a staged reading of the Governor General's Literary Award-winning play Kamloopa: An Indigenous Matriarch Story, written by Kim Senklip Harvey of the Syilx and Tsilhqot'in Nations. Harvey became the first Indigenous woman to ever win that award, announced the same week she graduated with her MFA from the UVic Department of Writing.  
Now a PhD candidate with UVic Law, Harvey will be directing the Nov. 20 Staging Equality reading of her own play, featuring a mixed cast of Indigenous students, alumni and community members. "With the readings, we're also really trying to foster connections between current BIPOC students and BIPOC alumni and artists," says Kandil. 
Not only will this mark the first time Kamloopa has been performed locally in any format, but Harvey's participation also represents a strong measure of confidence in Staging Equality. "It really has been about collaboration, about building those relationships across campus and in the community," says Kovacs. 
Hope for change

 
Kandil also sees Staging Equality as a way of offering hope to students and partners, both current and future. "Racialized students do not always see themselves represented in curriculum
. . . so when they work alongside practicing artists, they can have the hope and see the opportunity to practice their craft after they graduate."
While they are only at the halfway point, Kovacs feels the project has already made an impact on her personally and professionally. "As a white woman, this has been hugely transformative: not only on how I do research but also in the way I make theatre and teach students," she says. "And, as a department that has a theatre company operating within it, the hope is that the work we're doing on this project can be of value and of use for other departments across Canada." 
For her part, Kandil is pleased that Staging Equality has become a sign of positive change in Victoria's theatre community. 
"It's already starting to create a buzz and cultivate the kinds of relationships that will lead to projects beyond this," she says. "If you show trust and you show respect, people come willingly and want to stay and build more relationships through the arts. That's what's been moving for me." 
The free public performance of
Kamloopa is at 8 p.m. Saturday, Nov. 20, in the Chief Dan George Theatre (reservations required). 
Photos
In this story
Keywords: theatre, diversity, equity, decolonization
People: Yasmine Kandil, Sasha Kovacs, Kim Senklip Harvey, Lina de Guevara
Publication: The Ring