Between worlds: exploring ways of knowing
Graduate Studies, Social Sciences
- Anne MacLaurin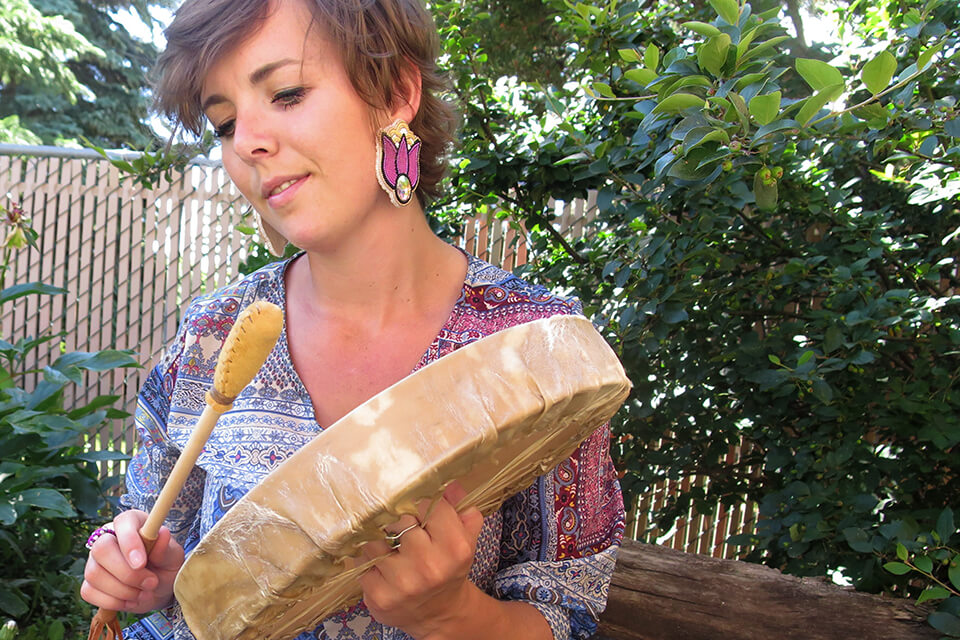 Growing up as an avid soccer player in Grand Prairie, Alberta, Brigitte Benning knew UVic was a great place to play—but she didn't expect to fall in love with the campus community, staying to complete both a BA and MA in sociology.
"There were so many interesting classes to take and so many teams and friends, I couldn't leave," says Benning.
Sociology caught her attention with its diversity of issues on gender, mental health, the environment, Indigenous methodologies, feminist studies and religion. As a Métis woman, Benning grew up in a tight-knit family with a strong maternal role model who taught her how to advocate for the rights and recognition of Indigenous people.
"I have inherited the Métis experience of being between many worlds, and navigating a hidden (and for myself) not stereotypically 'visible' identity," says Benning. "My research experience played a big role in my continual journey to understand my own identity, culture and people."
After completing an Indigenous methodologies course through UVic's LE,NONET program, Benning continued the idea for her master's thesis, which was inspired by her friend the late Nelson Mayer. She went back to her community in Grande Prairie to examine the Indigenous practices at the On-Campus Friendship Centre at Grande Prairie Regional College.
The On-Campus Friendship Centre is a space for Indigenous and non-Indigenous students to gather and join cultural and social programs, explains Benning. She enjoyed the space as a student at Grande Prairie Regional College, and is especially grateful for the teachings of Elder Loretta Parenteau-English, a Blackfoot woman from Piikani Nation. Benning hopes her research will help other institutions improve the ways they support Indigenous students.
I was very intentional about the way I went about my research—I wanted to create a research project that exemplified the beauty of the Métis way of being between multiple worlds.
—Brigitte Benning, sociology graduate
Benning created a Métis Sash research framework that she says, "dances between the Indigenous world I live in and the non-Indigenous sociological field I work in."
Benning credits the mentorship of UVic sociology professor Garry Gray for her pursuit of further education. Gray understood that Benning was determined to give back to her Grande Prairie community and to return to her family.
"Gray was innovative in finding ways to ensure my research journey was meaningful to me as an Indigenous student," says Benning. "To have a supervisor who truly has your best interests at heart is a wonderful gift."
Benning adds that her life was changed by the choices she made to study at UVic and to continue onto graduate school. She plans to publish chapters from her thesis and hopefully collaborate on a book with Gray on their experience of navigating Indigenous and qualitative research methodologies.
She is currently enjoying her new position as Indigenous Educator with Peace Wapiti Public School Division in Grand Prairie. "I could not be more grateful to have found a job that connects to my education and experiences so much," adds Benning.
Benning says she was also extremely fortunate to receive financial support from the Joseph-Armand Bombardier Canada Graduate Scholarship through the Social Sciences and Humanities Research Council, and scholarships from Indspire and Rupertsland Institute.
She graduates this month with a MA sociology. Benning's thesis, "Exploring the Role of Indigenous-based Support in Post-Secondary Education: The On-Campus Friendship Centre at Grande Prairie Regional College," will be published next summer.
Photos
In this story
Keywords: convocation, student life, alumni, sociology, Indigenous, culture, community, graduate research
People: Brigitte Benning, Garry Gray
Publication: The Ring