Father-daughter duo finds home at UVic
Humanities, Graduate Studies, Social Sciences
- Stephanie Harrington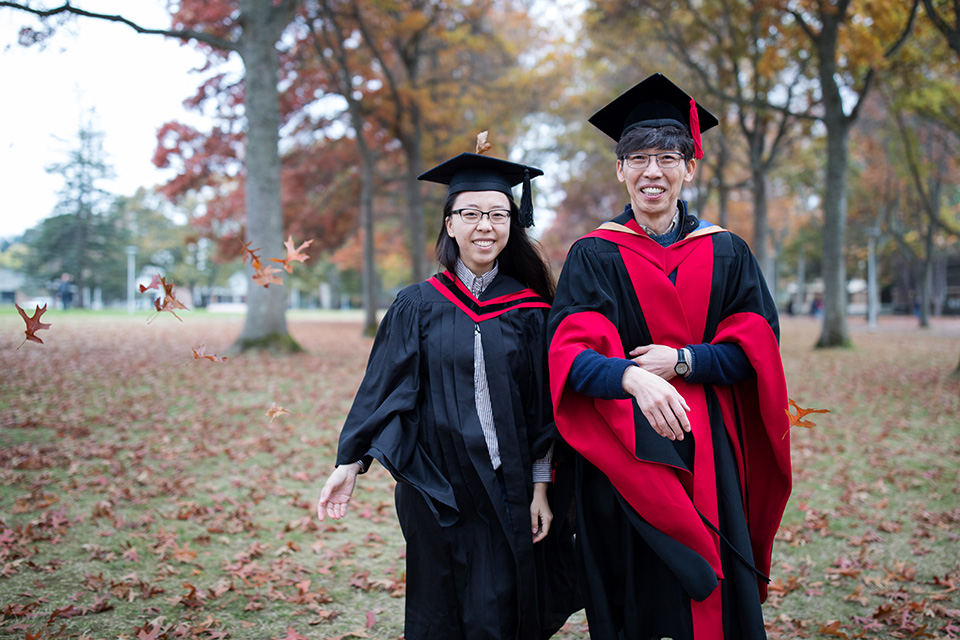 You could call them a team. Chorong Kim and her father Chong Su Kim will cross the stage at convocation in November—Chorong to collect a Master of Arts and Chong Su to receive a PhD.
The father-daughter duo has cultivated an intellectual partnership that started with home-schooling and culminated with examining each other's academic papers at UVic. They have shared a few brown bag lunches along the way, as well as stressful moments as graduate students.
Chorong studied German fantasy fiction for young adults as part of her thesis in Germanic and Slavic studies, while Chong Su focused on political science, researching democratisation and social movements in South Korea and Taiwan.
"We both have very specific niches," Chorong says with a laugh.
Chorong was born in Germany, where her parents lived for seven years. Chorong's mother, Sung Hee Park, sought asylum in Germany from South Korea, where she was a student political activist when the country was under authoritarian control.
In 1998, when Chorong was five, they returned to a now democratic South Korea, but the family decided to home school their daughter.
"The school system in Germany was very different. South Korea was more hierarchal and disciplined," Chong Su says.
Chorong's mother instructed her on history and various other subjects, while her dad, who worked as a journalist in Germany, focused on teaching her English. Chorong grew up reading many books and developed an interest in German literature.
The family moved to Canada when Chorong was a teenager. After a year of living in Vancouver, both Chorong and her dad decided to study at UVic.
"My parents and I stick together almost like a team," Chorong says. "Going to a different university would mean I might be separated from them."
At age 15, Chorong enrolled in biology at UVic and also studied German. Chong Su undertook a master's in political science. UVic was Chorong's first experience in a formal school system and her first time fully communicating in English.
"I was thrown into English speaking society," she says.
Her dad naturally provided support, the two of them negotiating the demands of student life together.
"We would sometimes takes the same bus or bump into each other at university. My dad often packed sandwiches for me," Chorong says.
Chong Su is grateful for the camaraderie his daughter found at UVic, especially in the Germanic and Slavic studies department, where Chorong would later pursue a master's degree.
"She met some excellent supervisors and her profs were very kind to her," he said. "I was glad she could find a second home at UVic."
After two degrees each and nine years together at UVic, the Kims are ready to move on.
Chorong, who takes photographs and produces films in her spare time, hopes to study filmmaking further in the future. (She won best student documentary film at the 2016 Montreal World Film Festival.)
And Chong Su plans to continue his research and apply for teaching positions, working to fulfill a goal Chorong remembers her dad talking about when she was a girl.
"He has been a wonderful teacher and I feel so proud of him," she says. "I hope he can continue to pursue his childhood dream to teach and inspire others as he was inspiring to me."
The other third of the team, Sung Hee Park, may be most relieved her husband and daughter are leaving the tribulations of student life behind.
"There was an air of stress in the house," Chorong says. "She was so patient with both of us and gave us a lot of emotional support."
Photos
In this story
Keywords: convocation, student life, alumni, international, Germanic and Slavic studies, political science, graduate research
People: Chorong Kim, Chong Su Kim
Publication: The Ring