Solar energy mapping charts path to a greener City of Victoria
- Anne MacLaurin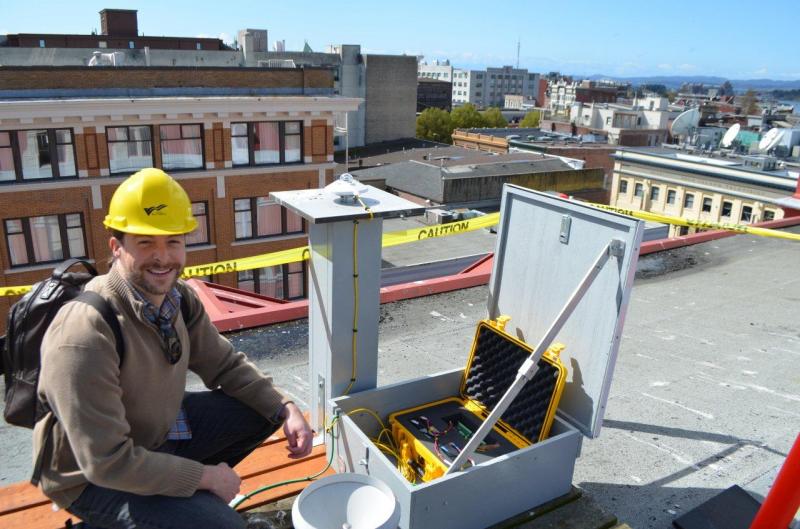 Rooftops in the downtown core are prime sun spots—and knowing where to plan future installation of solar panels to capture the most energy is a step in the right direction, agree municipal officials and UVic researchers.
Through a partnership between the City of Victoria, the University of Victoria and a research grant from the Federal Natural Sciences and Engineering Research Council (NSERC), geography grad student Chris Krasowski will generate a solar map that can identify the specific area of rooftops throughout the city of Victoria that might be best suited for solar equipment.
"We need to understand how irradiance in the region varies both spatially and temporally," says Krasowski.
"The information collected to make the solar map will tell us what kind of potential there is for rooftop solar energy generation," adds Krasowski.
In order to create the solar energy map, Krasowski collects irradiance data using a pyranometer, an instrument that measures solar energy. He installed one last week on the rooftop of City Hall. Along with the information collected at City Hall, Chris will use data gathered from UVic's School Based Weather Network to create the solar map, which will be integrated into VicMap, the City of Victoria's online atlas.
When complete, residents will be able to use the solar map to zoom in to a rooftop, view the solar energy potential and identify the specific area of the roof that might be best suited for solar equipment.
Solar energy is a renewable resource that can displace fossil fuel use and reduce greenhouse gases. Greenhouses gases from buildings account for 50% of the total emissions generated in Victoria. The City of Victoria is working towards a community greenhouse gas reduction target of 33% from 2007 levels by 2020.
"There are many areas of research that will benefit from having a baseline of solar irradiance information. People will be able to not only make informed choices about various solar technologies, but also apply the information to other areas such as agriculture, architecture, skin cancer research, green rooftops, and even tree-shading strategies," says Krasowski.
Once enough data has been collected over the next year, Krasowski will be able to produce a solar baseline for the City of Victoria's VicMap. Along with the solar data, Light Detection and Ranging (LiDAR) data will be used to provide information about rooftop slope and aspect, as well as shading effects from nearby buildings and trees.
"Our society needs to wean itself off fossil fuels," says Krasowski. "Solar is an inexhaustible, clean, and potentially huge resource. This project will help inform people of that potential here in the City of Victoria".
Photos
In this story
Keywords: mapping, solar energy, Federal Natural Sciences and Engineering Research Council, VicMap, environment
People: Chris Krasowski