Pandemic racism
- Richard Dal Monte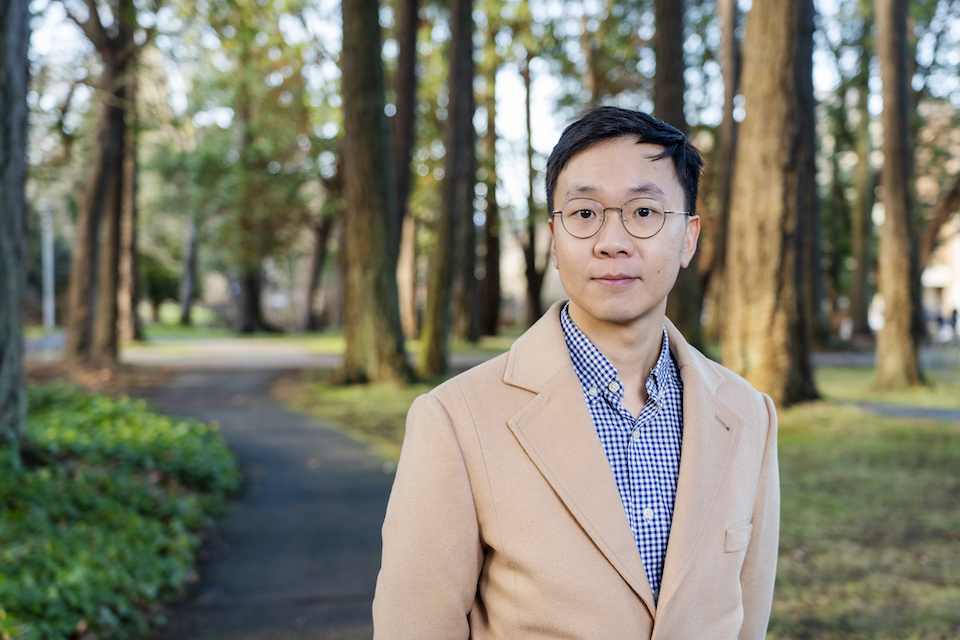 When reviewing his research into anti-Asian racism in Canada during the pandemic, Nigel Mantou Lou had some idea what the data might show. That's because Lou, an assistant professor of psychology at the University of Victoria, had lived it himself.
The research showed 60 per cent of survey respondents reported that they had changed their routines where they shopped, for instance—to avoid confrontations.
"That really resonated with my own experience," he says, explaining that he stopped his weekly shopping trips to Chinatown for the same reason.
"People just become worried about showing up in these high-risk places to be a target. Looking at that data, that's how I feel as well. This study is so important to me."
While Canada has a long history of both systemic and street-level anti-Asian racism, Asian Canadians experienced a massive increase in hate crimes during the past two years of the global pandemic.
In the recently published paper, Lou and his co-authors show the alarming rates of discriminatory experiences faced by Chinese Canadians and other Asian Canadians.
The research resonates with data from the Vancouver Police Department showing a 717 per cent increase of reports of hate crimes targeting Asian Canadians in 2020 compared to the previous year. As well, testimonials in Lou's report tell the stories of those who have been called names or made fun of using hateful language such as the "Chinese virus."
The use of such terms—including by former US president Donald Trump—and news reports about racist acts and attacks prompted the research, which Lou and psychologists from the University of Alberta began early in the pandemic by seeking to survey Asian Canadians. Working with Angus Reid Institute, researchers asked people across the country, in both urban and rural areas, about their experiences.
Some survey respondents reported they were spat on, some that they'd received "dirty looks" in stores. Others were confronted by colleagues or subject to "jokes" in the workplace.
While Lou had changed his own behaviour to avoid problems, the shared experience "was shocking to me."
And for Asian Canadians, he says, there's no going back to the way things were prior to COVID-19.
Indeed, even the troubling numbers may not tell the whole story. With only 10 per cent of racist attacks being reported, according to the report, Lou says there is an urgent need for a unified database that gathers details of anti-Asian attacks across Canada—such a resource would have to be coordinated among RCMP detachments, municipal and provincial police departments and all levels of government, he notes.
"It is important to continue to normalize the reporting of racial harassment while also making reporting more accessible,"
Lou says, adding that some organizations in Canada already provide support for ethnic minorities to report racism, such as, Project 1907 and Fight COVID-19 Racism.
Restoring a sense of belonging, Lou says, is the biggest priority for the Asian Canadian community, from which the pandemic has taken away pride in national or ethnic identity. Lou's research is supported by Canadian Institutes of Health Research, with Kimberly Noels (U of A) as principal investigator.
---
Edgewise
About 60 per cent of survey respondents, according to Nigel Mantou Lou, reported that they were worried about their children being bullied in school as a result of the effects of the pandemic, and he adds that reducing that anxiety is an important step for Asian Canadians after the pandemic as well.
He also notes that Asian Canadian parents need to be better equipped to talk to their children about racism they may encounter at school or elsewhere, and schools must also address racism directed at Asian students because he doesn't believe the end of the pandemic will mean to the end to racist actions.
"As the prejudice and discrimination against Chinese Canadians are likely to continue, there are ongoing challenges for research and the community to work together to combat racism, encourage anti-racism reporting and support Asian Canadians' resilience and recovery from the pandemic," Lou says. As we move through the pandemic, we must re -balance the scales and lift up all marginalized groups.
"I think a big piece after the pandemic is how to restore a sense of belonging, how to make us feel safer in our communities and proud of or own identities," he says "If you are constantly worried about racism. It's hard to build confidence."
Photos
In this story
Keywords: community, international, research, COVID, psychology
People: Nigel Mantou Lou
Publication: knowlEDGE