From climate impacts to action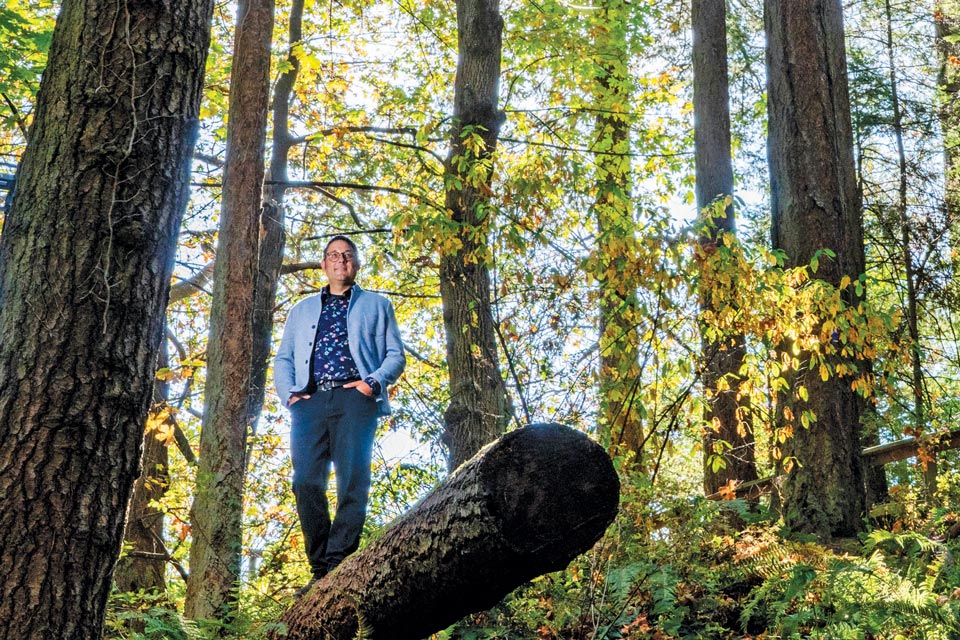 Climate impacts put BC research into the global race for solutions
For many, the reality of climate change didn't hit home until its effects literally hit home—in the form of atmospheric rivers and heat domes.
For many more, the reality struck them when they witnessed on their TVs and smartphones its effects around the world: massive storms, devastating droughts, destructive wildfires.
That seeing is believing is no surprise. In the 1960s and '70s, French oceanographer Jacques Cousteau introduced a mass audience to weird and wonderful creatures under the ocean's surface while, for more than 60 years, David Suzuki's The Nature of Things has explored the vast and fascinating variety of the natural world.
Now, a recent addition to UVic faculty is focused on advancing understanding of climate change—as well as potential adaptation and mitigation solutions—at the intersection of art and science.
Ian Mauro recently took on two jobs at UVic: as a professor of environmental studies and executive director of the UVic-hosted Pacific Institute for Climate Solutions (PICS). One key for Mauro in both positions is communication, which is his particular edge as an academic.
Mauro has written, produced and directed dozens of films and media projects, including Qapirangajuq: Inuit Knowledge and Climate Change—filmed entirely in Inuktitut—which he co-directed with acclaimed Inuk filmmaker Zacharias Kunuk. He also led the development of the Climate Atlas of Canada. The co-founder and former executive director of the Prairie Climate Centre at the University of Winnipeg, Mauro plans to continue his work as a filmmaker and multimedia creator at UVic, bringing his climate communications and knowledge mobilization skills to support a variety of projects.
Research is only as good as its ability to change the world. No matter what discipline we come from or what faculty we're in, we're interested in contributing to changemaking, we're interested in creating new insights. But I think those insights are best displayed when they're communicated in ways that are meaningful to broader society, and that's a global mission."

—PICS Director Ian Mauro
"I want to use film as a way to boost and amplify the voices of others. And so, at PICS, in particular, I'm interested in how we can bring that communication approach to the PICS-funded projects."
"The University of Victoria is having a global impact," he adds. "And I think the more that we can communicate those insights that are relevant to broad and diverse stakeholders—locally, nationally and internationally—the more impact we actually have."
Mauro starts at UVic the same month COP27, the 2022 United Nations Climate Change Conference, was held in Sharm El-Sheikh, Egypt. "The world is going to meet yet again to talk about global climate policy and targets. And UVic is absolutely in this conversation, the PICS network is absolutely in this conversation, the West Coast and the impacts that we are feeling, our entire province is in that conversation."
"We're like the canary in the coal mine—people are looking at what's been happening out here between atmospheric rivers and heat domes. And we need to not just be creating solutions on paper but we need to be creating solutions on the ground," he says. "That's what I want to be contributing to."
His approach fits in well at UVic, which is the world's second top-performing university for climate action, according to this year's Times Higher Education Impact Rankings, and has one of the highest concentrations of clean energy researchers at any university in Canada.
"I'm looking forward to interacting with students and colleagues to work in a transdisciplinary way," Mauro says, "to leverage different ways of knowing and approaching climate change to generate solutions and ensure that we've got real climate action taking place."
PICS projects
PICS is a climate research collaboration between UVic, SFU, UBC and UNBC that develops innovative, evidence-based climate solutions knowledge. PICS-affiliated researchers lead these and other climate change adaptation and mitigation research projects:
Solid Carbon is an ambitious project to permanently and safely sequester carbon dioxide (CO2) as rock. The vision is to extract CO2 directly from the air or ocean. Using ocean-based wind and solar energy, the CO2 is then injected into the subseafloor basalt, where it mineralizes into solid carbonate rock. Initially, researchers will focus on ocean basalts that lie beneath the Cascadia Basin off B.C.'s west coast.
Wildfire and Carbon: Climate change is causing increased frequency and severity of wildfires, bringing significant consequences for the forest carbon balance. Wildfire and Carbon aims to incorporate future wildfire impacts into forest management practices to help develop strategies to reduce emissions from wildfires, enhance forest carbon sinks and develop economic strategies for the use of forest fibre derived from wildfire risk-reduction activities.
The Circular Economy research study

makes the business case for extending the life of under-used buildings instead of demolishing them. This study looks at best strategies for commercial real estate, including extending the life of buildings, retrofitting to reduce energy use and GHG emissions, and enabling flexible leasing models.
Photos
In this story
Keywords: research, sustainable impact, climate action, climate, film
People: Ian Mauro
Publication: knowlEDGE