Game-changing tool tracks DNA
- Jody Paterson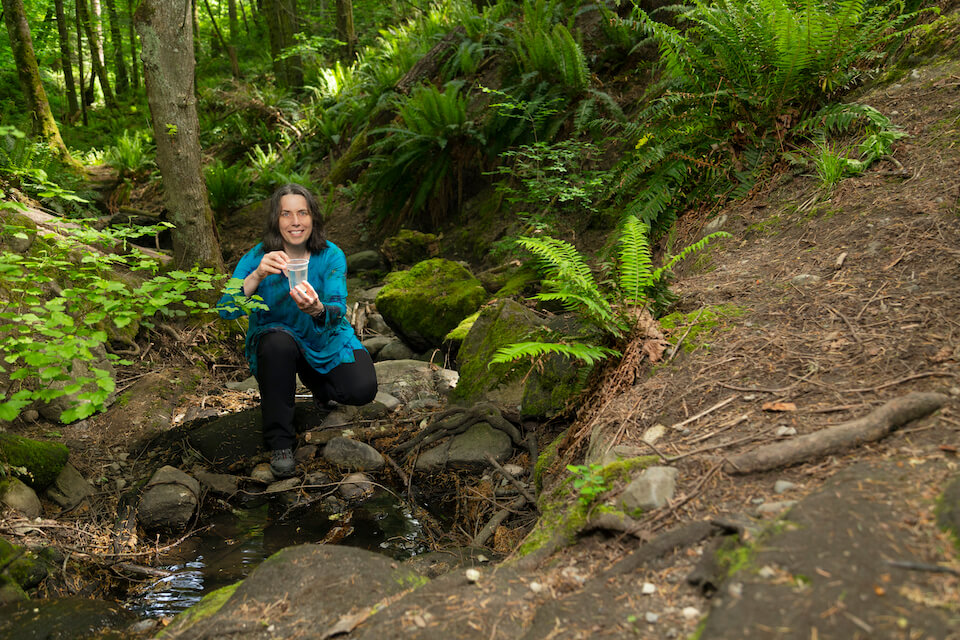 The emerging science of environmental DNA (eDNA) is transforming our ability to identify and quantify creatures passing through local habitats, says University of Victoria biochemist, Caren Helbing.
Using eDNA technologies to identify the species in a particular environment is a "game changer" to protect a vulnerable species' habitat, says Helbing. It's integral in monitoring invasive species. It can also be used for collaborative partnerships with citizen scientists and Indigenous communities.
"Every species sheds DNA all the time—skin cells, hair, poo. We're testing for a part of the DNA blueprint that a species has left behind," says Helbing. "It's CSI for wildlife." 
Before the advent of eDNA techniques over a decade ago, the most common way to know if a species occupied a certain habitat was to see it.
Biologists Carrina Maslovat and Laura Matthias have checked for the at-risk sharp-tailed snake on Saltspring Island, for instance, by placing asphalt shingles where they can hide, then looking under the shingles repeatedly hoping to spot a snake. One two-year project involved checking 220 shingles 6,000 times, with 0.4 per cent success.
With eDNA techniques, a finger cot swabbed on the shingle collects DNA left by the snakes. In Helbing's eDNA version of the Saltspring snake stakeout, 100 swabs collected over a few days had 10 per cent success.
In Alberta, Helbing's research team with the Chipewyan Prairie Dene First Nation and their consultants used eDNA techniques and Indigenous traditional ecological knowledge to confirm overwintering sites for Arctic grayling, a fish important to the community.
"The ability to do that work was pretty limited up to now, with ice covering a lake in the winter," says Helbing. "eDNA detection allowed us to verify that the Arctic grayling overwintered where Indigenous Elders expected. That knowledge helps First Nations know where to protect."
In partnership with the Haisla First Nation near Kitimat, Helbing's team is working with researchers at University of Northern British Columbia, Simon Fraser University and Ecofish on an eDNA project to assess the smelt-like oolichan populations in the area.
With eDNA, we are now not only increasing the likelihood of defining more accurately where an at-risk species might live, or where invasive species are encroaching, but are able to take those samples without disrupting the habitat.

—Caren Helbing
It all starts with a glass of water, a bit of soil, a scrape of this or that. From there, the melange of mixed DNA must be combed through to find a particular species. The next stage of eDNA research will be to develop a reliable catalogue of DNA blueprints so that every species is accounted for and can be detected.
The work is far from complete, Helbing adds. "There have been significant strides made to provide the 'barcodes' of life for many species, but the vast majority, we know nothing about."
eDNA techniques have potential to also measure a species' abundance, important in fisheries management. Helbing is working with UVic statistician Mary Lesperance on that aspect.
"The amount of any one species' DNA in a water sample is so small, identifying abundance is a challenge," says Helbing. "But we're working on it. It's a bit like a wet needle in a haystack."
EdgeWise
What do eDNA and COVID-19 have in common? Their tests are based on the same science—quantitative real-time polymerase chain reaction. The test is used to identify the DNA of the SARS-CoV-2 virus in people suspected to be infected. For Helbing's work, the test identifies the DNA of species passing through a particular habitat under study.
Any materials in a habitat can be tested for eDNA, whether it's water, snow, soil, or an object that a species has touched in passing.
Citizen scientists trained in eDNA sample collection are contributing to water stewardship programs run by government scientists and Living Lakes Canada.
Establishing standards for eDNA processes and ensuring citizen scientists and others are trained in using it and interpreting results are important next steps, says Helbing, stressing the necessity to "promote rigour" in the application of eDNA technologies. She is helping the Canadian Standards Association (CSA Group) to develop national eDNA standards.
The primary funders of Helbing's work are the Natural Sciences and Engineering Research Council of Canada, Innovate BC, government ministries, and private clients seeking eDNA expertise.
Photos
In this story
Keywords: community, indigenous, sustainability, research, environment, wildlife, water, fisheries, chemistry, Faculty of Science, administrative
People: Caren Helbing, Mary Lesperance
Publication: knowlEDGE