Climate impact investing and the race to net zero
Peter B. Gustavson School of Business
- Sasha Milam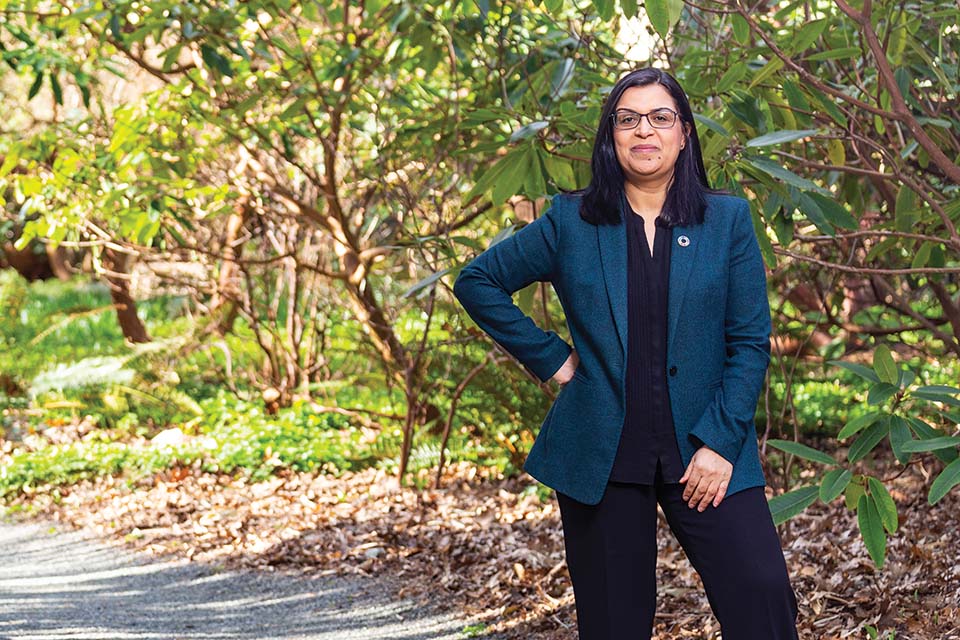 Solutions to the climate crisis are being developed in laboratories and the halls of government. But they can also be found in boardrooms and the stock markets.
"Investing to avert climate disaster is in everyone's interest," says Basma Majerbi, a climate finance and impact investing expert at the University of Victoria's Peter B. Gustavson School of Business.
"What we are faced with today is both an enormous challenge and an opportunity: how to use financial markets to accelerate the transition to a green economy."
Getting to net-zero carbon emissions demands radical shifts in how we invest. As disasters such as massive wildfires and heat domes driven by climate change turn up the pressure to find solutions quickly, research is making it increasingly clear what role investors of all types and sizes have to play.
"Governments have their targets as defined by the Paris Agreement and United Nations Sustainable Development Goals, but most of them are not yet on track to meet such targets," says Majerbi.
Majerbi's sustainable finance research explores the range of investment types that can drive meaningful change in this area. One project examines the G20 COVID-19 green stimulus packages that could affect supply of and demand for energy. Another considers the institutional investor's view on climate risks and opportunities.
A third study targeted impact investing via mutual funds. Co-authored with postdoctoral fellow Ali Shahrad, it suggests there's much more individual investors can do to drive climate action and other sustainability goals— with the right tools and information.
"Environment, social and governance (ESG) is a good first step that is essential to push companies to improve their management practices," says Majerbi.
"But if you are passionate or concerned about a particular societal challenge, like climate change, rising inequalities or biodiversity loss, you are more likely to create real solutions to that issue through impact investment funds.
"The myth that 'sustainable funds don't perform' has already been largely debunked," says Majerbi, but there is still a lack of public awareness about impact funds. "Many advisers and investors still think that you have to sacrifice returns if you focus on achieving specific, measurable social and environmental impact because you are building a portfolio from a limited universe."
Her forthcoming study of the global landscape of sustainable mutual funds offers additional perspective. "Do you give up returns with impact investing? Yes and no," says Majerbi. "It's possible to optimize your
impact investing portfolio and have decent returns. But the most interesting thing we found was that impact funds are more resilient during times of crisis—such as the COVID-19 pandemic—than conventional or other types of sustainable funds."
In an analysis of ESG, impact and conventional mutual funds, money flowing into impact-focused mutual funds stayed strong, even when mutual funds as a whole took a nosedive. Moreover, impact funds and non-diversified environmental sector funds are growing faster and have higher adjusted returns than ESG funds globally.
Her advice for individual investors looking to make a difference mirrors this observation. "Demand drives supply in financial products like anywhere else. Demand products that align with your values and causes you care about."
EdgeWise
Impact Investing is a type of sustainable investing that starts with the investor's intention to contribute solutions to societal challenges while also seeing financial returns, allowing for targeted investing in specific areas such as climate solutions. Factoring environment, social, governance, or ESG, means investors evaluate companies' performance in financially material issues in these three areas.
This year's COP26 UN climate conference, takes place in Glasgow from Oct. 31-Nov. 12. This year, one of the main themes is climate finance in the transition to net zero. 
Majerbi is co-investigator of The Climate Finance Project, funded by UVic-led and hosted Pacific Institute for Climate Solutions, in collaboration with British Columbia Investment Management Corporation. Alongside Gustavson's Michael K ing and postdoctoral fellow Kevin Andrew, the researchers will integrate the latest research on climate scenarios to help institutional investors assess climate risks and opportunities as they make portfolio investment decisions.
UVic 's Vancouver Island Impact Investing Hub, led by Majerbi, convenes academics, students, investors, industry, government and other community members to contribute to climate solutions by accelerating the flow of impact and sustainable finance in BC and beyond. UVic recently partnered with Foresight, Canada's cleantech accelerator, to support the growth of the cleantech ecosystem and the transition to net zero.
Photos
In this story
Keywords: community, international, sustainability, administrative, research, climate, sustainability, innovation
People: Basma Majerbi, Michael King, Pacific Institute for Climate Solutions
Publication: knowlEDGE