UVic Peloton rides for cancer research in BC
- Darryl Huculak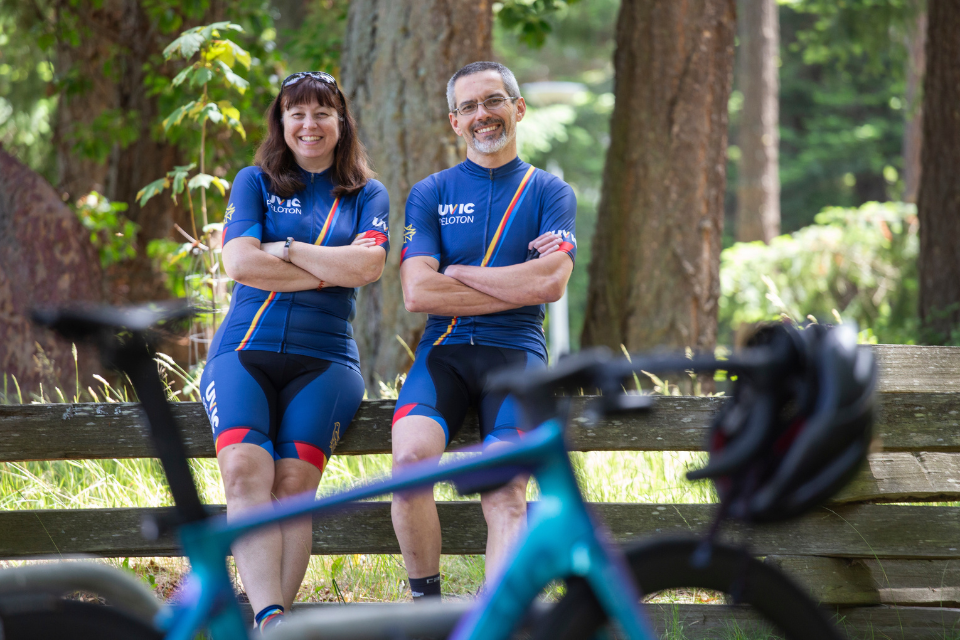 The Tour de Cure fundraiser for cancer research has been a focus for Kara White and me for several years. Back in 2016 (when it was known as the Ride to Conquer Cancer) I had the opportunity to participate in the two-day, 200-km ride for the first time. Having lost my father, brother and niece to cancer, I was keen on putting my efforts into something that I thought could help others avoid the same fate. Both the training and the fundraising were exhausting, but through the generosity of friends and my UVic co-workers, I was able to raise the required $2,500 and ride with thousands of others who all have similar stories to tell and reasons for riding. It was an experience I was eager to repeat, and so I have continued to fundraise over the past six years.
Kara lost a lifelong friend she met while completing her undergraduate degree at UVic to cancer. Towards the end of her fight, Kara's friend convinced her to try the ride. In 2017, Kara met with Rob Johns (manager, emergency planning), and together with Kimber Dray they created the first UVic Peloton cycling team, raising over $9,000 with their efforts. In 2018, the team ballooned to 26 members and raised over $108,000. Over the past six years, UVic Peloton members have raised almost $200,000 for cancer research in BC, due in large part to the generosity of the UVic community.
The stress of the COVID pandemic left many exhausted, including ourselves. While Kara registered almost immediately after the last ride, I was not planning on participating this year until one of my sisters told me she had been diagnosed with cancer. While I am fundraising and training, my sister is undergoing chemotherapy and radiation treatment—both of us hoping the other succeeds.
Kara and I are both working hard to raise enough money to ride this year's Tour de Cure on August 26 and 27—wearing the UVic Peloton jersey and showing everyone the generosity of the UVic community. If you would like to help us reach our $5,000 goal, please visit our UVic Peloton team page and click on our names to donate.
Darryl Huculak, UVic Facilities Management
Photos
In this story
Keywords: administrative, cancer, community, exercise, health, philanthropy
People: Darryl Huculak, Rob Johns, Kara White