UVic to deliver world's first custom MBA in Advancing Reconciliation
Peter B. Gustavson School of Business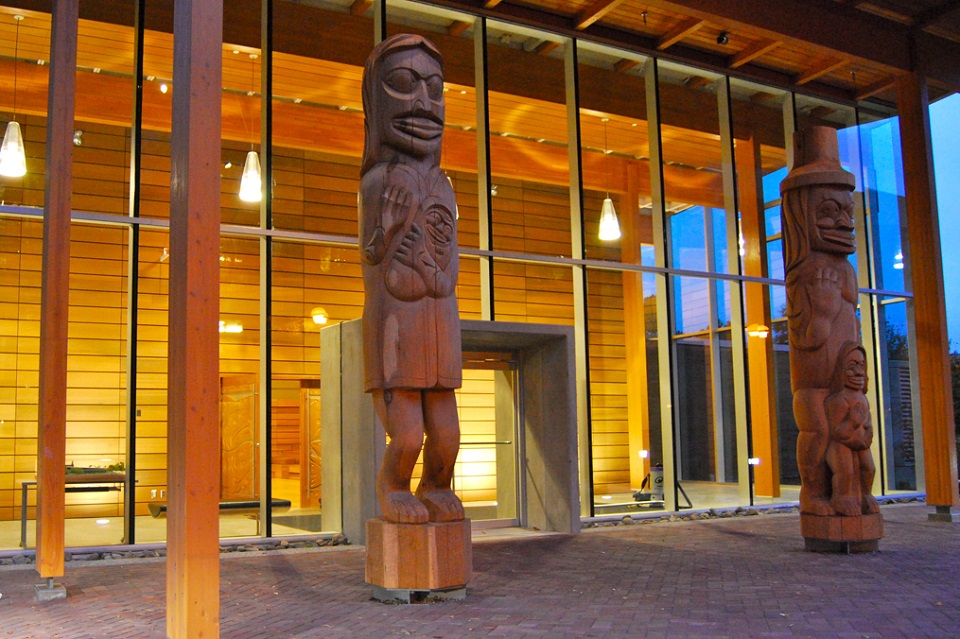 The University of Victoria's Peter B. Gustavson School of Business is set to co-create and deliver the world's first custom MBA in Advancing Reconciliation. This reflects the university's commitment to build strong partnerships with local community social service agencies that are working in harmony to support Indigenous Peoples, listen to the needs of communities and rectify past injustices.
The MBA, which will be developed in partnership with the BC Association of Aboriginal Friendship Centres (BCAAFC), was unveiled today as part of an $8.4-million funding announcement by the Ministry of Social Development and Poverty Reduction that will create an action framework to integrate reconciliation into community social services. The MBA program will also draw on funding from BCAAFC and Indspire, an Indigenous national charity that invests in the education of First Nations, Inuit and Métis Peoples.
We are honoured by the invitation to collaborate on this unique program. This MBA will equip leaders in social services, government and nonprofits to meaningfully advance reconciliation in their organizations and across our broader society.

—Saul Klein, dean of UVic's Gustavson School of Business
The MBA in Advancing Reconciliation will support UVic's commitment and actions on truth, respect and reconciliation, and developing new pathways for Indigenous students to higher education. It joins programs such as UVic's Indigenous language revitalization education and the world's first JD/JID, UVic's joint degree in Indigenous legal orders and Canadian common law, which graduated its inaugural class in June 2022.
The University of Victoria reflects on the injustices created by colonial policies and practices and is committed to offering programs that meet the needs of the local Indigenous communities. The MBA in Advancing Reconciliation is a powerful example of the critically important programming that is achievable when we follow the Hul'qumi'num teaching Ts'its'uwatul' tseep (to help each other or working together). Congratulations to the partners and scholars who worked together to make this MBA possible.

—Qwul'sih'yah'maht Robina Thomas, UVic's vice-president Indigenous
Following a closed-enrolment model, students in the program will be selected by BCAAFC and the provincial government. Drawing from the non-profit, social-service and government sectors, cohorts will be intentionally designed to include Indigenous and non-Indigenous participants.
Reconciliation is a lens for everyone to look through. This program brings together Indigenous and non-Indigenous professionals to learn from each other about their cultures and build a shared understanding of and commitment to reconciliation that can be designed in the classroom and immediately put into action in students' organizations and communities.

—Brent Mainprize, teaching professor at UVic's Gustavson School of Business
In 2019, the Gustavson School of Business was invited by BCAAFC to develop a unique program focused on social innovation. The 3C Challenge, a province-wide youth entrepreneurship initiative, engaged Indigenous youth in creating businesses uniting the three Cs: community, culture and cash. The challenge saw more than 700 entrepreneurs under the age of 30 participate in its community-based training workshops and mentorship program from 2019 to 2021.
"It is a true honour to have the opportunity to co-design another unique, forward-thinking innovation from BCAAFC Executive Director Leslie Varley," adds Mainprize.
Gustavson has previously co-created an internationally award-winning customization of its MBA in Sustainable Innovation, setting the framework for BCAAFC and the provincial government's vision to come to life in the MBA in Advancing Reconciliation, which is expected to launch in Spring 2023. These programs reflect UVic's commitment to the United Nations Sustainable Development Goals, particularly ones that seek to end poverty and hunger and to promote healthy lives and well-being, as well as inclusive and quality education.
Read the BC Government news release here.
Read more about UVic's Gustavson School of Business. 
-- 30 --
Photos
Media contacts
Sasha Milam (Gustavson Communications) at 250-516-2611 or bizcomm@uvic.ca
Jennifer Kwan (University Communications + Marketing) at 250-721-7641 or researchcomm@uvic.ca
In this story
Keywords: community, Indigenous, business, colonialism, community, funding, government, Indigenous, industry partnerships, reconciliation, Vice-President Indigenous
People: Robina Thomas, Saul Klein, Brent Mainprize