New UVic child care centre receives BC government support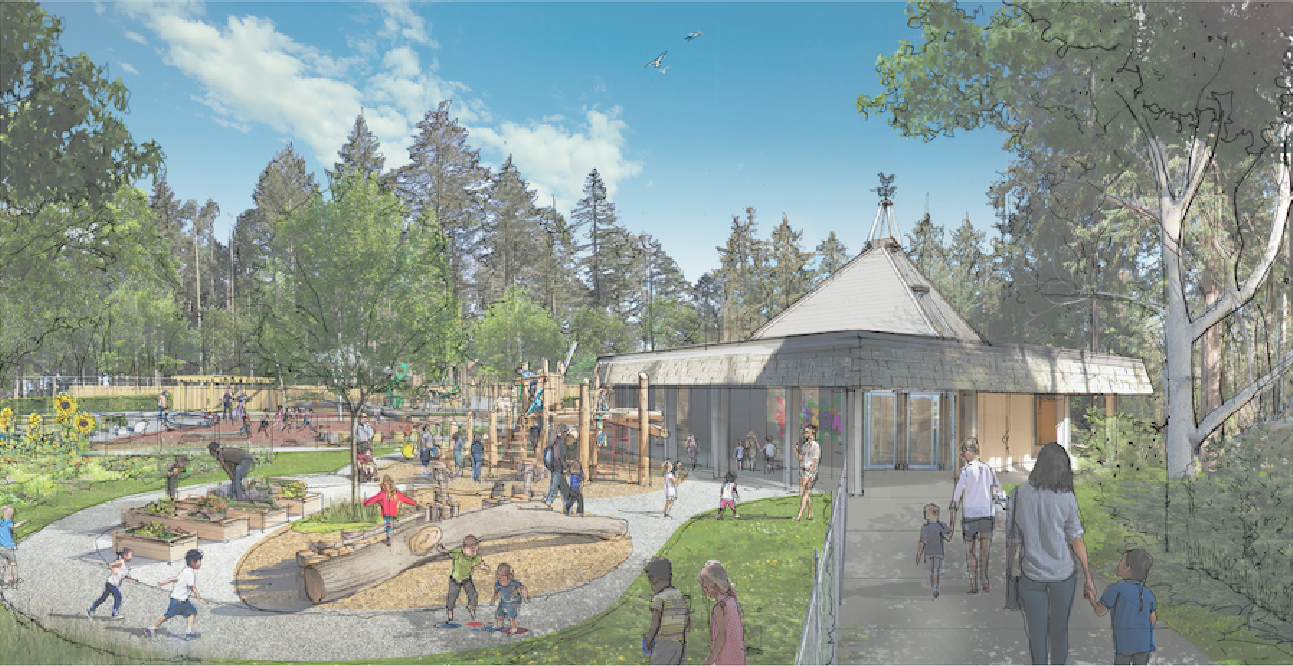 Plans to repurpose the former Queenswood Retreat Centre making way for a new child care centre at the University of Victoria's Queenswood Campus are moving forward due to funding announced today by the Government of British Columbia.
The project will see the retention and renovation of the former chapel to add 37 child care spaces, including spaces for infants and toddlers and for children aged three years to kindergarten. The project cost estimate is $1,782,128, with the provincial funding of $1,479,999. UVic is funding $302,129.
The university has been providing child care services to the UVic community for over 40 years and is currently operating three culturally inclusive child care facilities on campus for 116 children. Demand has been mounting over the past several years. A new centre at Queenswood is ideally situated to the main campus and the property's natural setting lends itself to outdoor play areas and nature-based early childhood education opportunities.
"The demand for child care in our community is extremely high, so we are thrilled to be creating new toddler and pre-school child care programs. As early childhood educators, we witness first-hand how profoundly and positively early learning and care programs shape children's and families' lives," says Kim Ainsworth, director, University of Victoria Child Care Services.
"In our programs, children and educators co-create lively, inclusive spaces, embracing our collective responsibilities in fostering ethical relations with others. With the funding, we look forward to welcoming more children and families into our centres, as we strive to create more liveable worlds while facing 21st-century challenges."
Child care services are a permitted use under the existing zoning at the campus located at 2474 Arbutus Rd. in the Cadboro Bay neighbourhood. 
Deconstruction and construction will take place throughout the summer and fall and all activities will align with UVic's Sustainability Action Plan to improve energy efficiency and reduce carbon impact where feasible. In concert with this project, the university will be working with the Greater Victoria Green Team to remove invasive species. The existing rose garden will be retained and restored. It is expected only one tree has to be removed in order to extract a buried oil tank.
Completion of the new centre is expected in early 2022 and will provide for eight new early learning and care positions.
Read the Ministry of Children and Family Development announcement.
More information about the child care project.
-- 30 --
A high-resolution artist rendering of the daycare is available on Dropbox.
Photos
Media contacts
Mike Wilson (Campus Planning and Sustainability) at 250-472-5433 or planning@uvic.ca
Jennifer Kwan (University Communications + Marketing) at 250-721-7641 or researchcomm@uvic.ca
In this story
Keywords: administrative, community, government, funding, Kim Ainsworth, Campus Services, Child Care Services