World's first Indigenous law program graduates its inaugural class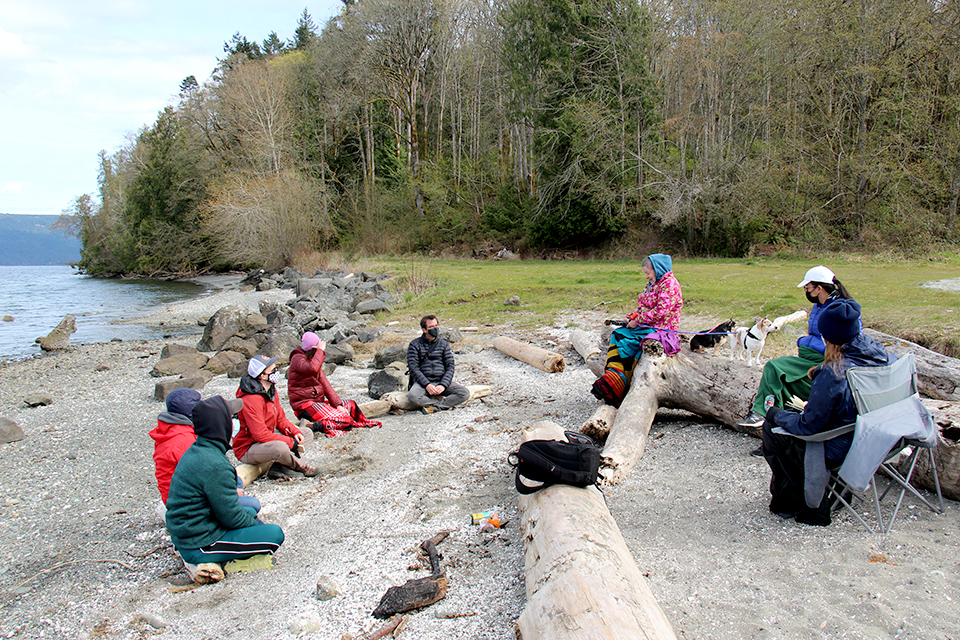 Four years ago, the University of Victoria launched the world's first law degree to combine the study of Indigenous and non-Indigenous laws. This spring, students in the inaugural class of this historic program are preparing to cross the stage to receive their degrees.
UVic's joint program in Canadian common law (Juris Doctor, or JD) and Indigenous legal orders (Juris Indigenarum Doctor, or JID) equips students with the knowledge that allows them to draw from, engage with, and work across multiple legal systems. Students graduate with both professional degrees (JD/JID).
Indigenous law is an essential part of Indigenous peoples being peoples and it is foundational to Canada's multi-juridical system. Law is an essential ingredient of every society because it is a part of governance, it is a part of how we manage ourselves and it is a part of how we are responsible to ourselves, to each other, and to our global community.

~Val Napoleon, interim dean of law, co-founder of the program, and Law Foundation Chair of Indigenous Justice and Governance at UVic.
"I hope our graduates will take with them the ability to centre Indigenous law in the world as a collaborative and principled way to solve problems, so that is never reduced to just words on paper, because it is so much more than that," says Napoleon.
The first class of 23 students will celebrate their collective accomplishments during a special recognition event on April 9 and formally receive their degrees during UVic convocation ceremonies in June. The evening event takes place at the Songhees Wellness Centre where students will gather with their families to celebrate their accomplishments.
Congratulations to the graduating students in this unique program. They are leading the change that we hoped for when we issued the TRC Report. I encourage them to go out into the world and to be bold and creative with their unique legal skills and knowledge.

~The Honorable Murray Sinclair, former senator, judge and Chief Commissioner of the Truth and Reconciliation Commission
JD/JID graduates will work within and influence areas of law such as constitutionalism and Indigenous governance, criminal law, environmental protection, intellectual property housing, family law and child protection, administrative law, as well as lands, business, and economies—areas where there is currently an acute lack of legal expertise to create institutions that are grounded in Indigenous peoples' laws—and to form productive partnerships across the multiple legal systems.
When I first realized the unique way that I was going to learn the law, I felt both excited for the journey and humbled by the responsibility gifted to me. We need more people in the legal sphere who are able to appreciate and utilize the knowledge of different legal orders in their practise.

~ Amanda Vick, from the Gitxsan Nation, and a member of the JD/JID's first graduating class
This is an historic moment, and I am honoured to recognize and congratulate the graduating students of the first JD/JID cohort. They are equipped with unique knowledge, skills and experiences that will enable them to build bridges between multiple legal systems. I look forward to seeing the impact they make on the legal landscape in Canada, and on our ability to move meaningfully and collaboratively towards resolution of the significant and ongoing problems caused by colonialism.

~UVic president Kevin Hall
The joint JD/JID program is a direct response to a call to action from the Truth and Reconciliation Commission (TRC) to establish Indigenous law institutes for the development, use and understanding of Indigenous law. Funding for the program has been provided by the BC Government, the federal government, and a number of corporate, foundation and private donors.
UVic is the future home of the National Centre for Indigenous Laws with construction set to begin adjacent to the law faculty's Fraser Building later this spring.
Additional quotes:
John Borrows, Canada Research Chair in Indigenous Law and Professor, co-founder of the JD/JID program, Faculty of Law, University of Victoria:
"Over 27 years ago, a group of Indigenous law professors dreamed about teaching Indigenous law in law schools. Trish Monture, Harold Cardinal, Sakej Henderson and others were in that group. Now, the first JD/JID graduating class is ready to live these dreams and make real their own hopes, aspirations, and futures in relation to Indigenous law. They are exceptionally well equipped to do this work. I am honoured they joined us at UVic, and I feel grateful for all they have taught us along the way. Congratulations!"
Darcy Lindberg, Assistant Professor, Faculty of Law, University of Victoria, and UVic Law alum:
"The program is vitally important as part of the fabric of Indigenous laws in Canada and their reclamation, strengthening and regrowth. It supports rebuilding citizenries with that legal knowledge in community and transforming the legal arena. It's doing all this wonderful work and some of the work we don't even know yet in terms of where it will lead to. It's very exciting to be a bridge into a new era of legal practice in Canada."
Marion Buller, Chancellor, University of Victoria, and UVic Law alum:
"I extend my warm congratulations to the members of the first graduating class in UVic's JD/JID program. You now have "two-eyed seeing"—knowing Indigenous and non-Indigenous laws. "Two-eyed seeing" was critical to our work at the National Inquiry into Missing and Murdered Indigenous Women and Girls because it enabled us to emphasize the importance of Indigenous laws in decolonization. I look to the JD/JID graduates to continue the necessary work of decolonization. I will be both delighted and honoured to give you your new degrees at convocation. I wish to thank Val Napoleon, and law faculty and staff for their vision and commitment to change."
Qwul'sih'yah'maht Robina Thomas, UVic VP Indigenous: 
"I raise my hands in the deepest of respect to the students of the first JD/JID graduating class. It is an honour to witness this momentous event, and it is comforting to know that we have 23 graduates who understand the critical importance of Indigenous laws—or as the Coast Salish say, our snuy'uy'ul. Our laws are rich with teachings that not only tell us how to govern our nations, lands and all of life, but provide us with guidance on how to be the best human beings we can possibly be. It is truly an exciting time, and my hope is that the graduates will always centre our laws."
Hadley Friedland, Associate Professor, Faculty of Law, University of Alberta, and UVic Law alum:
"The UVic JD/JID program is a ground-breaking step toward remedying the deep absence of Indigenous law in Canadian legal education. The students in this inaugural graduating class, and all the faculty and staff who have worked so hard to bring this dream into reality, are making good history happen. Congratulations!"
Naiomi Metallic, Assistant Professor of Law; Chancellor's Chair in Aboriginal Law and Policy, Dalhousie University:
"Congratulations to the first graduating cohort, the professors, and administrators in the JD/JID Program, as well as all the communities who will eventually be served by these future lawyers! This marks such a major milestone for this degree program, and is a significant source of inspiration for those of us in legal education who are committed to true reconciliation and the revitalization of Indigenous legal orders. Please continue blazing the trail for the rest of us to follow!"
Beth Fox, JD/JID graduating student and blood tribe member from Treaty Seven Territory in Southern Alberta:
"What has made this time really special for me has been the opportunity to learn from Indigenous legal experts about Indigenous law and to have some of the mentorship opportunities that are unique to this program. One of the highlights for me was attending field school in Coast Salish territory. Because we had invested so much time and learning in the Coast Salish legal order and the Hul'qumi'num language, being able to be out there on the land and to connect our learning really made a huge impact on me."
Cody O'Neil, JD/JID graduating student:
"One of the highlights of the program for me was learning about Coast Salish law and language from Professor Morales and George Seymour. By teaching law and language side by side, they revealed how connected one is to the other. In this program, you learn about the diverse and dynamic Indigenous legal systems of these lands, and about Canadian common law in light of these systems. This leads to a more well-rounded legal education by teaching you to start thinking across different ways of doing—and living—law."
Heather Middlemass, JD/JID graduating student:
"A highlight of the program has been learning in a creative and dynamic way, and recognizing that Indigenous law stands on its own, rather than in contrast or in comparison to common law. To anyone considering the program, know that it's going to be this profound experience that will transform you. And it will empower you with legal skills that go beyond what you would get in a regular law program, by weaving in a lot of lived experience into your legal education."
For more information, a backgrounder is also available.
-- 30 --
A media kit containing photos is available for download and interview clips and a produced video are available for download.
Photos
Media contacts
Ivan Watson (Law Communications) at 250-418-0700 or lawcomm@uvic.ca
Suzanne Ahearne (University Communications + Marketing) at 250-721-6139 or sahearne@uvic.ca
In this story
Keywords: Indigenous, law, field schools, reconciliation
People: Val Napoleon, Qwul'sih'yah'maht Robina Thomas, Kevin Hall, Amanda Vick, Darcy Lindberg, Marion Buller, John Borrows