Community partnerships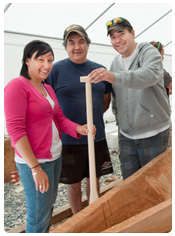 The purpose of the SENCOTEN Canoe Project was to conduct a culturally specific teaching and learning exercise to strengthen the relationship between The Indigenous Governance Program (IGOV) and the local Indigenous community of Tsartlip in WSANAEC Nation (Saanich).
The project offered opportunities for teaching and learning not traditionally conducted in the UVic classroom. It provided hands-on training and teaching about the SENCOTEN culture, language and ways of life for IGOV students, staff and faculty, as well as members of the Indigenous community.
Students worked on a traditional seagoing canoe that was launched in the spring of 2009. Project participants included Master Carver Charles Elliott, IGOV students, faculty and staff, as well as community members.
The project was housed at Charles Elliott's carving studio on the Tsartlip reservation. The "carving shed" served as the classroom and Elliott led participants in carving, reinforcing the importance of traditional ways of teaching and providing for an authentic Indigenous learning situation. This experiential learning opportunity, coupled with the students' academic experiences in the classroom, allowed for a comprehensive and culturally relevant educational experience.
This project also brought together members from the local Indigenous community with the intention of creating a shared learning situation. SENCOTEN names and language are used in naming and recognition ceremonies and Indigenous youth from the local schools were invited to take part in ceremonies to encourage sharing of knowledge between generations and cultures.
On completion of the project the canoe was donated to the Saanich community and people as a lasting legacy of the relationships built and nurtured throughout the project. The finished canoe is housed by the artist and he has been appointed as its caretaker.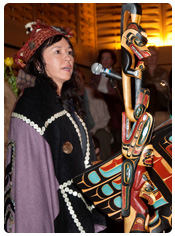 The research project "
An Oral History of the World Council of Indigenous Peoples
" began with funding from the UVic Learning and Teaching Centre in September 2008 and is led by a small team of IGOV faculty, staff and alumni.
This oral history project will include interviewing Tseshaht First Nation attendees of the original World Council on Indigenous Peoples (WCIP), which held its inaugural meeting in Port Alberni, BC in 1975. The council was a catalyst for the contemporary global Indigenous rights movement. Our overall goal is to discuss the legacy of the event (ie. what are the lessons learned, movements going beyond just a rights-based discourse) and to develop an oral history to be made accessible to Indigenous students, scholars and community members. Tseshaht youths will also be interviewed to better understand the impact that this historic event has had on future generations.
For Indigenous peoples oral histories are vital for reflecting our lived experiences, our responsibilities as individuals, and for re-establishing our governance roles within families, clans, and communities. Unfortunately, Indigenous oral histories seldom make their way into the university classroom as a central part of the curricula. This project proposes to change that by conducting an oral history of the WCIP utilizing Indigenous undergraduate and graduate researchers and then making the oral histories available (with permission from the individuals and communities involved) in a graduate research seminar: Indigenous Governance 550: Self-Determination & Indigenous Peoples in Canada. Elders, youth and other community participants will be invited to speak and participate in this class.
Additionally, youths and Elders visiting UVic will be encouraged to speak with media outlets on campus (UVic Ring etc.) to discuss the importance of their work. Their work will also be featured on the IGOV website in order to highlight the ongoing importance of oral histories. Overall, this project intends to create a space for honouring the Indigenous oral histories of the 1975 WCIP by gathering and reconnecting these histories with future generations of students seeking to regenerate their communities through language use, oral traditions, ceremonial life, and homeland ties.
En'owkin Centre
The En'owkin Centre is an Indigenous cultural, educational and creative arts institution located in Penticton, BC, which offers university/college transfer diplomas and certificate programs. The Centre is comprised of highly qualified educators who are also professional artists and writers, facilitators and Indigenous advocates. The En'owkin Centre provides a culturally sensitive, nurturing and challenging learning environment.
Victoria Native Friendship Centre
A partnership is now being negotiated to support an urban-based Certificate in Aboriginal Language Revitalization (CALR) program. This is a very unique and also challenging initiative of great importance to urban Indigenous peoples.
Faculty of Law
This program is in partnership with Nanavut Arctic College and the Akitsiraq Law School Society.
The Akitsiraq Law School Program is a unique legal educational opportunity that was offered to Inuit students in the territory of Nunavut. It was taught in Iqaluit, the capital of the new territory. It offered a full LLB degree from the University of Victoria. Professors and instructors from UVic and other law schools in the south came up to Nunavut each semester to teach a full complement of law subjects. The program was taught at Nunavut Arctic College – Nunatta Campus (Iqaluit) – a key partner in this endeavour.
In addition to fulfilling all requirements of a law degree from the University of Victoria, all students must also do compulsory Inuktitut language training, cultural awareness programs (Inuit Qaujimajatuqangit) and work with Elders.
Cultural and linguistic work is enhanced by the position of Elder-in-Residence, a unique aspect of this program, and an Inuit cultural facilitator who assists the students, instructors, elders and others in bridging the gap between Inuit and Canadian law.
Government of the Northwest Territories, Official Languages Division
This program offers the Certificate in Indigenous Language Revitalization (ABLR/CALR). The program supports revitalization in all nine official languages in the Northwest Territories.
The Council of Yukon First Nations
This program offers the Certificate in Indigenous Language Revitalization (ABLR/CALR) supporting language revitalization for learners in the 14 First Nations in the Yukon.
Six Nations, Ontario
This program offers the Certificate in Indigenous Language Revitalization (ABLR/CALR).
Nuu-chah-Nulth Territory
This program is underway for one language class in the Nuu-chah-Nulth territory with a request for the full certificate program to begin in the fall of 2012.