Community and alumni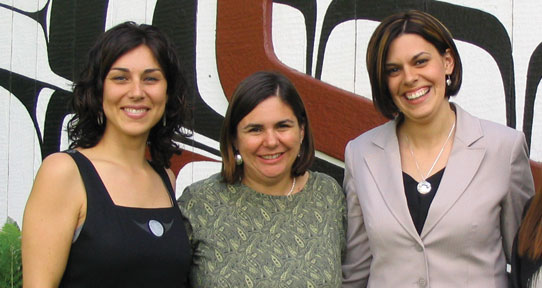 A Day in the Life: Debbie Robinson
The Ring, January 25, 2013
Written by: Kim Westad, Staff, Faculty of Human and Social Development
Debbie Robinson knows a thing or two about stage fright—the 20-year veteran of local community theatre faces it every time she sings or acts in a new production. But Robinson also knows that as the show goes on, the teamwork and preparation kick in and the stage fright fades. And she applies the same strategy to the changing nature of her job as a program assistant in the School of Child and Youth Care.
When the mother of three returned to the work force at the University of Victoria in 1994, she used a typewriter, classes were in buildings and she had limited computer skills.
Now, Robinson's job is dramatically different. Robinson calls herself a "modern secretary," building sites for online classrooms, updating them continuously and facing new technological challenges on a regular basis.
"The learning curve was very steep—like this," Robinson says, putting her arm straight up in the air.
When it seems overwhelming, Robinson breaks the program down just as she's done for the dozen plays she's performed in.
"I might have choreography, music and lines to learn. As a whole, it can feel overwhelming, so I break it down into smaller pieces and then put it back together again," Robinson says.
"When we're going through a time of change in the office, I tap into that same process."
Robinson loves the sense of teamwork in a production, and in her work. The three other program assistants in the office are good friends. They're also among her biggest fans.
Join us for our annual alumni reception on Tuesday, February 7, 2017 Fireplace Lounge, University Club, 4:30 pm to 6:30 pm. Register through UVic Alumni Services. Link to be posted in the New Year.