Research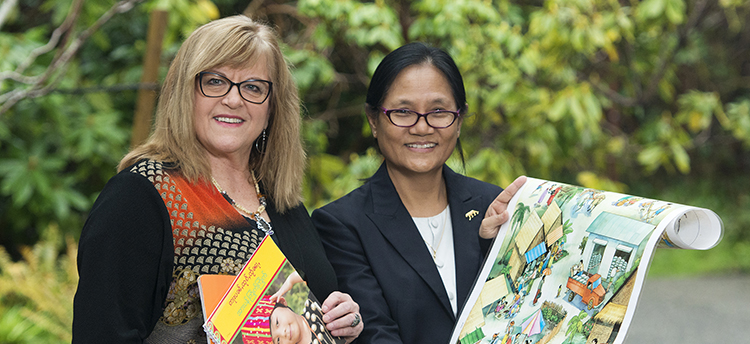 Through a strong and committed faculty, a dynamic master's program and doctoral program, the School of Child and Youth Care has made significant contributions to the health and well-being of communities within British Columbia, Canada and internationally.
Our faculty and students contribute to and collaborate on the work of many research centres, individual research projects and engage in other collaborations.
For more detail, please review the work of our individual faculty through their web pages and learn about our Alumni conference.
Read more in the research archives.
Professor Jennifer White describes her recent work on youth suicide prevention in schools. She also discusses the need for the wisdom and knowledge of youth to be included in this work.
A history of SCYC MA theses
Thesis/research project title
Graduated
Student
Supervisor
Non-Civilian/Civilian: A Canadian Youth Perspective of Growing Up in the Military Lifestyle.
Jun-17
Tammy Tupper
Sandrina de Finney
Aboriginal Fathers: Rebuilding out Identity. Fathers' and Practioners' Experiences in a Central Okanagan Aboriginal Father's Engagement Program.
Jun-17
Wes McVey
Jessica Ball
"We don't feel that Love": Retrospective Reflections on the Experiences of Removal Transitions and Trauma from Former Youth in Care.
Nov-16
Angela Scott
Jim Anglin
Reimaging Practicum in Twenty-First Century Child and Youth Care.
Nov-16
Kim Ainsworth
Veronica Pacini-Ketchabaw
Practicum Education in Child and Youth Care.
Nov-16
Michael Keough
Doug Magnuson
Reading Between the (On)Lines: A Discursive Analysis of Self-Harming, Suicidal and Helper Subjectivities.
Jun-16
Aubrey Baldock
Jennifer White
Exploring the Healing effects of Yoga for Trauma in Children and Youth: The Stories of Yoga Instructors.
Jun-16
Sarah Bonnell
Daniel Scott
Responding Constructively to Young Children's Anxiety in Preschool Settings.
Jun-16
Laura Gonzalez Carlos
Jessica Ball
"Make Smart Choices!": Discourses of Girlhood Responsibilization in Cyber Safety Curricula.
Jun-16
Cara Brand
Sandrina de Finney
Teaching (with) Love: Relational Engagement in Educational Settings.
Jun-16
Jennifer Vincent
Jennifer White
Perspectives on capacity strengthening and co-learning in communities: Experiences of a community-based research steering committee.
Jun-16
Heather Stringer
Jessica Ball
Manufacturing marginalization: Parenting services from the perspective of parents with Mental Illness.
Jun-16
Ginna Abramovitch
Jessica Ball
Mentoring Through Collaboration and Reflective Practice: A Post-Diploma Course for Early Childhood.
Nov-15
Jeanne Puritch
Veronica Pacini-Ketchabaw
Conceiving Women: Childbirth Ideologies in Popular Literature.
Nov-15
Charie Toronchuk
Sandrina de Finney
"Home and Native Land: A critical discourse analysis of Ontario Grade 7 History curriculum."
Nov-15
Hayley Clausing
Sandrina de Finney
'Because we want your family to keep flourishing': A critical discourse analysis of online Parenting Educational Materials.
Nov-15
Teila Reynolds
Sandrina de Finney
Preparing Mentors for Youth Community Arts Projects: Report and Orientation Manual.
Nov-15
Sarah Bradley
Jessica Ball
An Exploratory Study of Asian Immigrant Youths' Experiences of Settling into Canada with the Assistance of Youth Settlement Services.
Nov-15
Yupei Xia
Jessica Ball
Stories from the Spectrum: Connecting Knowledge about Children with Autism Spectrum Disorder to Practice in Child and Youth Care.
Nov-15
Amy Bishop
Jessica Ball
What to Do? Mothers' Accounts of Their Children's Discretionary Time Use
Jun-15
Anna Verspoor
Marie Hoskins
What Makes a Father?: A Socially Constructed Dialogue on Gendered Masculinity
Jun-15
Natalie Luchtmeyer
Daniel Scott
Outdoor Adventure Youth Work: Bridging Child and Youth Care and Outdoor Adventure
Jun-15
Emily Carty
Doug Magnuson
Searching for a New Life: How Children Enter and Exit the Street in Indonesia
Jun-15
Brenden Bentley-Taylor
Sibylle Artz
Transitions: A Workbook for Mothers and Caregivers staying at the Victoria Women's Transition House and Companion Counsellor Guide
Jun-15
Jessica Evans
Daniel Scott
An Evaluation of Youth Transition Conferencing.
Jun-15
Kimberly Rivers
Doug Magnuson
Conceptualizing Self, Identity, and Subjectivity: Engagements with Theories and Theorists in Child and Youth Care.
Nov-14
Scott Kouri
Sandrina de Finney
What Can a Body Do?: Exploring Female Adolescent Sporting Bodies.
Nov-14
Nicole Land
Veronica Pacini-Ketchabaw
Considerations for Implementing a Pediatric Integrative Medical Service.
Nov-14
Izabela Bienko
Daniel Scott
Community Agency Supervisors' Experiences with Supervisory Training and Supervision that Address the Knowledge and Skill Areas of Supervision in the Social Service Field
Nov-14
Megan Brown
Sibylle Artz
Exploring Ethnic Diversity and Multiculturalism in Child Protection Social Work in British Columbia.
Nov-14
Heather Harper
Doug Magnuson
Exploring Identity and Illness Narratives: Studying Young Women's Experience of Cystic Fibrosis.
Jun-14
Kristy Petovello
Jennifer White
A journey reconsidered: An autoethnographic exploration of a CYC international practicum placement.
Jun-14
Lara Fraser
Daniel Scott
The Dynamics that Underpin the overrepresentation of female young offenders in custody for administrative offences.
Jun-14
Thais Amorim
Sibylle Artz
An Evidence Based Better Practice Response to Juvenile Fire Setters.
Nov-13
Kelly Peck
Jessica Ball
Communication Exchanges: An examination of communication in individuals with non-verbal autism within self-contained classrooms.
Nov-13
Melissa Ray
Daniel Scott
Adolescence Spirituality in Counselling: Investigating Counsellors' Usage of Spirituality.
Jun-13
Shemine Gulamhusein
Daniel Scott
Effective Practices in Alternative Education for the Social Inclusion of Marginalized and Street-Involved Youth: An Integral Systems Perspective.
Nov-12
Benjamin Geselbracht
Marie Hoskins
Diversity in Practice: A Critical Exploration of Residential Care Practice with Minoritized Children and Youth.
Nov-12
Mackenzie Dean
Sandrina de Finney
Taking a Posthumanist Stand in CYC Ethics: An Ethical-Political Experiment.
Nov-12
Angela Slade
Veronica Pacini-Ketchabaw
Mapping the journey: Executive transition planning with a non-profit agency.
Nov-12
Todd Koverchuk
Jennifer White
An Exploratory Study of the Therapeutic Alliance and Client Outcomes in a Voluntary Counselling Agency.
Nov-12
Cynthia Lee
Doug Magnuson
Rethinking "Foster Child" and the Culture of Care: A Rhizomatic Inquiry into the Multiple Becomings of Foster Care Alumni.
Nov-12
Rebecca Corcoran
Sandrina de Finney
Supporting Care-Giving Fathers: Fathers Perspectives of Work, Care and Msculinity.
Nov-12
Nicola Elischer
Jessica Ball
Resistance as Desire: Reconfiguring the "at-risk girl" Through Critical, Girl-centred Participatory Action Research.
Jun-12
Elicia Loiselle
Sandrina de Finney
A Narrative Inquiry: How Surrogate Mothers Make Meaning of Their Gestational Surrogacy Experience.
Jun-12
Ann Fisher
Marie Hoskins
Leaving the System: Stories of Transitioning Out of Care and the Road Ahead.
Jun-12
Chelan McCallion
Jennifer White
Taking Care in Child Protection: A Descriptive Account of Practices with Women Who Have Experienced Violence by Their Domestic Partners.
Jun-12
Darcie Emerson
Doug Magnuson
Community Level Interventions in Child and Youth Care Practice.
Jun-12
Teri Derksen
Sibylle Artz
Motives for Drinking, Alcohol Consumption and Alcohol-Related Consequences in a Vancouver Youth Sample.
Jun-12
Kimberly McIntosh
Gordon Barnes
Learning Through Play: Pilot Investigation on the Implementation of Landreth's and Bratton's Child Parent Relationship Therapy Training.
Jun-12
Sherry-Lynn Lidemark
Gordon Barnes
Activity-Oriented Approach in Child and Youth Care Intervention.
Nov-11
Donna Damsgaard
Sibylle Artz
Exploring the Possibilities of Learning Stories as a Meaningful Approach to Assessment in Nunavik.
Nov-11
Carol Rowan
Veronica Pacini-Ketchabaw
Disruptin the All-Too-Human Body Through Art in Early Childhood Education and Care.
Nov-11
Vanessa Clark
Veronica Pacini-Ketchabaw
e-sian: Youth Negotiating Asian in Racialized Online Groups on Facebook.
Nov-11
Vi Nguyen
Daniel Scott
The Other Side of Child Protection: The Lived Experiences of Front Line Child Protection Workers.
Jun-11
Michael Gough
Sibylle Artz
Acquired Brain Injury and Identity: Exploring Narrative Shifts Following Involvement in Multifamily Outdoor Adventure Program.
Dec-10
Dave Segal
Marie Hoskins
Working with Grief and Loss: A Facilitation Manual for Laichwiltach Family Life Society
Dec-10
Ronda MacKenzie-Cooper
Daniel Scott
Exploring the Discursive Limits of "Suicide" in the Classroom: A Foucauldian-Inspired Discourse Analysis of a School-Based Youth Suicide Prevention Program
Nov-10
Jonathan Morris
Jennifer White
How do School of Child and Youth Care Graduate Students Experience Gender Discussions in the Classroom?
Sept-10
Tanya Druskee - Pawliuk
Sibylle Artz
Capturing Youth Voices and Experience Within the Context of Suicide Postvention
Aug-10
Linda Finlayson
Jennifer White
Training Materials for a Critically Reflective Child Care Director's Community of Practice in Calgary
Aug-10
Susan Garrow
Veronica Pacini-Ketchabaw
Aboriginal girls and sexual exploitation in a rural BC town: A Photovoice study
Jun-10
Johanne Saraceno
Sandrina de Finney
Exploring Youth and Practitioner Perspectives: Assessing the Needs of Sexually Exploited Youth in the Lower Mainland
Jun-10
Kate Rudelier
Jennifer White
Three Mother's Stories: Life experiences with violence, abuse, mental illness, and substance abuse.
Jun-10
Mary Morrison
Marie Hoskins
SLEWSTHET Series - A set of four children's books entitled: I am afraid. (spiritual), A Day With Al (physical), Going to Goldstream (emotional), and A Place for me (mental)
Jun-10
Tracy Underwood
Daniel Scott
Project Alive Referral Decision Tree
Nov-09
Chris Cunin
Sibylle Artz
High Risk Alcohol Consumption and Contraceptive Use By Young Women in the Greater Victoria Area.
Nov-09
Julie Adams
Gordon Barnes
Polysubstance Use and School Engagement: A Longitudinal Investigation
Nov-09
Jennifer Zadorozniak
Gordon Barnes
Child Protection as a Culture of Negotiation.
Nov-09
Nathan Patten
Doug Magnuson
Youth Voice in Integrated Case Management: What Helps and What Hinders?
Nov-09
Mark Littlefield
Doug Magnuson/Roy Ferguson
Inked Women: Narratives at the Intersection of Tattoos, Childhood Sexual Abuse, Gender and the Tattoo Renaissance.
May-09
Ana-Elisa Armstrong de Almeida
Sibylle Artz
Girls and Young Women in Zambia, Who Have Lost Their Parents to AIDS: Attachment and/or Resilience.
May/09
Penelope Fenske
Sibylle Artz/Daniel Scott
Social Support for New Mothers: An Exploration of New Mothers' Postpartum Experiences with Online and Offline Peer Support Environments
May-09
Vali Hunting
Veronica Pacini-Ketchabaw
Emergent Management Tools for Aboriginal Early Childhood Development Programs in the Province of British Columbia.
May-09
Coral Bowman
Jessica Ball
Constructing a Life After Death: Writing My Younger Experiences of Grief and Loss
Nov-08
Carys Cragg
Daniel Scott
Building Bridges and Blurring Lines: The Value of Reflexivity in CYC-based Humanitarian Practice
May-08
Kim Vradenburg
Daniel Scott
Assessing Treatment for Men who Batter: A Review of the Literature
May-08
Bill Wagg
Jennifer White
Rising From the Ashes: Empowering Aboriginal Women
Nov-07
Mary Burgaretta
Daniel Scott
Even Now: Ongoing and Experiential Interpretations of Childhood Loss
Nov-07
Janet Newbury
Marie Hoskins
Challenges Facing Homeless Families in Greater Victoria: Past or Present Abuse, Mental Health Problems and Substance Misuse Issues
May-07
Kim Caldwell
Sibylle Artz
The Front-line Practitioner's Experience of Working with Children or Youth Engaged in Suicidal Behaviour
May-07
Patricia Ranahan
Roy Ferguson
Prevalence and Predictors of Tobacco use in Parental and Prenatal Environments
May-07
Anna Kurcharski
Gordon Barnes
Community-based Child Care Resource Assessment: The Case of Zomba District in Malawi
May-07
Khama Chibwana
Veronica Pacini-Ketchabaw
Practitioners Working with Immigrant Families: A Training Manual
May-07
Jan White
Veronica Pacini-Ketchabaw
Development of a Multi-Disciplinary Supervision Resource for the Maples Adolescent Treatment Centre
May-07
Sonja Radmilovic
Jim Anglin
Evaluation of Alberta Children's Services Delegation Training (2005 Pilot)
May-07
Patricia Toland
Sibylle Artz
Mothers Behind Bars: Defining and Redefining Self
Nov-06
Ahna Berikoff
Veronica Pacini-Ketchabaw
Personality: Reasons for Drinking and Alcohol Consumption and Abuse Patterns Among Youth
Nov-06
Sharon Burrows
Gordon Barnes
Negotiations of Female Racialized Adolescent Identities: Investigating the Intersectionalities of Race, Gender and Sexuality through a Transnational Feminist Lens
Nov-06
Erika Antl
Veronica Pacini-Ketchabaw
Preparing for Parenthood: The Significance of the Parent-Child Connection
May-06
Randine Mariona
Daniel Scott
A New Twist: Yoga Within the Stories of Youth Who are Street-Involved.
May-06
Brooke Alsbury
Daniel Scott
The Impact of Parent-Child Mother Goose: Mothers' Perceptions and Experiences of Singing to the Infants Ages 6-28 Months
May-06
Deborah Weis
Veronica Pacini-Ketchabaw
Kneeling in the Forest: Therapist Negotiations with Hope and Despair
May-06
Katrina Jenmorri
Marie Hoskins
Youth Leading with their Hearts.
May-06
Tracey Thompson
Gordon Barnes
Who I am: An Exploration into the Development and Retention of Professional Identity in Child and Youth Care
May-06
Angela Prescott
Jim Anglin
Informative Study on Permanency Planning for Adolescents With Adoption as an Option
May-06
Melanie Sims
Sibylle Artz/ Roy Ferguson
Child and Youth Care Practitioners Meaning Making of Feminist Identities
May-06
J. Nicole Little
Marie Hoskins
Responsive Residential Treatment of Aggression: A Curriculum for the CYC Professional
Dec-05
Rebecca Bernst
Jim Anglin
Reframing the "A" Word: Front Line Worker Perceptions of Organizational Change and Personal Transitions Through the Process of Child and Family Services Accreditation
Nov-05
Robert Bates
Daniel Scott
The Effects of a Holistic Wilderness Camping Model
Nov-05
Sean Lougheed
Roy Ferguson
First Haven: A Resource for Counselling Children Residing in Transition Houses
May-05
Gloria Hoban
Marie Hoskins
Children and Loss: A Descriptive Exploratory Study of Bereaved Children's Experience of Loss Following the Death of a Significant Adult
May-05
Allyson Whiteman
Jim Anglin/Daniel Scott
Victoria Home Instruction Program for Parents of Pre-school Youngsters (HIPPY) Supplementary Training Curriculum
May-05
Danielle Smith
Jessica Ball
Listening to the Self-Doubt Voice: What Do Child and Youth Care Practitioners Experience?
May-05
Heather Sanrud
Sibylle Artz
The Horse as Co-Therapist in Facilitating Adolescent Attachments
May-05
John Rayment
Sibylle Artz
A Personal Journey: A Therapeutic manual for Working with Women Who Have Experienced Childhood Trauma
May-05
Denise Masson
Jim Anglin
Building the Nests: Indigenous Language Revitalization in BC First Nations Using Early Childhood Immersion Programs
May-05
Onowa Blue McIvor
Jessica Ball
The Joy of Juvenile Joyriding
May-05
Susie Girling
Frances Ricks
Parents Interpret How They Socialize Their Pre-School-Aged Children to Learn Motor Skills
May-05
Jamie Covey
Frances Ricks
Curriculum Development Using Community Resources
Nov-04
Wunesh Woldeselassie
Alan Pence
The Impact of a Competitive Cheerleading Experience on the Development of Female Athletes
Nov-04
Amanda Steinberger
Roy Ferguson
Prevalence and Determinants of Adolescent Sexual Risk Behavior
Nov-04
Christel Siperko
Gordon Barnes
Developing an ECCD Teacher Training Curriculum in Lesotho as Part of a College Education Program
Nov-04
Edith M. Sebatane
Alan Pence
Promoting Wellness in Organizations Through an Employee Assistance Program (EAP)
Nov-04
Rhonda Schmitz
Jim Anglin
Traditional Child Care Practices in Tanzania: Supplementing PLAN Training Programs
Nov-04
Leoncia Nyeme Salakana
Alan Pence
Indigenous Knowledge and Practices of Parents and Families Regarding Psychosocial Care for Children in Three Rural Communities in The Gambia: Implications for UNICEF Programming in IECD
Nov-04
Jenieri B. Sagnia
Alan Pence
Development of a Model Framework for Orphans and Vulnerable Children in their Early Years in Ghana
Nov-04
Susan Sabaa
Alan Pence
Incorporating Indigenous Stories of Basotho In An ECCD Programme At Leseli Community Centre
Nov-04
Phaello Ntsonyane
Alan Pence
Assessing the Influence of Different Early Childhood Development Models on Pre-School Children's School Readiness in Kenya
Nov-04
Samuel Ngaruiya
Alan Pence
Policies and Programs in Support of Childcare for Working Families: A Case Study of Data Sets and Current Activities in Uganda
Nov-04
Hilda Carolyne Nankunda
Alan Pence
Professional Associations in Support of Child Well Being in Uganda: Establishment of ECD Newsletter Series
Nov-04
Monica. R. Muheirwe
Alan Pence
Improving Multisectoral Cooperation and Coordination in Support of Early Childhood Development Programs in Tanzania
Nov-04
George A. Kameka
Alan Pence
A Guide For Effective School and Parent Collaboration: A Cooperative Development and Delivery Approach
Nov-04
Celestina Amauchechukwu Ibetoh
Alan Pence
Involving Fathers in Early Childhood Care and Development
Nov-04
Rosemary Hua
Alan Pence
Improving the Quality of Childcare Through Parenting Enrichment and Training of Trainers: The Eritrean Model
Nov-04
Abeba Habtom
Alan Pence
Utilizing Indigenous Stories in the Promotion of Early Childhood Development Programs in Uganda
Nov-04
Anne Barabogoza Gamurorwa
Alan Pence
Integrating Indigenous Knowledge in ECD Training and Services
Nov-04
Mgbechikwere Uche Ezirim
Alan Pence
Parents' and Other Caregivers' Perception of Early Childhood Development Needs and Quality: A Study of the PLAN-Assisted Programmes in Bawjiase, Ghana
Nov-04
Stella Etse
Alan Pence
An Experiential and Educational parent Play Program
Nov-04
Josie DeGreef
Roy Ferguson
A Community-driven Rural Early Childhood Development (ECD) Project, With Emphasis on Culturally and Developmentally Appropriate Exploratory Learning Concepts
Nov-04
Charlotte Day
Alan Pence
Assessment of the Caring Practices in Two Motherless Babies' Homes in Abia State, Nigeria and the Development and Delivery of a Nutrition Training Program to the Staff of these Homes to Improve Nutrition of Children in Their Care
Nov-04
Olive Erinma Uzoamaka Akomas
Alan Pence
The Status of Coordination and Supervision of Early Childhood Education in Ghana
Nov-04
Margaret Amponsah
Alan Pence
Pilot Study of the Adaptation of an Established Measure to Assess the Quality of Child Services in a Selected Orphanage in Zambia: The Inclusive Quality Assessment (IQA) Tool
Nov-04
Margaret Abosede Akinware
Alan Pence
Building Community Leadership for Quality Sustainability in Madrasa Preschools: The Case of Madrasa Preschools Post Graduation Support
Nov-04
Asha Mohammed Ahmed
Alan Pence
The Development of an Integrated Early Childhood Development Urban Model Training Program for Informal Minders and Community Volunteers in Ghana
Nov-04
Felix Kwasi Agorsah
Alan Pence
How Youth With ADHD Narrate Their Relationship with Marijuana
May-04
Deborah Verkerk
Marie Hoskins
Incorporating Research Into Practice: Exploring the Possibilities of Action Research for Child and Youth Care Practice
May-04
Andrew Lochhead
Jim Anglin
What is Measured Matters: A Textual Analysis of Screening and Intake Used with Youth
May-04
Elaine Halsall
Sibylle Artz
The Role of Leadership in the "Spotlight Campaign's" Community Mobilization
May-04
Elizabeth Green
Jim Anglin
Continuing the Parent Journey: Design and Assessment of a Group Intervention Strategy for Maltreating Parents
May-04
Pearl Elliott
Jim Anglin
How are the Voices of Parents as Clients Engaged and Incorporated INTD Multidisciplinary Collaborative Practice Within the Family Resource Program Model of Service Delivery? A Case Study
May-04
Diana Bosworth
Sibylle Artz
Inside Quality Assurance: Challenges and Opportunities for Application in Foster Care in B.C.
Nov-03
Kelsea Lochhead
Jim Anglin
Crossing the Tightrope - a Case Study of the Development of a Parenting Curriculum for Caregivers in Lao P.D.R.
Nov-03
Lisa Albion
Alan Pence
Alcohol Consumption and the Related Factors Among Chinese Youth in Inner Mongolia
May-03
Ming Ao
Gordon Barnes
The Practice of Self-Awareness: Exploring the Meaning of Self-Awareness as a Professional Process
May-03
Shelley Weingart
Marie Hoskins
Managing Visibility: the Process of Managing Equity Issues for Gay, Lesbian, Bisexual, Two-Spirited, and Transgender People in an Academic Environment
Nov-02
Silvia Vilches
Frances Ricks
The Existential Meaning of Recovery
Nov-02
Bruce Muir
Marie Hoskins
Parents' Experiences of Children's Residential Care
May-02
Robin Pike
Frances Ricks
Healthy Young Children: From Knowledge to Community Action
May-02
Nancy McInnes
Jessica Ball
A Mediated Me: An Autoethnographic Study of Self, Body and Media
May-02
Kristy Dellebuur
Marie Hoskins
Exploring Human Service Practitioners' Community Work
Nov-01
Anne Field
Gordon Barnes
Searching for, Finding, and Experiencing Friendship: a Qualitative Study of Friendship Experiences of Seven Young Adults with Fetal Alcohol Syndrome or Fetal Alcohol Effects
Nov-01
Brenda Copeland
Laurene Shields
Unlearning Colonialism: An Aboriginal Experience in Education as the Practice of Freedom
May-01
Judith Boulter
Alan Pence
A Child's "Terminal Illness": An Analysis of Text Mediated Knowing
May-01
Nancy Bell
Perspectives of Mothers With Developmental Disabilities: the Same Dreams, the Same Goals, the Same Disappointments
Nov-00
Kelly Fells
Dropping in on School Administrators: Conversations Regarding "At-Risk" Youth and Administrative Decision Making
Nov-00
Patti Anderson
A Grounded Theory of Conflict Between Child Care Counsellors and Adolescents in a Juvenile Justice Facility
May-00
Lesley Woodman
First Nations' Perspective on Fetal Alcohol Syndrome/Fetal Alcohol Effects
May-00
Dolores Osborne
The Social Ecology of Malawi Orphans
Nov-99
Christopher Okumu
Philip Cook
Applying a Child Rights Perspective in B.C.'s Capital Health Region: Participatory Action Research in Child and Youth Health Care
Nov-99
Richard Mitchell
Towards a Meaning of Relationship and School Based Child and Youth Care Work
Nov-99
Judith Mazzocchi
Interplay of Online and Onground Realities: Internet Research on Youth Experiences Online
Nov-99
Mechthild Maczewski
Northern Communities in Transition: Changes Related to Flood Agreements in Two First Nations Communities in Northern Manitoba
Nov-99
Rubina Kirkness
Frances Ricks
A Case Study of Two Foster Parents and Their Experience Providing Care for Difficult Children: A Phenomenological Study
Nov-99
Kelli Kienas
No Exceptions: The Right to be Treated with Dignity and Respect in Youth Custody Facilities in British Columbia
Nov-99
Monica Jobe
First Nations Health Transfer: Challenges and Opportunities.
May-99
Lisa Montgomery Reid
Teenage Native Suicide: A Qualitative Study. A Report on the Perceptions of First Nation Communities Services by Awasis Agency of Northern Manitoba
May-99
Rose McKay
Against the Odds: A Phenomenological Study that Examines the Academic Success of At Risk Youth.
May-99
Michelle Koroll
Utilisation-focused Evaluation of a Youth-Led Health Promotion Conference
May-99
Brian Hill
The Road to Integration: A Personal Account and Analysis of the Process Leading to the Establishment of the Ministry for Children and Families in British Columbia
Nov-98
Mary Lynne Rimer
The Learning Needs of Aboriginal People and Implications for Educational Programming
Nov-98
Nancy Martin
Northern Manitoba First Nations' Perceptions of Fetal Alcohol Syndrome/Fetal Alcohol Effects and Methods to Ameliorate These Conditions
Nov-98
Robert LaFontaine
Fetal Alcohol Syndrome in the Canadian Press: A Discourse Analysis
Nov-98
Anna-Maria Huber
A Fire in My Heart: A Story About Early Childhood Educators of British Columbia
Nov-98
Linda McDonell
Somatic Gene Therapy: Feminist Responses to Ominous Challenges
Nov-98
Bev Boisseau
Self Awareness in Ethical Decision Making for Child and Youth Care Workers
May-98
Iris Elsdon
Creating Reserve Land in Thompson, Manitoba under a Treaty Land Entitlement Agreement: A Management Plan for the Awasis Agency of Northern Manitoba and Manitoba Keewatinowi Okimakanak Inc.
Nov-97
Andrew Thomas
A Community Development Plan to Create a Community Based First Nations Child and Family Service Agency
Nov-97
Walter Spence
Strength From Each Other: Diabetes Management Approaches From a First Nations Perspective
Nov-97
Suzanne Pearson-Mozdzen
Gordon Barnes
In Pursuit of a Model of Conflict Resolution: First Nations Family Justice
Nov-97
David Monias
Sexual Abuse in First Nations Perspective
Nov-97
Verna Ironstar
A Study of Decreasing Solvent Use in a First Nation Community
Nov-97
Greg Fidler
Yesterday, Today and Tomorrow: A Report on the Legacy of Abuse Among the Sayisi Dene
Nov-97
Jesse Duck
First Nations Perspective on Leadership: A Report on the Perceptions of First Nation Communities Services by Awasis Agency of Northern Manitoba
Nov-97
Thelma Bland
Child Neglect From the Standpoint of Mothers
May-97
Fay Weller
Understanding the Essence of the Relationship Between Big and Little Brothers and Sisters: A Phenomenological Study
May-97
Marney Thompson
The Relationship of Perceptions of Interaction and Learning Style to Learner Satisfaction in Distance Education
May-97
Iain Stuart
The Voices of Our Youth: A Report on the Perceptions of First Nation Youth Served by Awasis Agency of Northern Manitoba
May-97
Lori Oberdorfer
The Faith Community as Extended Family: The Influence of Shared Spiritual Values as Experienced by Baha'i Families in the Cowichan Valley
May-97
Ken Cooper
The Historical Alternative: Learning Organization Practice in Child and Family Services
May-97
Gerard Bellefeuille
An Exploration of the Roles and Functions of Child and Youth Care Practitioners Within the British Columbia Public School System
Nov-96
Duane Seibel
Student Sponsor-Educator Relationships During Early Childhood Education Practicum
Nov-96
Judy Pollard
Crown Counsels and Therapists: A Work Relationship and Its Influences on the Child Witness.
Nov-96
Judith Marshall
Personality Dimensions and Alcoholism: Patterns of Pre-treatment Consumption and Treatment Outcome in a Clinical Sample
Nov-96
Robert Anderson
Evaluation Framework for the Development of an Alternative Form of Education for Marginalized Youth in Developing Countries: A Case Study of Nairobi, Kenya
Nov-95
Jacqueline McAdam
Child Protection as Support.
May-95
Sheila Wallace
Survivors of High Risk Backgrounds: Resilient or Codependent?
Nov-94
Kay Armstrong
A Descriptive Study of the Impact of Foster Children on the Marital Relationship of Foster Parents.
Nov-93
Audrey Kruisselbrink
Alberta Families' Selection of Child Care Arrangements: A Descriptive Study.
Nov-93
Margo Greenwood-Church
Effects of Parent Education on Attitudes, Styles and Stress Levels Associated with the Task of Parenting.
Nov-92
Lis Upton
Professionalizations of Child and Youth Care in British Columbia: A Case Study.
Nov-90
Leanne Rose
The Ethical Behaviour of Residential Child and Youth Care Workers: An Exploratory Study.
Nov-89
Denise Van Amsterdam
Canadian Child Day Care: Translating Research into Policy.
May-87
Sandra Griffin
The Evaluation of Distance Education Technologies Used in the Delivery of an Introductory University Credit Course in Child Care.
May-86
Ralph Strong
A history of SCYC PhD theses
"We Don't Feel That Love". Retrospective Reflections on the Experiences of Removal, Transitions and Trauma from Former Youth in Care. By Angela Scott and James P. Anglin
Research & community engagement in Child & Youth Care. Bringing research to life.
Critical Suicidology: Transforming Suicide Research and Prevention for the 21st Century. By Jennifer White, Ian Marsh, Michael J. Kral, and Jonathan Morris

Journeys: Reconceptualizing Early Childhood Practices through Pedagogical Narration, By Veronica Pacini-Ketchabaw, Fikile Nxumalo, Laurie Kocher, Enid Elliot, and Alejandra Sanchez

Father Involvement in Canada: Diversity, Renewal, and Transformation, Edited by Jessica Ball and Kerry Daly is now available through UBC Press.

Crime Prevention and Community Safety for Children and Youth in Canada, Edited by Michel Vallée and Tullio Caputo is now available through the UVic bookstore for $26.95 plus shipping and handling. It has been produced with sponsorship and support from the University of Victoria's School of Child and Youth Care (www.cyc.uvic.ca) and the International Journal of Child, Youth and Family Studies(www.uvic.ca/ijcyfs).

Flows, Rhythms, and Intensities of Early Childhood Education Curriculum,

Edited by: Veronica Pacini-Ketchabaw

From UBC Press (October 2011), Child and Youth Care: Critical perspectives on pedagogy, practice and policy Edited by Alan Pence and Jennifer White (SCYC faculty members).

The School of Child & Youth Care's Fall 2016 Newsletter
The geography of women's wellness and well-being across British Columbia is available through the Dept. of Geography. Dr. Leslie Foster, adjunct professor with the School of Child and Youth Care, is one of the report authors.

Left 2 Live: Pathways to Recovery for Youth
International Journal of Child, Youth & Family Studies
Community Research Matters @ HSD
Congratulations to Sheila Porteous, current SCYC undergraduate student, for successful publication in the journal Relational Child and Youth Care Practice. The abstract of the article, entitled "Working in the Youth Criminal Justice System," can be viewed 

online

look for

Vol. 22 #2 Summer 2009.

International Handbook of Education for Spirituality, Care and Wellbeing, edited by M. de Souza, L. J. Francis, J. O'Higgins-Norman, and D. Scott.

This book explores the dynamic relationship between education and wellbeing. It examines the theory underpinning the practice of education in different societies where spirituality and care are believed to be at the heart of all educational experiences. The book recognizes that, regardless of the context or type of educational experience, education is a caring activity in which the development of the whole person - body, mind and spirit - is a central aim for teachers and educators in both formal and informal learning.