Machine shop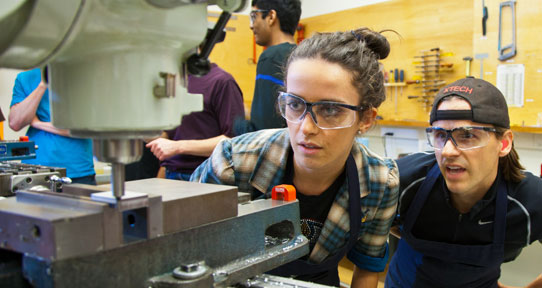 Location and hours
Shop manager
The facility is managed by senior scientific assistant Mr. Rodney Katz, who is responsible for the basic infrastructure of the facility. His office is in B111.
He will consults with students and faculty on the design and manufacturing aspects of research and undergraduate projects. Consultations of over 30 minutes are billed at standard shop rate of $30/hr.
Work hours: 9:30 a.m. to 1:00 p.m. and 2:00-5:30 p.m. Break: 3:30-3:45.
Shop use for students
Regular use of the B103 shop for students: 11:15 - 12:30am, and 1:00 - 3:30pm.
Extended hours are possible for experienced students with a SuperUser status. SuperUser forms.
A detailed description of all shop operations can be found in the shop policy document of May 5, 2011.
3D printer access
Several Ultimaker 3D Printers are available for student use and are administered by the Machine Shop staff in ELW B103. Several downloads are available for prospective users.
1) Mech Eng Ultimaker 3D Printing Guide
2) Mech Eng 3D Printer Policy
Feedback wanted
Please send us any comments you have on your working experience in the shop, as well as any suggestions for improvements in safety and efficiency.
Please address them to the lab manager. Thank you.