Rates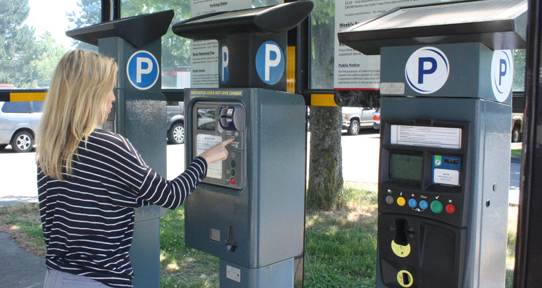 Day permits and hourly parking are available from dispensers at a rate of $1.50/hour to a maximum of $8.00/day.  Dispensers for day permits are conveniently located in all numbered lots outside Ring Road, including the Ian Stewart Complex lot. They accept quarters, $1 coins, $2 coins, Visa and Mastercard. Day permit holders may park in any General Parking stall.
Parking meters are available in most lots to facilitate short term visitor parking. They accept quarters and $1 and $2 coins. They vary in length from 1 hour to 2 hours and will accept a variety of coins.
Pay parking is in effect on the Gordon Head Campus Monday through Saturday 24 hours a day. There is no charge for parking  on Sunday or statutory holidays except at the Ian Stewart Complex and University Centre parkade where pay parking is in effect 24 hours a day, 7 days a week.
Gordon Head Campus (Excluding the University Center Parkade)
$1.50 per hour or portion
$8.00 daily maximum until 11:59 pm
$2.50 evening maximum from 6:00 pm - 11:59 pm
$2.50 maximum  for Saturday
$32.00 weekly permit valid 7 days from date and time of purchase

University Center Parkade
$1.50 per hour or portion
$15.00 daily maximum
Ian Stewart Complex
$1.50 per hour or portion 

$8.00 daily maximum until 11:59 pm

$32.00 weekly permit valid 7 days from date and time of purchase
Parking Permit Rates:  Click here