Permits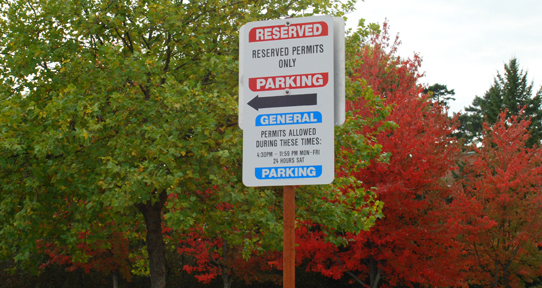 All parking areas on campus are designated as general parking and open for anyone to access. Pay parking is in effect in main campus lots 24 hours/day from Monday to Saturday. There is no charge for parking on Sunday or Statutory Holidays. Areas marked reserved are for designated reserved permit holders only.
All of the lettered parking lots inside of Ring Road are designated as Reserved and are not open for General use until after 4:30 p.m. weekdays and on Saturdays and Sundays.
At the Ian Stewart Complex and University Centre Parkade, pay parking is in effect 24 hours/day, 7 days a week.
Where to purchase permits
Reserved, General and Carpool permits may be purchased at the Campus Security Services office. When purchasing a permit or registering a vehicle for the first time, you must bring your vehicle registration/insurance documents with you.
Payment methods
Payment is accepted by credit card, Interac, cash, cheque or (in the case of full-time University employees only), payroll deduction. Permits are not issued to accounts that have outstanding traffic/parking fines.
Daily and hourly parking
Daily/Hourly/Weekly permits may be purchased at any of the automated coin/credit card operated dispensers located in every numbered parking lot outside of Ring Road as well as at the Ian Stewart Complex (formerly known at the Gordon Head Complex). These machines accept Canadian coins, as well as Visa and Mastercard.
For locations of meters and parking ticket dispensers, see the UVic Parking Map.