2011 Exhibits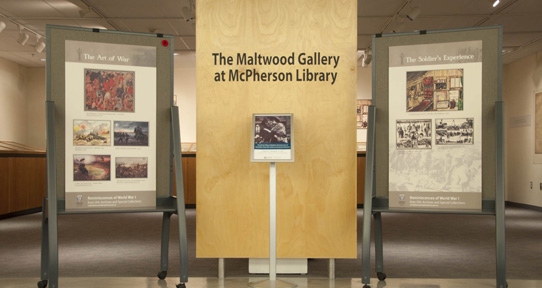 The World of Mary's Wedding: Reminiscences of World War I
In 2008, Pacific Opera Victoria commissioned composer Andrew MacDonald and playwright Stephen Massicotte to develop an opera from Stephen's award-winning play, Mary's Wedding. The play tells a story of love and remembrance set in the Prairies, the trenches of France and the battle of Moreuil Wood in March 1918. Three years later, a new Canadian opera, Mary's Wedding, made its world première in Victoria on November 10, 2011.
A collaboration between Pacific Opera Victoria and the University of Victoria Libraries resulted in an exhibit at the Maltwood Gallery at the McPherson Library, in the Archives and Special Collections Reading Room at the McPherson Library and at the McPherson Playhouse during the production of the opera Mary's Wedding.
As a permanent legacy, a website was developed where you can view photos and explore further information about this exhibit. The website invites us into "The World of Mary's Wedding" through Private Remembering (letters, diaries, personal photographs, scrapbooks), Collective Remembering (the military artifacts of war), and the Art of Remembering (war art, drama, poetry and music).