Booking requests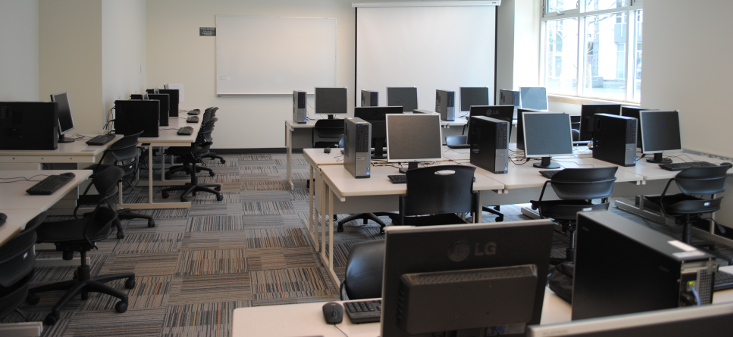 Our classrooms in the computing facilties can be booked for courses and other events. We offer several different room configurations and sizes as well as both Mac (OS X Lion/Leopard) and Windows (7/XP) platforms. All rooms contain video data projectors that display the instructor workstation's image on a projection screen at the front of the room.
Resources for instructors
Instructors may use the SFG Clients volume to make digital course materials, readings and assignments available, and to create drop-box folders for submitting digital assignments. This drive is mapped as the S: drive on all of our computers. If you want to set up a folder in SFG Clients for your class just contact us and we can get you started.
Scheduling a booking
Contact scfbook@uvic.ca with the following information:
Department
Contact name and phone number
Course and section number
Instructor name and phone number (if different from contact)
Number of students
Dates and  times required
Preferred platform (Mac OS X or Windows 7/Windows XP)
Required software and any other special requirements or requests
Cost
Academic or administrative departments: There is no charge.
UVic Continuing Studies: A $54/hour charge will be applied. Please include a FAST account number with these booking requests.
Conferences and other external bookings: These may be accommodated based on availability. The basic rental rate is $100 per hour with additional charges for special requests such as software installs. Please contact the Office of the Registrar for availability and information regarding conference services.
Questions
Software and hardware questions may be directed to one of the facility contacts.