Computer classroom bookings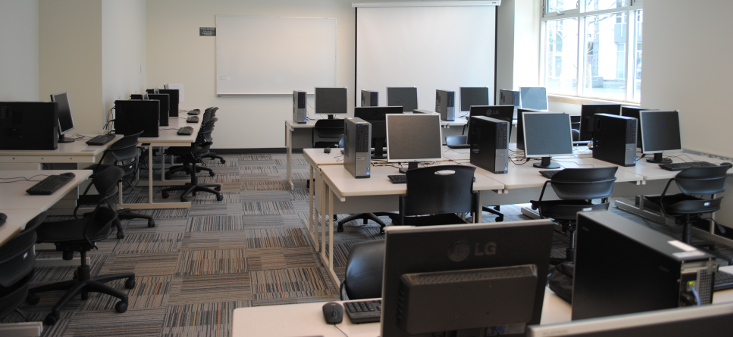 University Systems manages 14 computer classrooms which are available for academic and non-academic bookings by UVic departments. Classrooms range in size from 13 to 54 stations runing Microsoft Windows or macOS and as a variety of software for data analysis, research, and design.
We may be able to accommodate external bookings depending on availability.
Request a booking
Credit classes in UVic's academic calendar, including
lectures,
labs,
exams, and
tutorials.
Casual academic, non-academic, and external events, such as
continuing Studies courses,
international business courses,
conferences,
data collection for researchers,
workshops,
drop-in instruction, and
training sessions.
Book now!
Fees
Booking fees for non-academic events and labour and staffing fees for events with extraordinary requirements may be assessed.
There are usually no fees for academic events.
$100 per hour per room booking fee for external events
$54 per hour per room booking fee for external events sponsored by a UVic department
$54 per hour per room booking fee for internal events that charge admission, tuition, or conference fees, including


language courses offered through the ELC,
credit and non-credit courses offered through Continuing Studies, and
business courses offered through ISIBM, but
excluding tuition and student fees for students in degree-granting programs
$75 per hour labour fee for extraordinary setup requirements
$25 per hour staffing fee per hour booked outside of regular operating hours
Questions?
Please contact scfbook@uvic.ca with all enquiries about bookings, hardware and software resources, and fees.