Staff excellence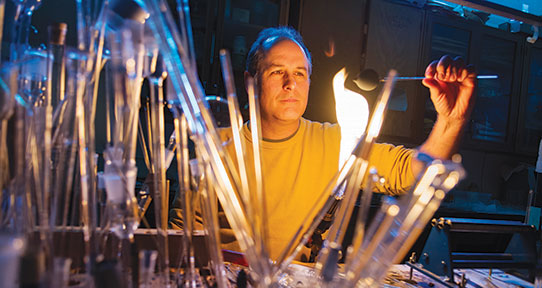 Science recognizes the passion and commitment of its staff by presenting an annual Award for Staff Excellence.
Check out our previous winners.
2014-15 Award for Staff Excellence
Sean Adams, Department of Chemistry
Sean is a Scientific Glassblower with the Department of Chemistry. He designs, makes, and repairs sophisticated custom glass equipment for scientists in a wide range of Science disciplines. He also occasionally provides services for students and instructors in Fine Arts and for technicians in Facilities Management. Since he started in 1994, Sean has been an outstanding member of the UVic Science team. His excellent skills as a glassblower alone make him indispensable, but it is his technical intuition, creativity, and "over and above" attitude that distinguishes his contributions to our enterprise.
Sean's custom glassware for researchers ranges from simple and sturdy to remarkably intricate works of scientific art. The glassware he makes and repairs is essential and often ground breaking equipment for our scientists, allowing them to maintain productivity and to expand their research into areas not otherwise possible. His work is meticulous. In some cases his involvement in the design and implementation of critical research equipment is such that he is cited in resulting research papers.
Sean's success relies not only on his invaluable technical skills, but also on his efficient management of the very busy Glass Shop. Other than Sean's salary, the Shop completely pays for itself through a charge-back system. This is a testament to his organizational abilities, as well as his creativity and ingenuity in designing and sourcing the necessary supplies and equipment. The amount of glass consumed in the Faculty of Science is significant and Sean saves a huge amount of it from ending up in the landfill.
In addition to his exceptional technical skills and the expert manner in which he manages the Glass Shop, Sean is also a generous contributor to the University of Victoria and the community. He is always ready to "step up to the plate" and get things done. For more than 20 years, Sean Adams has provided excellent service. Sean's contributions directly impact virtually all undergraduate students enrolled in science as well as the researcher outputs of the Faculty.
Previous winners
Previous winners
2014/2015
Sean Adams (Chemistry)
2013/2014
Kelly Choo (Mathematics and Statistics)
2012/2013
Jody Spence (Earth and Ocean Sciences)
2011/2012
Neil Honkanen (Physics and Astronomy)
2010/2011
Janice Gough (Biology) and David Nelles (School of Earth and Ocean Sciences)