Learning and development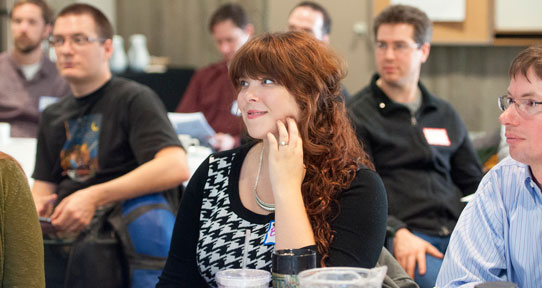 Learning is not attained by chance, it must be sought for with ardor and attended to with diligence.
― Abigail Adams
HR programs and courses
Learning and Development offers a variety of courses, certificates and programs to support you in your personal professional development.
Our courses are free for all permanent fulltime and part-time staff.
Note: a fast code is required at time of registration and fees only applied for last minute cancellations. View our cancellation policy for more information.
See our current courses & programs and frequently asked questions.
Excellent professional development opportunity - The Art of Leadership Conference (September 14)
The Art of Leadership is coming back to Vancouver on September 14th and you have an opportunity to participate in this exceptional day of learning. Additionally, a preferred rate has been established for our employees that are interested in attending.

The Art of Leadership features five internationally renowned bestselling authors and thought leaders, who will share an exciting blend of cutting edge thinking and real world experience on today's most critical leadership issues. Don't miss out on your chance to gain a competitive advantage and network with over 1,200 of Canada's most influential leaders.
Chris Hadfield – Astronaut & First Canadian Commander of the International Space Station (2013)
Captain Phillips – New York Times Bestselling Author of A Captain's Duty & Real Life Inspiration for the Movie Captain Phillips
Marshall Goldsmith – New York Times Bestselling Author & World-Renowned Leadership Expert
Gretchen Rubin – #1 New York Times Bestselling Author of The Happiness Project, Happier at Home & Better Than Before
Liane Davey – New York Times Bestselling Author of You First: Inspire Your Team to Grow Up, Get Along, and Get Stuff Done
REGISTRATION

University of Victoria employees will save $100 per person.
For information on ticket options and pricing: Click Here. Be sure to use Promo Code: CORP33

- ONLINE: REGISTER NOW!
For more information you can visit: The Art of Leadership or download our event brochure.
HR learning opportunities and programs
HR Learning and Development courses can be taken individually to suit your needs both personally and professionally.
In addition, we have also combined a variety of our courses into certificate programs designed for staff, new to or aspiring supervisors, supervisors and managers.
Apply for a certificates below:
How to complete a certificate:
These certificates are designed to be taken over a couple of years as your schedule permits and courses are offered
Courses can be taken in any order
Track your courses on the certificate course tracking forms listed below
Ensure you have completed the above application
Finally, submit your reflection paper to claremal@uvic.ca. See blow for more details.
Certificate course tracking form
The forms listed below are to assist you in keeping track of each course you have completed as well as providing a space for notes for each course. We recommend you use the notes section as it will aid you in writing your reflection paper once you have completed all the required courses.
Reflection paper requirements
Upon completion of all the courses pertaining to your certificate, we ask that you submit a reflection paper to summarize the following:
What you learned - Reflect on the different courses taken and two or three points that were learned that were helpful or created an insight or gave you a new skill or confirmed that you were on the right track. Also any observations about how the content in the courses complimented each other (course to course)
How did you apply learning - Tell about some ways you used the new skills or knowledge (ie. communication and creativity or managing conflict etc) or one particular set of skills. Tell a story of what you did and what happened and what was different/useful about using this learning
Conclude with your plans for application of the skills going forward. What is your intention for continued application of learning
Note: the paper should be 8-10 pages double spaced in 12 font.
This series of workshops will help managers and those in leadership roles in understanding university specific systems, processes and tools. The series has six main categories, with a range of topics within each:
Audience: Those currently in supervisory, management and leadership roles at UVic.
Duration: Topics in this series will run 2-3 hours.
Facilitators: Our own members of the campus community, and experts in their field, will be leading the sessions.
Schedule: Please see our learning and development training calendar for the list of dates and sessions and to register.
Limited seats are available.
Topics:
Connecting Your Work to the First Year Student Experience
University 101 - How the University Works and the Larger Context of post-Secondary Education
Greening UVic – Sustainability Initiatives at UVic
Understanding The Framework Agreement
University Communication – Practical Tips and Tools for Communicating in the University Environment
Integrated Planning Process
External Relations and our Connection to the Community
Implementing an Inclusive and Respectful Workplace:  Roles and Responsibilities of Managers
Helping People Talk about Mental Health in the Workplace (removing the stigma)
Intercultural Communication
Recruitment Process
Job Evaluation
Best Practices in Staff Recruitment
Expectations of Employees and Supervisors
Introduction to Performance Planning and Review Process
How to Ensure Accommodation and Return to Work – Works Well
Working within a Unionized Environment
Legal Aspects of the Employment Relationship
Attendance/Absence Management
Understanding the Budgeting System and Various Accounting aspects
Understanding University Finances – differentiating between operating, ancillary, capital, research and endowment funds
Travel and other business expenses
Brand Guidelines and the Style Guide: Best practices for publications, email and the web
Internet Initiatives and Web Strategies Including Social Media
Outlook Calendar and Email Management
Dealing with Disaster: Preparedness, Response and Support
Manager's Responsibility for Health and Safety of Staff 
Legal Issues that Affect Universities
Access and Privacy - Best Practices
Records Management& Responsibility
Information Security
This program is designed to promote professional and personal development.
We establish a relationship between two staff members that provides informal guidance, coaching, knowledge-sharing and enhanced understanding of the University of Victoria environment.
The program is run with a cohort of approximately 20 participants each year and is open to all staff. Participation in the program is by application or invitation only. 

The program starts in the fall and is six months in duration. It will include a mix of scheduled events and flexibility for pairs to meet on their own.
Please note:
At least one pairing will be reserved for members of a designated group as defined by the University Equity Policy.
All staff are encouraged to apply. Priority will be given to those in regular appointments.
Deadline for applications is October 17, 2014.
We realize that getting the right partner is a critical success factor in the mentoring experience. For that reason, we ask prospective mentees to fill out an application to assess their needs.
Based on the information in the application form and subsequent conversations with the mentee, we will then invite a specific staff member to act as their mentor.
Prospective mentors can put in an expression of interest to participate in the program by emailing
Tonya Said-Wilson
.
Mentee benefits
Expand personal and professional network on campus.
Gain an increased understanding and awareness about UVic and the careers available here.
Creation of a safe sounding board for ideas or issues.
Receive positive and constructive feedback on personal and professional development issues in a confidential setting.
Gain new perspective on ways to increase development and growth at UVic.
Increase confidence.
Higher job satisfaction and engagement in work.
Mentor benefits
Opportunity to grow coaching and listening skills.
Investment in the development of future leaders.
Transfer expertise to others.
Gain insights into other areas of UVic, how they work and how they approach issues.
Higher job satisfaction and engagement in work.
Pride in own skill set and attributes.
UVic benefits
Positive impact on retention and recruitment.
Promotes a welcoming environment.
Supports career and succession planning.
Engages equity groups, concepts and goals.
Increases communication across the organization using non-hierarchical pathways.
Develops talent.
Increases job satisfaction for mentors and mentees.
For more information on the program contact:
Tonya Said-Wilson
Human Resources Consultant
tonyas@uvic.ca
Phone 250-721-8090
Used with permission from York University, these self-paced self learning guides are designed to support individual learning and development for staff members.
These guides provide resources, tips and tools for those with hectic schedules who may not be able to attend courses and/or wanting to refresh skills.
Self learning Guides include:
Additional tips and tools include:
Campus learning opportunities and programs
FAST HR Reporting
FAST HR is a self-service reporting tool for authorized UVic administrators that provides access to position, jobs, leave and payroll information. FAST HR is available through the My online tools menu.
How do I request or access this service?
To request this service, your supervisor must log in and complete the Human Resources Security Access form. 
NEW! Discover FAST HR -  for administrators
Do you manage human resource reporting for your department or unit? Join us for an introductory 1.5-hour session.
Learn how FAST HR can help you manage your people and positions:
Query and run reports on positions, jobs, leave and payroll
Save pinned reports
Format and export reports to Excel or PDF
The session begins with a 45-minute demo of the FAST HR reporting tool, followed by time in the lab for questions and one-on-one assistance. View dates and register now!
For more information contact fasthr@uvic.ca .
Resources
Quick Guides
View/download UVic-specific FAST HR guides (PDF format) on popular topics.
Video Tutorials

These 5-minute video tutorials provide quick tips and hints for FAST users.
Produced by Millennium software & service solutions.
Technology Integrated Learning (TIL) is here to support your pedagogical approaches to maximizing technology in the classroom through the CourseSpaces learning management system, and other educational technology platforms. For professional development opportunities, please visit the listing of upcoming workshops.
External learning opportunities and programs
The university currently sponsors leaders to attend Centre for Higher Education Research and Development (CHERD).
Information on CHERD:
Application process:
Please use the application form and return to UVic Human Resources.
Please do not apply directly to the University of Manitoba.
Program fees are shared between your VP/president and your department budget.
Consult with your vice-president/president with respect to funding arrangements and approval for the costs of these programs before sending your application to Human Resources.
For more information on this program contact:
Barbara Hogan
Manager, OD and Learning Services
Human Resources
hoganb@uvic.ca
Tel: 721-8088
The University of Victoria sponsors two participants in Leadership Victoria every year.
For more information on this program contact:
Manuela Lale - HR Assistant
Human Resources
mlale@uvic.ca
250-472-5184
Related staff and forms