Practicum learning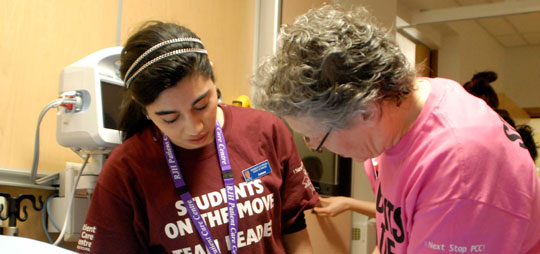 Some of our programs (nursing, social work, child and youth care and education) include a mandatory practicum, a directed work experience in your field of study.
Practicum experience gives you the opportunity to put theory into practice. You'll get a sense of the real-world responsibilities you'll face after graduation and find the perfect niche within your field.
Your practicum placement could be local, national or international. A practicum gives you opportunities to work in diverse settings relevant to your professional discipline.
You'll enhance your professional experience and broaden your understanding of policy, practice, therapeutic work and community development. If you're a student teacher you'll have an opportunity to do field experiences in both schools and alternative field placements.
Contact your program of interest for more information about their practicum requirements.
A Guatemala nursing practicum
Nursing student Lindsey Meidinger spent her final six-week practicum in Guatemala, helping people in rural communities gain access to medical care. Meidinger travelled with six other UVic undergraduate nursing students, one UVic nurse practitioner, 10 medical students from the University of McGill, and the coordinator of the program, senior instructor Wendy Neander. In collaboration with Pueblo Partisans (a non-profit organization founded by Neander), the students began in Guatemala City, then travelled to communities around the capital as well as Lake Atitlan, and finally to the northern part of the country to villages surrounding the town of Poptun.
People in communities opened up their homes and allowed students to turn kitchen tables and chairs into makeshift clinics. The students assessed patients and treated them for various illnesses. Although most students had some working knowledge of Spanish before departure, a translator was always available for more complicated communications. Sometimes there would be two translators: one to translate a native dialect to Spanish, and another to translate Spanish to English. During their trip, the students were exposed to three of Guatemala's 21 indigenous languages: Q'eqchi', Quiche, and Kacquikel.
Meidinger found the beginning of her practicum most challenging. She and the other students were "thrown in" to the task of assessing patients. "They would say, 'It hurts here, here, here, here, here, and here'. Where do you start? They have thirty, forty years of health problems that have never been addressed." Meidinger found it challenging to narrow down the patient's issues to the pertinent problem. But, as she learned to prioritize individuals' concerns, her job became easier.
In the UVic School of Nursing, students are taught in a holistic way, but from her previous practicum experience, Meidinger found that, holistic nursing is not always practiced in Canadian hospitals. "This [Guatemala] experience really reminded me how important it is to look at the whole person. Until you really talk about their background and talk about what they do for a living, you don't understand the real underlying cause of that certain illness or that certain symptom. And that's huge and one thing I'm going to bring back."
Neander thinks the student learning and experiences in Guatemala put them in a much better position to practice nursing in Canada. "When you do a practicum in the hospital [in Canada], you have no idea where people live and where they go when they walk out the hospital doors." In addition to seeing the importance Guatemala places on community, Neander believes students return with a greater sense of self-awareness. "When you go to a place that's so different than what you may be used to or who you are, it's like looking at yourself in the mirror," comments Neander. "Nursing is a human science and it's very important to connect on a human level."
The students were well received even though the group was large and they travelled in two big vans (an uncommon sight for the small communities). Meidinger admits that upon arrival to communities, villagers often gave "who-are-these-people" stares, but in general she found the Guatemalan people to be very welcoming. "Everyone was very thankful and shook our hands and hugged us."
This was the second time the School of Nursing has taken students to Guatemala for practicums, however, Neander has accompanied students from Oregon Health and Science University, Red Deer College through the University of Alberta, and the University of British Columbia Okanagan on similar trips over the past 15 years.
Will I get paid?
No. Unlike co-operative education, practicum is an unpaid course requirement.
Will I have a supervisor?
Yes, you'll be supervised by qualified professionals. They'll monitor your progress and support learning outcomes. They'll also help match you with practitioners or mentors for more training opportunities.
Will I do more than one practicum?
It depends on your program.
Who offers practicum at UVic?
At UVic, students in child and youth care, nursing, social work and education experience practicum learning as part of their programs. It's also called field experience in education and practice placement in nursing.
Get more information on practicum from program websites:
School of Child And Youth Care
School of Nursing
School of Social Work
Faculty of Education