Work experience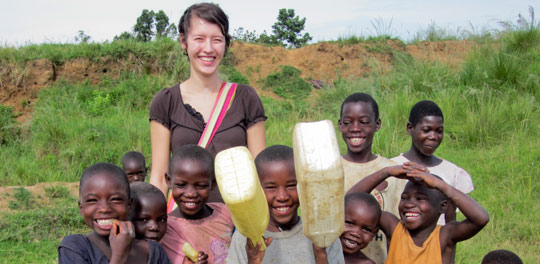 Learning beyond the classroom
Classroom learning is just one piece of the puzzle - at UVic, you'll be challenged to learn in new and dynamic ways. Complement your academic studies with serious hands-on work experience through the co-op program or a practicum, test your boundaries by traveling overseas on an international exchange, or embark on a field school adventure with students from around the world.
Take part in co-operative education (co-op)
One in four UVic students takes part in the extremely popular Co-operative Education Program, which helps them alternate academic terms with work terms and graduate with up to one year of work experience in the real world. Learn about our co-op programs.
Field schools
Wade knee-deep into research at field schools, including the Bamfield Marine Sciences Centre—one of the best facilities on the planet for coastal marine research.
Students in the I-witness Holocaust Field School travelled to Central Europe to explore how the sights, memories and history of the Holocaust have been preserved at historical sites, museums and monuments.
The Redfish School of Change is an interactive and experiential field school for students interested in food security, ecological sustainability and social equity.
Career planning
Co-op and Career Services have put together three professional kits to help you evaluate your career-launching skill sets: