Campus & personal safety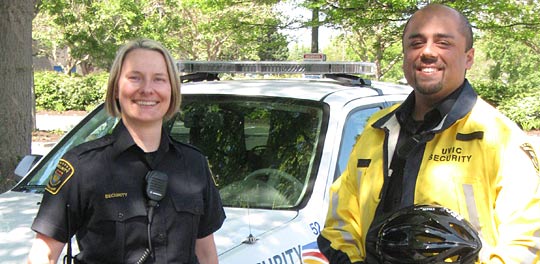 When you select UVic, we trust that it's a choice based not only on academics, but on the fact that you will be safe and fully supported here.
Make sure you sign up to receive emergency alerts in case of a campus-wide emergency.
Campus security services
Campus Security maintains a 24-hour, 7 days a week hotline for emergencies and the Safe Walk program. Call 250-721-7599, or use one of the 12 direct dial phones throughout the campus for immediate assistance.
UVic's Personal Safety Coordinators are liaisons between Campus Security and the University community. They provide safety workshops, address individual security concerns, and assist with mediation of individual complaints.
Anti.Violence.Project
The Anti.Violence.Project provides anti-oppressive and sex-positive services, advocacy and action on-campus and off to people of all genders, in partnership and collaboration, in order to address and resist gender-based and all forms of violence.  In addition to support services, the Anti.Violence.Project provides information, resources, and referrals to all UVic students.