Family support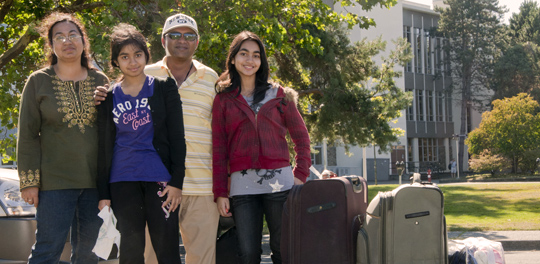 Your student is about to embark on an exciting academic journey. At UVic, we know that it's important for you to feel connected to that experience.
We want you to know all about our top-rated academic programs, our outstanding opportunities for involvement, and the many ways we provide your student with support, from finance management to academic and career planning.
Discuss finances. Make sure you're clear about expectations, including who will pay for what. The Financial Aid office can help you with strategies for balancing the budget.
Pass on your life skills by providing tips on how to handle new responsibilities.
Encourage involvement by talking about opportunities to engage in campus life.
Help to maintain a positive connection to family and home.
Become familiar with on-campus support systems and if you're in Victoria, take part in our family orientation. That way you'll know what to recommend.
Under the Freedom of Information and Protection of Privacy Act, the university cannot release personal or academic information without consent, so it's important that you come to a shared understanding of expectations with your student about what rights they will authorize you, what might be communicated and how.
See the university's Protection of Privacy Policy for more information.
Access to information during the admissions process
A family member or representative can be given permission to make inquiries on behalf of an applicant as a proxy if written consent is provided. A student can give this permission when completing an application to UVic, or they may email permission to their assigned assistant in Undergraduate Admissions, specifying the proxy's name and relationship to them.
Access to information while studying at UVic
All proxy rights assigned during the application process expire once the first term of classes begins. New permissions must be provided to Undergraduate Records using a proxy form.
Students living on campus receive a mail box which is labeled the same as their room. All correspondence mailed to students must include this information i.e. their building and room/unit number.
Example:
Regular mail
Courier mail
Student's Name
Building + Room #
UVic Student Residences
PO Box 2100 STN CSC
Victoria BC
V8W 3A4
Student's Name
Student's Phone Number
Building + Room #
University of Victoria
Craigdarroch Office Building
Parking Lot#5, Off Sinclair Rd
Victoria BC
V8P 5C2
Mail deliveries usually start the first Monday after classes start (see Residence Services' list of important dates).
Letters
Use the regular mail address (see above). Letters are first delivered to University of Victoria Mail Services then forwarded to the Residence Services Office. Once letters are received at the Residence Services Office they are then put into students' mailboxes.
Parcels and large packages*
Use the regular mail address (see above). Parcels, large packages, priority mail and registered mail are sent to University of Victoria Mail Services before being forwarded to the Residence Services Office. Once they receive the parcel, an email is sent to let the student know that a special delivery has arrived.
Boxes and trunks*
Boxes, trunks, etc. should be addressed to the courier mailing address (see above). There is no storage space in the office area and shipping companies will not deliver to residence rooms. During the academic year, if we receive a courier during office hours, an email will be sent to let the student know that a special delivery has arrived.
*Students picking up parcels and/or courier packages:
can do so during office hours;
are required to sign for the package;
need to present or show a copy of the email notification;
need to present photo ID.