Kieran Cox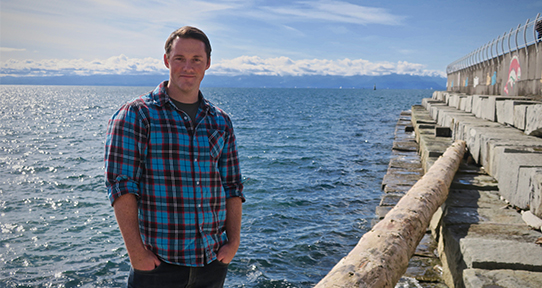 "As a young scientist, starting a PhD can feel daunting – receiving donor funding has played a fundamental role in reinforcing my commitment to marine science and furthering my career aspirations.
I originally came to UVic for my undergraduate degree because of the vibrant scuba diving community. I have always found the ocean mysterious and limitless. It doesn't take long after diving on the west coast of Canada to see the abundance of marine resources. And to recognize that if we don't manage and protect our oceans, they won't last forever.

I knew I wanted to return to campus to study at a graduate level. My Ph.D. research investigates how marine biodiversity varies across different habitats and scales, and the processes driving this variation. Currently, I am looking at how marine ecosystems respond to traditional and contemporary shell-fish cultivation.
The generosity of donors has made this possible. It is incredibly valuable for any graduate student to receive this form of encouragement, especially from those who have been through a similar experience. Your contribution is an investment in my research and an acknowledgment of all my hard work and effort.
I want the donors who supported my journey to know that their gifts have made a vital impact on my life, and all the lives I hope to change with my research. You have shaped my academic career since I was an undergraduate student, and I couldn't be more grateful."
Your generosity has the power to help change the lives of graduate students like me and open the door to the extraordinary academic environment at the University of Victoria." 
With gratitude,

Kieran Cox, PhD Candidate
Faculty of Science Graduate Studies

P.S. Read more about my research online!