Avis Rasmussen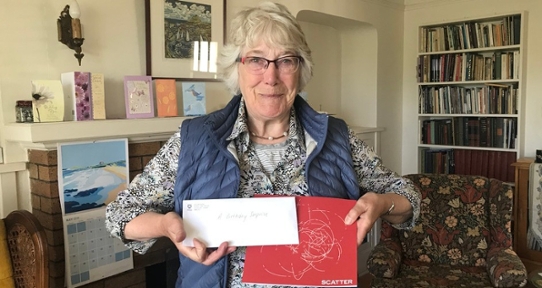 A Birthday surprise
On her 82nd Birthday, Avis Rasmussen sits in her living room with a cup of tea excitedly explaining her latest painting. "Playfair Park is beautiful this time of year," she says pointing to a canvas of bright purple and pink flowers. "I love capturing all the colours."
What she doesn't know is her family set up a surprise for her birthday, establishing an endowed scholarship for UVic students in her name.
Juliana Hendriks, a leadership giving officer at UVic, is visiting Avis to deliver the news. "Avis we have a gift to share with you," Juliana says, handing her an envelope.
Avis opens the envelope and begins to read.
"It is your family's wish that the Avis Rasmussen Award will be awarded each year to one or more mature graduate students in the Department of Visual Arts with a focus on painting, drawing or print-making."
"I can't believe they would do this for me!" Avis says smiling. "It means so much to be able to help UVic art students for years to come."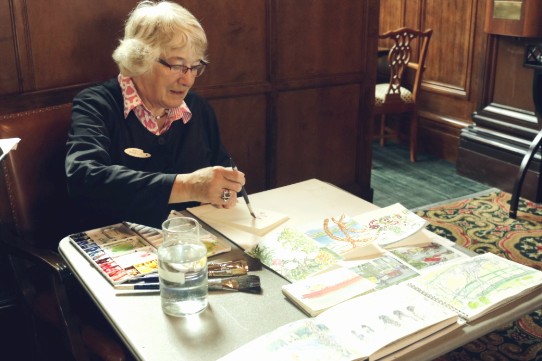 Awarding drive and passion
Karin Rasmussen, Avis's daughter, says the intention behind the gift is to provide affirmation and assistance to a student who embodies the same drive and passion her mom showed in pursuing her education.
"Our family has always recognized the amazing achievement it was for her to have attained three university degrees while working and raising a family of five children," Karin says. "We also wanted to honour [her] dedication to being an educator and artist."
Avis attended Victoria College, earning a teaching certificate in 1957.  After teaching for a few years, she decided to return to school to pursue her passion for art.
"I had always loved art," Avis explains, "As a child, I would spend hours in my father's garden sketching and painting."
Avis completed a Bachelor of Education in 1975 and then was accepted into the UVic visual arts program, graduating with a Bachelor of Fine Arts in 1979. Three years later, Avis also graduated with a Master of Education.
While she continued teaching for many years, art became her life's work. Avis spent time travelling through Canada, the U.S. and Europe painting plein air. "I loved to capture the colour and beauty of places," says Avis. Her artwork received many accolades throughout the years and has been featured in exhibitions worldwide.
A legacy of giving
Through all her success, UVic has remained a priority for Avis. She served on the Alumni Board for several years and volunteered whenever she was able.
 "UVic will always have a special place in my heart." Avis explains, "It is where I learned to challenge my creativity and honed my artistic style."
So, it's fitting Avis will now be able to help other students do the same through a scholarship in her name. "This award has allowed me to create a legacy of helping other artists pursue their dreams," Avis says. "There is no better feeling than that."