Christina Hunter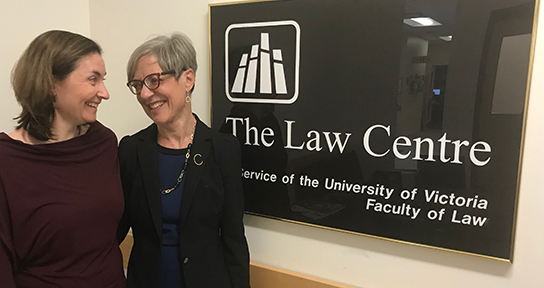 A new passion for mother and daughter
Christina Hunter (Political Science '93) remembers the moment well. She had driven to the Law Centre to take her daughter Keely Hunter out for lunch. As Keely climbed into the passenger seat, Christina asked about her day. Christina soon realized a new fire had been lit in her daughter's heart.
Keely talked about how much she was learning at the centre. She talked about the dedicated team of lawyers and mentors and explained how the centre helped clients who couldn't afford a lawyer. "Keely was so impassioned when she talked about the Law Centre," remembers Christina. "It appealed to her sense of justice and renewed her faith in the legal system."
The fire quickly caught in Christina's heart and she resolved to find a way to support the centre. Those thoughts remained with her for almost a decade, until Christina and her husband Bruce reviewed their Wills in 2017, and decided to add a bequest to UVic.
Access to justice for people who need it most
Christina chose to direct a legacy gift to the centre for three reasons. "For one, I know they need the funding," she says. "Also, I believe those lawyers provide a valuable contribution to community. And lastly, I know the experience carries through the students' careers, often becoming part of who they are, like it did for my daughter."
Keely, who now works for the Canadian foreign service, says the Law Centre helped her develop the ability to listen compassionately and professionally. "I learned by example never to underestimate nor disempower clients affected by mental illness, crisis or abuse," she says. "The Law Centre ethos showed us students that being a professional who cares is a choice."
But perhaps most important to Christina is the knowledge that she will be helping the centre continue to offer critical services to a vulnerable segment of society. Through their Wills, Christina and Bruce are leaving a gift of access to justice for people who need it most.
I just wish more people knew what the Law Centre does and how it needs our support. It addresses people's need for justice and ultimately, compassion. And without compassion, we lose our humanity." - Christina Hunter
Read more about the Law Centre
Discover more about legacy giving