Maternity and Parental leave
Congratulations!
We are so excited to hear your news! Having a child is an exciting time. We hope that we can help you out with some of the processes here at UVic. 
There are some tasks to do at key milestones in the maternity/paternity process:
Telling your Supervisor
Your Physician or Mid-wife will provide you with note or letter with a projected due date. The letter is required by UVic to process your leave, and it provides a base date for planning your leave.
Okay! You are ready to let your supervisor know that you are going on maternity or parental leave. You may want to have a one-on-one discussion with your supervisor first, but ultimately, UVic requires written notification of when you are planning to go on leave. In your letter or email, you should specify:
Your department will submit a Position Status Change Request form to Payroll with your letter and Physicians/Mid-wifes note attached. This will allow payroll to plan for your leave so that when you start your leave, the process goes smoothly.
In planning your leave, if you have questions after reviewing the HR Maternity/Parental Handbook, please contact the Benefits Manager (250.721.8089).
You should also take the time before your leave starts to review the EI process. The Leave top-up/EI process can be a little complicated, so it is good to prepare any paperwork or information that you might need before you go on leave.
When your leave starts
If you have had to start your leave earlier than planned, contact Payroll and your supervisor to alter the dates of your leave. 
Maternity/Parental Leave can be started up to 8 weeks before the due date. Any leave more than 21 weeks before the due date will require the use of another leave type. 
Once EI has approved your claim and the amounts, you will need to tell the Payroll Office so that your top-up payments can be initiated. You will find the critical information on the "My Service Canada Account" website. You can print or take a screen shot of the page to send to Payroll. Your sumbission should look as follows: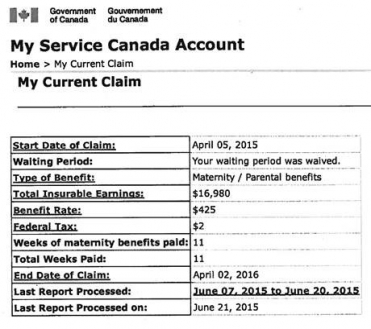 UVic paid top-up for maternity and parental benefits commence once confirmation of EI benefits have been received.
Top-up pay is made on the next scheduled pay date based on the employee's normal pay schedule following receipt of the EI claim information.
The Benefits office will mail health and dental enrollment forms as applicable. 
Complete the form(s) to add your baby to your benefits plans (within 30 days of birth).
During your leave
Once your top-up has been completed, you are required to pay for the benefits that you wish to collect. The Benefits office will send you a letter outlining your options, and the costs. The Payroll office will take post dated cheques for monthly payments to make sure that you are still covered. Cheques can be mailed to:
UVic Payroll
PO Box 3040 STN CSC
Victoria, BC V8W 3N7  Canada
Or dropped off in person at:
Michael Williams Building
Room B115
3800 Finnerty Road
Victoria, BC V8P 5C2 Canada
Before you come back from leave it is always good to touch base with your supervisor so that they know what your plans are, and what you should expect coming back to work. The return to work process can be challenging, and it's good to have a discussion with your supervisor about expectations before coming back to work.
More information