Engineering a greener tomorrow
In the Saidaminov lab, Parinaz Moazzezi works to create cleaner, more affordable solar technology.
By combining her love of learning, nature, and engineering, Parinaz Moazzezi, is pursuing her dream of one day making renewable energy accessible for everyone. She is the recipient of the Robert W. Ford and the Donald Wagg graduate scholarships, two awards that have helped her and her husband weather the high cost of living while they both work towards their doctorate degrees in engineering.
Originally from Iran, Parinaz works under the supervision of Assistant Professor and 2020 Canada Research Chair, Makhsud Saidaminov. The multi-disciplinary team in the Saidaminov Lab is using innovative chemistry and engineering methods to explore alternative materials for solar energy technologies that do not depend on harmful heavy metals. "Compared to what's currently available—silicon solar cells—the material we are testing is cheaper and cleaner to produce, more efficient and has wider potential applications," says Parinaz.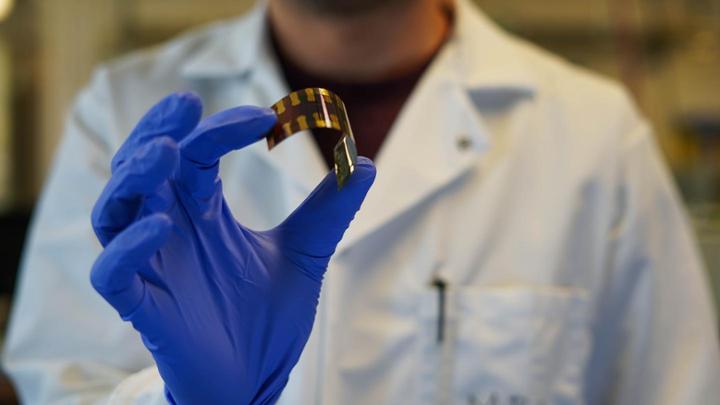 Alongside chemists, physicists, electrical and mechanical engineers, and material specialists, Parinaz is helping stabilize solar cells that use perovskite. The team is continuing to test the efficiency of this material by measuring how many photons of light the lab-scale cells can absorb and if they're capable of producing enough electricity. So far, the results look promising. One moment that Parinaz is particularly proud of came four months after she joined the lab, when she made the device with the highest efficiency up to that point.
The team continually faces challenges while they test and innovate, but Parinaz is feeling optimistic. "Research is not just about having final and best results. Research is finding a way, studying it, and eventually, you will find the solution." Her team members share a deep commitment to their research, shown by the ambitious statement on the lab website: "We will not stop working on this project until at least half of the globe is powered by green energy."
Parinaz's own passion for renewable energy has grown since moving to Victoria and spending more time outdoors. "Back home, my city was so polluted. Here, my husband and I say our lungs are shocked with all the oxygen we can breathe. We must protect it to keep it as good as it is." She is very excited to eventually test commercial applications of these solar cells. Because perovskite could be flexible, she sees the potential to make small, portable solar charging devices that could fit in a jacket or backpack—perfect for camping or hiking, be it in Iran or along the Pacific coast.