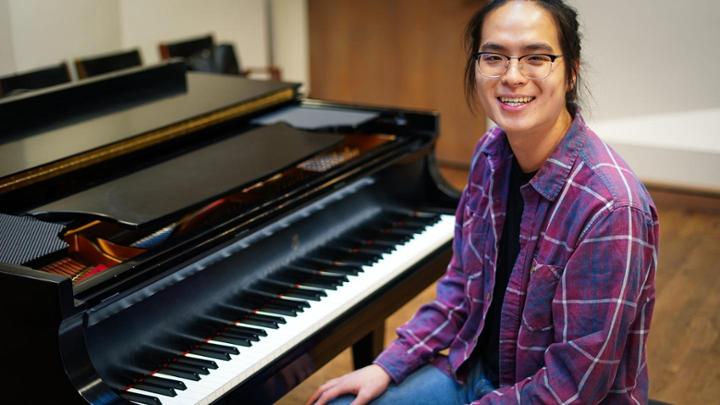 Few people can say they found their calling at just four years old. Pianist Lucas Hung is thankful for the opportunity to turn that childhood passion into a career at UVic's School of Music. 
"Music is something that I can express or communicate to myself without having to think about it. I don't have to be as conscious with what I'm doing but rather breathe in and breathe out and create something. It's really important to me," says the third-year student.
Playing and mastering the piano for 16 years now, Lucas grew up in Coquitlam BC surrounded by the art. His two older sisters are also pianists and studied under May Ling Kwok, a music performance instructor at UVic and a faculty member at the Victoria Conservatory of Music. Lucas began studying with Kwok back when he was in grade 11, taking the ferry to Victoria every other Saturday.
Coming to UVic to pursue a music degree in piano performance was the natural next step. "Being able to continue working with May Ling and delve deeper into the music was something I was excited for. Being in the School of Music environment, there's such a welcoming group of people. People that I hadn't even met were already saying hi to me in the hallways. This is an incredible place with all its natural beauty," he says.
Trip of a lifetime
Throughout his three years studying at UVic, Lucas has received many awards and scholarships, recognizing his talent, hard work, and commitment to music and his schooling. In the summer of 2022, alongside two of his friends, Lucas went to Salzburg, Austria for a month to study on a Johann Strauss Foundation scholarship awarded to UVic students. Here, he visited the birthplace of Mozart, walked the cobblestone streets, and ate incredible schnitzel and wurst while meeting people from all around the world. Calling this trip "the dream of a lifetime," he connected with music in an entirely new way. "Being able to have the opportunity to study in Europe and see that although everything is different here and nothing is the same, the music is the same. It's cool to realize that even though I'm coming back the notes are still connected halfway around the world," says Lucas.
An investment in "works in progress"
After feeling the initial excitement of receiving an award, Lucas shares there comes a feeling of gratitude with the appreciation that he won't have to work so much. "Receiving these awards have enabled me and given me the opportunity to fully immerse myself in my studies and seek opportunities in my community," he says. Last year, Lucas co-organized a concert series titled Amplifying Voices with the School of Music's Music Student Association. Students were asked to perform pieces by BIPOC, queer or female composers and afterwards an expert panel discussed diversity in the Victoria music community and next steps to move the needle. He also continues to study with Kwok at the Conservatory, see the symphony and attend rehearsals at the opera when possible. "Seeing these events, attending master classes and getting more experience with other organizations and institutions increases my breadth of what a career might look like outside of music school."
With gratitude for the help he's received, Lucas' perspective on donor support is a beautiful one.
"Thank you for supporting us in the journey of discovering what we want to do. You are helping us explore things that we don't know the answer to. I really appreciate that you aren't investing in us as final products, but you are investing in our work without knowing which way we will go. That trust is really appreciated, and that trust helps us go deeper to trust ourselves and our work as well."
—Lucas Hung