Marie and Gilbert Peart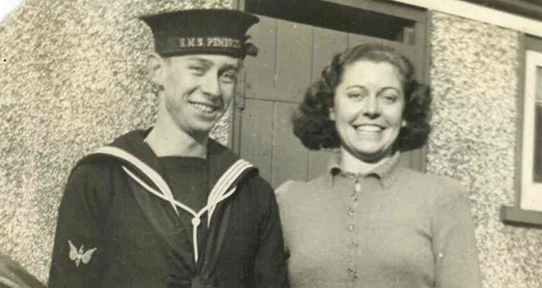 Self-Educated couple give the gift of education
According to friends, Marie Peart was "a gracious lady" and Gilbert Peart "lived life to the fullest." Largely self-educated, this happy couple wanted others in our community to have the privilege of higher education in areas which interested them: medicine, literature and music. They found the perfect "fit" for these aspirations at the University of Victoria.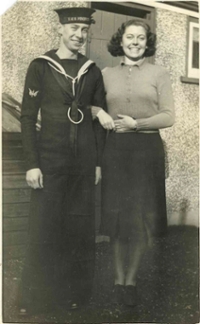 Gilbert came from hard beginnings in the industrial north of England. He left school at 14 to become a fitter, assembling and adjusting machinery for a huge steel works. Nine years later, he applied to the prestigious Metropolitan Police Training School in London and was accepted. After graduating with honours, Gilbert became one of those famous London "bobbies" and advanced quickly to the rank of detective.
Around this time he married the vivacious Marie who, like Gilbert, couldn't afford an advanced education. However, when she left school she took every opportunity to develop her natural intelligence and athleticism.  When Gilbert met her, she was an avid tennis player who read voraciously and loved singing. A newspaper review of the time praised her performance in an amateur theatre production. 
The Pearts' life together was interrupted by his service in the navy during World War II. True to form, he climbed onto the fast-track to become an officer and saw action in the Mediterranean. 
On his return at the end of the war, Gilbert quit the police force and took a job as a salesman for OFREX, a company which provided carbon paper, typewriter ribbons and stapling machines to the offices of England. Frank Lowe, another OFREX salesman of that era, wrote an internet blog about his experience: "My job was calling on all outlets with my samples and persuading them to use me instead of the dozens of others available. You needed resilience and an ability to convince people that you were their best option." Gilbert obviously had those qualities because OFREX gave him so many sales awards they eventually had to declare him ineligible for more! He became the company's sales manager for the City of London and, in 1952, was asked to go to Canada as Sales Manager for the province of Québec. In a brief memoir, Gilbert called their move to Montréal the beginning of "a wonderful, life-long adventure."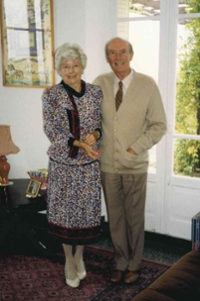 In Montréal Marie organized Red Cross blood donor clinics and kept on playing tennis. When they weren't working, the Pearts enjoyed the Laurentian Mountains north of the city, skiing in the winter and spending summer weekends at a lakeside cottage. 
Then, in 1954, Marie and Gilbert started a business together and named it after themselves: Margill, Inc. It dominated their lives for the next 35 years and they took on two partners, one of whom was Gilbert's brother Eric.
The Pearts moved to Victoria in 1979 and went into semi- retirement, directing their business long-distance and finally selling it in 1989. On the west coast they replaced their beloved skiing with lawn bowling, Marie serving as President of the Victoria Lawn Bowling Club.  Always active, they also hiked, played bridge and snooker and travelled to warmer climes most winters. About that time Gilbert wrote that "reading and listening to classical music are among the great comforts of life" for both of them. 
Two of those "great comforts" became the basis of student awards at UVic when Marie, who was predeceased by Gilbert, left a generous bequest to the university in her Will.  It established bursaries in English literature, music and medicine. They will support students with financial need in those three disciplines for generations to come.
For more information on donating to UVic, please contact mgrlegacydev@uvic.ca or 250-721-8967.
Follow @UVicPlanGiving