Events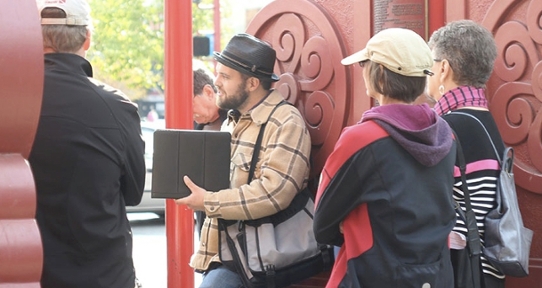 Lectures, conferences, symposia, a film series, field-trips and special events—these are some of the channels through which knowledge generated from CSRS research is shared with the community. With few exceptions, CSRS events are free and open to all.
The CSRS Weekly Lecture Series
This series features weekly presentations by the various faculty and visiting research fellows in residence at the Centre for Studies in Religion and Society. Unless otherwise noted, the lectures are held 4:30 - 5:30pm Thursday afternoons in the David Strong Building, Room C118. They are free and open to all members of the public and university community. View or download the schedule here.
Audio recordings of past lectures are available on UVic's SoundCloud site.
---
Winter 2017 Lectures
January 12
Brandon Taylor, CSRS Ian H. Stewart Graduate Student Fellow
January 19
Daniel Peter Biro, CSRS Artist in Residence
January 26
Katharine Jefferts-Schori, Visiting Lecturer
*note different time and place for this special John Albert Hall Lecture:
5:00-6:00
David Turpin Building, Room A120
February 2
Atri Hatef, CSRS Ian H. Stewart Graduate Student Fellow
February 9
Real Roy, CSRS Faculty Fellow
February 23
Renee Soulodre-Lafrance, CSRS Visiting Research Fellow
March 2
David Seljak, CSRS Visiting Research Fellow
March 16
John Trafford, Winnifred Lonsdale Graduate Student Fellow
March 23
Susannah Heschel, Visiting Lansdowne Lecturer
March 30
Janet Munsil, CSRS Artist in Residence
John Albert Hall Lectures
The John Albert Hall Lectures are a multi-part speaker series featuring expert perspectives on the changing role of religion in contemporary society. Support for this series is generously provided by the Anglican Diocese of BC John Albert Hall Trust. Lectures are held 4:30 - 5:30pm Thursday afternoons in the David Strong Building, Room C118 unless otherwise indicated. They are free and open to all members of the public and university community.
Video recordings of past John Albert Hall Lectures are available on the CSRS vimeo site.
The text of Katharine Jefferts Schori's January 26, 2017 John Albert Hall lecture is available here, and her sermon at Christ Church Cathedral on January 29, 2017 can be viewed here.
---
Centre-Cine Film Series
Each month from September through April, the CSRS presented a feature or documentary film as part of the Centre-Cine Film Series. The films are carefully chosen to explore questions of morality, culture, the search for meaning, and other themes arising from the human spiritual journey.

Every month Centre-Cine participants will be sent the name of a selected film. It is up to participants to locate and watch the film themselves. Everyone is then invited to meet for a group discussion on the film with CSRS Artist in residence, Terry Marner, acting as facilitator. All films in the series will be available on Netflix and most will be available from the Greater Victoria Public Library (GVPL) on DVD. Viewers may have to place a hold on the movie if they are using the GVPL.
This month's film:
The Great Beauty

Director Paul Sorrentino, Italy 2013
For decades, journalist Jep Gambardella has charmed and seduced his way through the glittering nightlife of Rome. Since the legendary success of his only novel, he has been a permanent fixture in the city's literary and elite social circles. But on his sixty-fifth birthday, Jep unexpectedly finds himself taking stock of his life, turning his cutting ​​wit on himself and his contemporaries, and looking past the lavish nightclubs, parties, and cafes to find Rome itself, in all its monumental glory: a timeless landscape of absurd, exquisite beauty.
Available on Netflix and GVPL
Coffee Discussion: Monday, February 27, 11.00 a.m.
(Participants are encouraged to view the film before the discussion.)
---
Special Events
The CSRS hosts a range of special events including conferences, symposia, tours, and one-off lectures, often in collaboration with other UVic departments, community organizations, or affiliates such as MEICON.
---
Ninth Annual MEICON Student Conference
April 1
Simon Fraser University Vancouver Campus
Segal Building, 500 Granville St., Vancouver
Admission is free and open to the public
The Middle East and Islamic Consortium of British Columbia (MEICON-BC) is calling for submission of abstracts of papers to a conference intended for graduate and upper-division undergraduate students from British Columbia and elsewhere. Papers are welcomed on Middle East and Islamic studies from all disciplines and time periods. Papers should be 20 minutes in length. To apply, please complete the online application including: abstract (200 words) with full name, institutional affiliation, academic program/year, and paper no later than January 31, 2017.
For more details see the poster here, or visit their website: www.sfu.ca/ccsmsc/meicon-bc/meicon-conference/meicon-conference-20161.html
The Andrew Rippin Essay Prize of $500.00 will be awarded to a paper presented at the 2017 MEICON-BC Student Conference. This Prize recognizes excellence in critical thought and scholarship within the general field of Islamic Studies. To apply for the prize, please send an additional letter of application, 150 word abstract, and the attached essay of around 3000 words to ccsmsc@sfu.ca by February 15, 2017.
This year's MEICON Conference will be preceded on Friday, March 31, 2017 by the second annual Pacific Northwest Ottomanist Workshop, focusing on the analysis of the Ottomans, as understood within broader frameworks. There will be a shared keynote address on Friday evening, March 31, 2017.
Sponsored by the Centre for the Comparative Study of Muslim Societies and Cultures and The Middle East and Islamic Consortium of British Columbia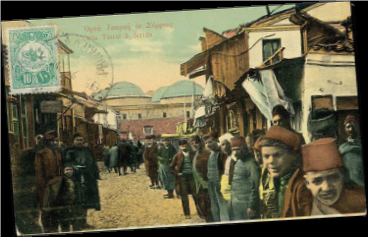 ---

Tour of Ismaili Jamatkhana & Centre (IJC), Burnaby BC
Wednesday, May 10
8:30 am- 5:00 pm
Join Naz Rayani C.M.,Ph.C.,LLD, and the CSRS  for a  tour  of the Vancouver Ismaili Muslim Jamatkhana and Centre.
The Shi'a Ismaili Muslim Centre, designed by Bruno Freschi, is a synthesis of traditional Islamic architectural principles and modern construction techniques. From reports of people who have visited the Centre, we can assure you a most memorable day. The Centre, inaugurated in 1985, is one of BC's best kept architectural secrets.

For more information and to register, click here.
Please pass on the invite to your families & friends.
---
Distinguished Lecture in Islam
Every two years the CSRS presents a lecture from an eminent scholar working in fields related to Islamic studies. A fund supporting this lecture series was established in 2007 by an anonymous donor who wished to increase the community's understanding of Islam.
The next Distinguished Lecture in Islam will take place during the 2018-19 academic year.
---
Conferences, Seminars, & Symposiums
In collaboration with community and university partners the CSRS hosts special events such as conferences, seminars, and symposiums annually. Check back for information about upcoming events as they are schedulled.
CSRS Summer Lecture Series
The CSRS Summer Lecture Series features recent research from a selection of the centre's Resident Fellows. Join us throughout the summer to engage with an array of topics related to religion and society, and meet the experts that present them. Lectures in this series are free and open to all members of the public and university community.
The 2017-2018 Summer Lecture Series schedule is not yet available. Stay tuned!
---
Events calendar coming soon!