Social media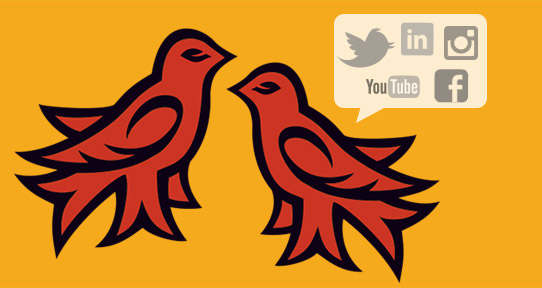 Social media
Find out what's happening on campus by joining the conversation on our social media channels. If you have a feed that represents some part of UVic let us know so we can add it, too!
Photo Friday
Want to share your campus photos with the world? Tag them with #uvicpix on Instagram and Twitter!
We will select one photo to be featured on our homepage and main social media accounts every Friday.
University (main)
back to top
Academics
Department
Social media
Anthropology
Anthropology
Anthropology
Blog - Anthropolgy
Art History and Visual Studies

Art History and Visual Studies
Art History and Visual Studies

Biochemistry and Microbiology
Biochemistry and Microbiology
Gustavson School of Business

Gustavson
Gustavson
Gustavson Group
Gustavson Showcase
Gustavson
Gustavson

Gustavson BCom

Gustavson MBA

Gill Graduate School

Business Co-op and Career Services

Gustavson MBA Alumni & Student Network

Gustavson JDC West
Gustavson JDC West

Innovation Centre for Entrepreneurs
Innovation Centre for Entrepreneurs
Innovation Centre for Entrepreneurs
Innovation Centre for Entrepreneurs
Innovation Centre for Entrepreneurs

University of Victoria Commerce Students' Society (student group)
University of Victoria Commerce Students' Society (student group)

Gustavson Entrepreneurship

Chemistry
Chemistry
Chemistry
Chemistry
Computer Science
Computer Science
Computer Science
Computer Science
Computer Science

Computer Science (student group)
Continuing Studies
Continuing Studies
Continuing Studies
Continuing Studies
Continuing Studies
Continuing Studies
Continuing Studies
Co-op Program and Career Services

Co-op Program and Career Services
Co-op Program and Career Services
Co-op Program and Career Services
Co-op Program and Career Services

Business Co-op and Career Services
Cultural, Social, and Political Thought Program (CSPT)
Cultural, Social, and Political Thought Program (CSPT)
Cultural, Social, and Political Thought Program(CSPT)
Digital Humanities Courses
Digital Humanities Courses
Earth and Ocean Sciences
Earth and Ocean Sciences
Education
Education
Education

The Education Students' Association (student group)
The Education Students' Association (student group)
Engineering
Engineering
Engineering

Engineering Students' Society (Student group)
English
English Language Centre

English Language Centre
English Language Centre
English Language Centre
English Language Centre
English Language Centre
English Language Centre

Environmental Studies, School of

School of Environmental Studies
School of Environmental Studies
School of Environmental Studies

European Studies
Exercise Science, Physical & Health Education
Exercise Science, Physical & Health Education
Exercise Science, Physical & Health Education
Exercise Science, Physical & Health Education
Fine Arts
Fine Arts
Fine Arts
Fine Arts
Fine Arts
Blog - Fine Arts
French
French
French
Graduate Studies
Graduate Studies
Geography
Geography
Geography

Society of Geography Students (student group)
Society of Geography Students (student group)
Germanic and Slavic Studies
Germanic and Slavic Studies
Greek and Roman Studies
Greek and Roman Studies (student group)
Hispanic and Italian Studies
Hispanic and Italian Studies
Hispanic and Italian Studies
History
History

The History Undergraduate Society (student group)
The History Undergraduate Society (student group)
Human and Social Development
Indigenous Student Support Centre
Indigenous Student Support Centre
HSD Research
Humanities
Humanities
Humanities
Humanities
Indigenous Governance
Indigenous Governance
Indigenous Governance
Island Medical Program 
Island Medical Program
Law
Law
Law
Library
Library
Library
Library
Library
Flickr Commons

Law Library
Special Collections
Linguistics
Medieval Studies
Medieval Studies
Music
Music
Music
Nursing, School of
Nursing, Graduate Education, School of
Nursing, Graduate Education, School of
Office of the Registrar
Office of the Registrar
Office of the Registrar
Pacific and Asian Studies
Pacific and Asian Studies

Pacific-Asian Students Society
Philosophy
Philosophy
Physics and Astronomy
Physics and Astronomy
Physics and Astronomy
Political Science
Political Science
Professional Writing
Professional Writing
Professional Writing
Professional Writing
Psychology
Psychology Organization of Students (student group)
Psychology Organization of Students (student group)
Public Administration, School of

Public Administration, School of

Public Health and Social Policy, School of
Public Health and Social Policy, School of
Public Health and Social Policy, School of
Science
Science
Science
Social Sciences
Social Sciences
Social Sciences
Social Sciences
Blog - Social Sciences
Social Sciences
Social Work, School of
Social Work, School of
Sociology
Bureau of Sociology Students (student group)
Software Engineering
Software Engineering
Software Engineering
Theatre
Theatre
Theatre
Visual Arts
Visual Arts
Women's Studies
Women's Studies
Writing
Writing
back to top
Research units
Department
Social media
Aboriginal Health Research, Centre for
Aboriginal Health Research, Centre for
Aboriginal Health Research, Centre for
Addictions Research of BC, Centre for
Addiction Research of BC, Centre for
Addiction Research of BC, Centre for
Matters of Substance
Aging, Centre on
Aging, Centre on
Aging, Centre on
Asia-Pacific Initiatives, Centre for
Asia-Pacific Initiatives, Centre for
Asia-Pacific Initiatives, Centre for
Asia-Pacific Initiatives, Centre for
Asia-Pacific Initiatives, Centre for
Asia-Pacific Initiatives, Centre for
Autism Research Technology and Education, Centre for
Autism Research Technology and Education, Centre for
CanAssist
Co-operative and Community-Based Economy, Centre for
Global Studies, Centre for
Global Studies, Centre for
Global Studies, Centre for
Institute for Integrated Energy Systems (IESVic)
Institute for Integrated Energy Systems (IESVic)
Learning and Teaching Centre (LTC)
Learning and Teaching Centre (LTC)
Ocean Networks Canada
Ocean Networks Canada
Ocean Networks Canada
Ocean Networks Canada Learning
Ocean Operations
Ocean Networks Canada
Ocean Networks Canada
Ocean Networks Canada
Ocean Networks Canada
Pacific Institute for Climate Solutions
Pacific Institute for Climate Solutions
Pacific Institute for Climate Solutions
Pacific Institute for Climate Solutions
Studies in Religion and Society, Centre for
Studies in Religion and Society, Centre for
Studies in Religion and Society, Centre for
Tree-Ring Laboratory
Tree-Ring Laboratory
UVic Hybrid Car
UVic Hybrid Car
UVic Hybrid Car
UVic Hybrid Car
UVic Hybrid Car
UVic Research
UVic Research
UVic Research
Vancouver Island Technology Park
Vancouver Island Technology Park
Vancouver Island Technology Park
Vancouver Island Technology Park
Vancouver Island Technology Park
Water Innovation Global Governance Lab
Water Innovation Global Governance Lab
Youth and Society, Centre for
Youth and Society, Centre for
Youth and Society, Centre for
back to top
Athletics
| | |
| --- | --- |
| Department | Social media |
| Vikes | |
back to top
Alumni
back to top
Offices and services
back to top