The future of chocolate is unclear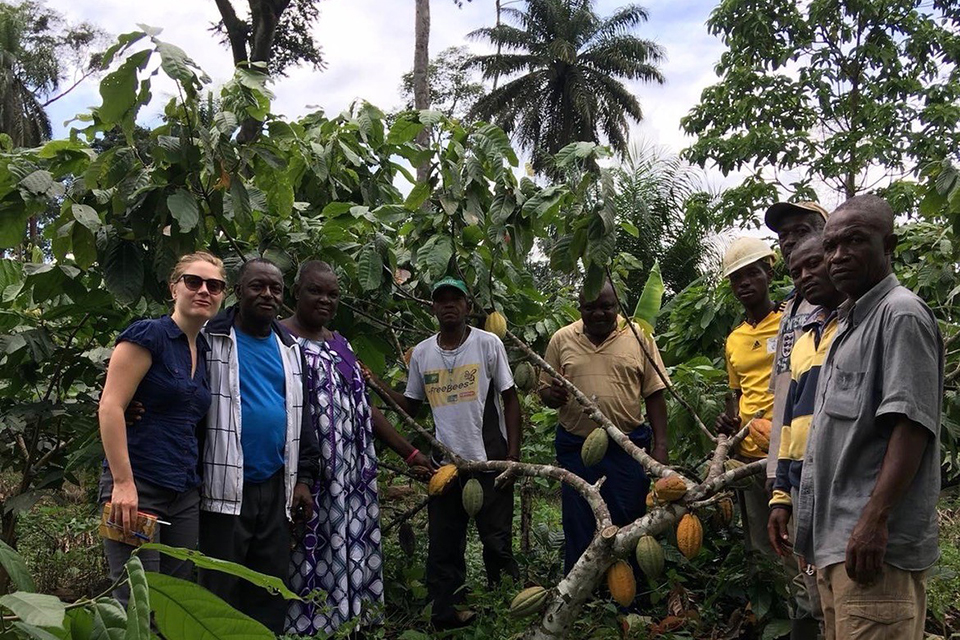 Chocolate is on the mind of many people as Valentine's Day approaches, but new research by University of Victoria geographer Sophia Carodenuto reveals troubling questions about the sustainability of this sweet treat. Her paper, published today, provides specific recommendations for the future of cocoa farming in some of the world's key cocoa-producing countries—Côte d'Ivoire, Ghana and Cameroon—amidst the pressures of climate change, soil erosion and excessive forest loss. 
Since 2012, Carodenuto has been working with government agencies and cocoa farmers to identify options for improving the sustainability of cocoa in the three West African countries, where roughly three-quarters of the world's cocoa is produced by an estimated two million cocoa farmers. 
The business of chocolate is shifting. Two years ago, 12 of the world's leading cocoa and chocolate companies made a collective public commitment to end the deforestation associated with the global cocoa supply chain. The new paper closely examines the emerging pledge to "zero deforestation cocoa" by public and private interests—the global chocolate companies who sell, purchase, grind and trade the cocoa beans and the government officials who regulate land use and agriculture extension—to ensure socioeconomic progress of cocoa farmers while confronting the domestic political policies to reduce deforestation and alleviate poverty. 
Measurement and monitoring of impacts require supply chain traceability, which begins with cocoa farmer mapping, a task led by the state and supported by the technological capacity of business. "If we know where the cocoa beans originated, we will know if the cocoa farm is committed to zero-deforestation practices," explains Carodenuto. 
As it stands, there are no publicly available maps of West Africa's cocoa farms. And there is a long way to go in the struggle towards deforestation-free cocoa and chocolate. We need to think beyond niche labels such as Fair Trade to address the sustainability of mass-produced chocolate in our cereals and cheap chocolate bars.
—UVic geographer Sophia Carodenuto
She points to the lack of basic labels indicating the origins of the cocoa in most store-bought chocolate bars and boxes of chocolate, and also to the type of significant campaign that was used to draw public attention to the origins and fair trade of coffee beans. 
"Raising consumer awareness of chocolate's origins, the deforestation it may be causing, and the poverty-stricken cocoa farmers is a priority," she says. 
Carodenuto also outlines a number of other recommendations that will help cocoa farmers, governments and businesses to work together toward sustainable cocoa production. 
"Governance of Zero Deforestation Cocoa in West Africa: New forms of public-private interaction" was published in Environmental Policy and Governance.
A press kit containing high-resolution photos is available on Dropbox.
-- 30 --
Photos
Media contacts
Sophia Carodenuto (Geography) at 250-853-3281 or carodenuto@uvic.ca
Anne MacLaurin (Social Sciences Communications) at 250-217-4259 or sosccomm@uvic.ca
Tara Sharpe (University Communications + Marketing) at tksharpe@uvic.ca
In this story
Keywords: climate, sustainability, international, agriculture, business, geography
People: Sophia Carodenuto