Teaching excellence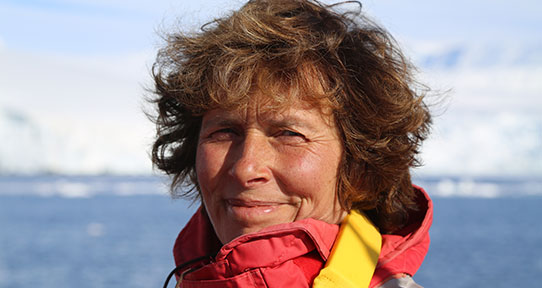 Science recognizes the quality and impact of our faculty annually by presenting an Award for Teaching Excellence.
Check out our previous winners.
2014-15 Award for Teaching Excellence
Eileen van der Flier-Keller, School of Earth and Ocean Sciences
Dr. Eileen Van der Flier-Keller is an outstanding teacher and mentor who has made exceptional contributions to science education and outreach at UVic, within the BC school system, and to the general public. Eileen has dedicated much of her professional career to actively improving the state of public literacy in science at the University and beyond.
As one example, Eileen applied her passions for fostering teacher education by creating a unique Education Lab for EOS 120 The Dynamic Earth, a course taken by many Educations students.  Recognizing an opportunity to contribute to the science education of future teachers and hence generations of school students, Eileen developed this lab to cover the same material as the regular 120 lab, but to also include hands-on learning activities that transfer directly to K-12 teaching, provide earth-science teaching resources for students to take to their future classrooms, and expanded fieldtrips to include how to plan and run class outings. In a study of graduates who have gone on to teaching, every participant identified EOS 120 as crucial in the development of their approach to teaching science.  
In addition to her teaching at UVic, Eileen has held many leadership roles in geoscience education including President of the Canadian Geoscience Education Network, Outreach Director for the Canadian Federation of Earth Sciences, and Co-Director of the NSERC-funded Pacific CRYSTAL (Centres for Research in Youth Science Teaching and Learning). She has worked extensively with the Mitchell Odyssey Foundation, a charitable organization with the mission to fund enhanced science learning for BC students in Grades 7-10, a critical age for embracing science. She has authored many Earth Science resources for educators and the general public, including teacher-resources guides to accompany CBC TV's The Nature of Things. In 2009 Eileen was awarded the Neale Medal by the Geological Association of Canada with a citation reading "For sustained and outstanding efforts in sharing Earth Science with Canadians."
Eileen is an outstanding teacher who is passionate about improving public awareness of science and empowering teachers at all levels to engage their students. She is truly deserving of the 2015 Faculty of Science Teaching Excellence Award.
Previous winners
Previous winners
2014/2015
Eileen van der Flier-Keller (Earth and Ocean Sciences)
2013/2014
Dante Canil (Earth and Ocean Sciences)
2012/2013
Scott McIndoe (Chemistry)
2011/2012
George Spence (Earth and Ocean Sciences)
2010/2011
Laurence Coogan (Earth and Ocean Sciences) and Gary MacGillivray (Mathematics and Statistics)
2009/2010
Jill Simmons (Mathematics and Statistics) 
2008/2009
Penny Codding (Chemistry)
2007/2008
Alex van Netten (Physics and Astronomy) and Margaret Wyeth (Mathematics and Statistics)
2006/2007
Tom Fyles (Chemistry) and Barbara Currie (Biochemistry and Microbiology)
2005/2006
Stan Dosso (Earth and Ocean Sciences)
2004/2005
Edward Ishiguro (Biochemistry and Microbiology) and David Berg (Chemistry)
2003/2004
David J. Leeming (Mathematics and Statistics)
2002/2003
Richard Ring (Biology) and Michel Lefebvre (Physics and Astronomy)
2001/2002
Francis Choy (Biology)
2000/2001
Walter Balfour (Chemistry)
1999/2000
Ann C. Gower (Physics and Astronomy)
1998/1999
J. Thomas Buckley (Biochemistry and Microbiology)
1997/1998
Reginald H. Mitchell (Chemistry)
1996/1997
Gerald A. Poulton (Chemistry)
1995/1996
Bruce R. Johnson (Mathematics and Statistics)
1994/1995
Terry W. Pearson (Biochemistry and Microbiology)