Prospective undergraduate students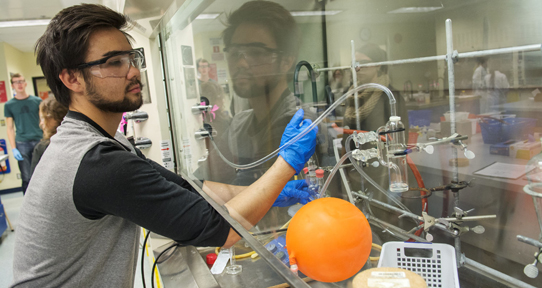 Thanks for your interest in UVic chemistry. Please also find out why UVic chemistry is a great launching pad for your career. If you don't find the answer to your question, don't hesitate to contact us.
What courses will I need to take?
The study of chemistry is cumulative. Introductory courses provide the fundamental concepts, lab skills and vocabulary needed to excel in subsequent courses. 
Chemistry is traditionally divided into sub-disciplines:
physical chemistry focuses on the properties, energies, and rates of change of chemical systems
analytical chemistry focuses on techniques to measure the amounts of various chemicals in samples
inorganic chemistry focuses on metal-containing compounds and materials
organic chemistry focuses on carbon-containing compounds and materials
Many of our courses develop these sub-discipline areas over successive years. Some concepts—such as how atoms are bonded to form structures, or how reactions occur—cross the traditional subdiscipline lines, and we've led the way in integrating these concepts.
We also have a problem-based course for second year students that provides the hands-on tools needed to probe and determine structures. We offer a range of fourth-year courses which dig deeper into more specialized areas of chemistry.
Our research experience courses allow students to work in the research laboratories. You can also opt to complete a co-op degree that combines academic work with work terms in government, industry, and academic sectors. 
We can help you with your choice of courses.
See the detailed calendar listings for chemistry degree programs and courses.
Or contact us—we'll be glad to assist you in working out the courses you need to take to complete a chemistry degree.
Overview of the chemistry program
What are all these courses and how do they fit together?
First year: All students take Chem 101 and 102. These are introductory chemistry courses that cover a wide number of chemistry topics.  They have labs on alternate weeks. You should have Chem 12; if you only have Chem 11 you'll also need to take Chem 091 before you attempt Chem 102. You can take the first half of intro organic, Chem 231 (it does not have a lab) at the same time as Chem 102.
Second year: This is the year when the four subdisciplines (analytical, inorganic, organic, physical) split into separate courses (Chem 212, 222, 231 & 232, and 245 respectively). 
Chemistry students will take courses in all four areas plus a practical spectroscopy course (Chem 213). 
Students headed to other degree programs will take fewer chemistry courses, but almost everyone takes Introductory Organic Chemistry (Chem 231).  
Third year: Majors and Honours Chemistry students take four advanced courses in the subdisciplines. Labs in the third year are stand-alone courses and students take four, each over two terms.  Many students spread the third year requirements over third and fourth year and add elective courses to complete their degree. 
Fourth year: Fourth-year courses in Reaction Mechanisms and Dynamics (Chem 452) and Structure, Reactivity and Bonding (Chem 453) are required for a Majors degree in Chemistry. Other fourth-year lecture courses explore specific advanced topics and may be taken as electives.  Many of these courses are offered on a two-year cycle—see the projected course offerings page. There are also independent fourth-year lab courses (one term each) and research experience. The additional requirement for an Honours degree is Chem 499 (Thesis).  Students work in one of the research groups over two terms on an independent research project that they submit as a thesis.
Chemistry for specific programs: We offer a first-year course, Chem 150, specifically for engineering students.  We also offer a specific lecture course (Chem 337 – Bioorganic Chemistry) that biochemistry students typically take in their fourth-year.
General interest courses: We offer a number of elective courses on a two-year cycle.  Chem 300A – Chemistry in Modern Society has no pre-requisites and is intended for non-scientists.  Chem 303 – Industrial Chemistry: Air, Earth, Fire, Water is designed as a third-year science elective for non-Chemistry students. The prerequisite is Chem 231. Chem 400A – Applications of Chemistry is another upper year elective and requires two second-year chemistry courses from Chem 213, 222, 231 and 232 as prerequisites.  Chem 478 Introduction to Chemical Process Industries is an elective for Chemistry students.
Do I have to take a chemistry course?
All I'm really interested in is (astronomy / biology / biochemistry / engineering / geosciences / microbiology / oceanography / physics)—do I have to take chemistry?
If you are going to get a UVic degree in those areas, you will have to do some chemistry courses. The other disciplines recognize that chemistry has a lot to contribute in their areas of specialization, and that's why the vast majority of degree programs in the Faculty of Science have chemistry requirements.
Don't worry—we understand that not all undergraduates are headed to chemistry careers and we're ready to help you be successful in your required chemistry courses. We also have some great upper-level electives that are recognized by degree programs across the university. You should consider enriching your degree in another field with a chemistry course!