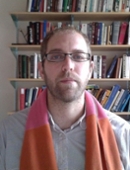 Position
Associate Professor
History
Credentials
BA (McGill), PhD (Pennsylvania)
Contact
Office: Cle B232
Area
Canadian and American. Race, immigration, inequality, and urban.

Dr. Stanger Ross is Director of: Landscapes of Injustice
Bio
I am currently the director of Landscapes of Injustice, a 7-year multi-sector grant to research and tell the history of the forced sale of Japanese-Canadian-owned property during the Second World War.
My research and teaching focus on immigration, race, and inequality in twentieth century North America, with an emphasis on urban politics and experience. My first book, Staying Italian: Urban Change and Ethnic Life in Postwar Toronto and Philadelphia, emphasizes the malleability of North American ethnic and religious communities after the Second World War. Italians in North America "did" ethnicity in ways that reflected the cities they inhabited. I also served as the editor (with Franca Iacovetta) of a two part special issue in the Urban History Review entitled, "Encounters, Contests, and Communities: New Histories of Race and Ethnicity in the Canadian City." Since 2010, I have been the chair of the urban studies committee at the University of Victoria. Comprised of faculty members in departments across the university, the committee organizes and hosts The City Talks, a distinguished lecture series that brings international scholars to Victoria for public scholarly talks. I teach courses and supervise graduate work relating to these themes in the history of the United States and Canada.
Selected publications
Books:
Staying Italian: Urban Change and Ethnic Life in Postwar Toronto and Philadelphia (University of Chicago Press, 2009)

Articles and chapters:
"Not At All Prepared for the Winter": A Family Narrative of Dispossession by Ariel Merriam, Jordan Stanger-Ross, and the Landscapes of Injustice Research Collective, Findings/Trouvailles, The Champlain Society

"Japanese Canadians in the Second World War" with Pamela Sugiman and the Landscapes of Injustice Research Collective in Canadian History: Post-Confederation (Open Textbook Project), John Belshaw ed (2016)

"Naziism in Canada?: The Internment of Japanese Canadians and the History of Comparison" with Landscapes of Injustice Research Collective, in Helga Thorson, Charlotte Schallie, and Andrea van Noord eds., Holocaust Education in a Time of Transition (E-Book, forthcoming 2016)

"Suspect Properties: The Vancouver Origins of the Forced Sale of Japanese-Canadian-owned Property, WWII" with Landscapes of Injustice Resaerch Collective, Journal of Planning History (Online Feb 2016), 1-19.

"Lessons from the Japanese Canadian Internments: Policies built on fear won't make us safer" with Eric Adams and Laura Madokoro, Globe and Mail, January 19, 2016.

"Choreographies of Urban Life: Mapping the Social History of the City" in Nicholas Kenny and Rebecca Madgin eds., Cities Beyond Borders: Global Comparative and Transnational Approaches to History (Farnham: Ashgate, 2015), 61-78. 

"Attack on niqab a backward step for Canada" with Lynne Marks, October 8 2015 Victoria Times-Colonist.

"Can the history of veiled women inform an ugly election campaign in Canada? Reflections of students and faculty" with Lynne Marks and the students of HSTR 509 (Graduate Seminar in Public History Class), History Workshop Online, October 18, 2015.
Recent Transnational Contributions to Japanese Canadian History, a review essay on Tatsuo Kage Uprooted Again, Aya Fugiwara, Ethnic Elites and Canadian Identity, Julie Gilmour, The Trouble on Main Street, BC Studies published online 2014.
"Telling a Difficult Past: Kishizo Kimura's Memoir of Entanglement in Racist Policy," BC Studies, no. 181, Spring 2014 (pg: 39-62).   *Recipient of the Canadian Committee on Migration, Ethnicity, and  
   Transnationalism Article Prize
with Hildy S. Ross, "Placing the Poor: The Ecology of Poverty in Postwar Urban Canada", Journal of Canadian Studies/Revue d'études canadiennes, Volume 46, Number 1, Winter 2012, pp. 213-240.
"Municipal Colonialism in Vancouver: City Planning and the Conflict over Indian Reserves, 1928-1950s," Canadian Historical Review 89, 4 (December 2008), 541-580.
"Citystats: Segregation and Community in Postwar Canada," Journal of the Canadian Historical Association (Winter 2008).
"Italian Markets: Real Estate and Ethnic Community in Postwar Toronto and Philadelphia", Journal of American Ethnic History 26, 3 (Spring 2007), 23-51.
"An Inviting Parish: Community without Locality in Postwar Italian Toronto," Canadian Historical Review 87, 3 (September, 2006), 381-407
"Neither Fight nor Flight: Urban Synagogues in Postwar Philadelphia," Journal of Urban History, 32, 6 (September 2006), 791-812
Courses
| | |
| --- | --- |
| HSTR 230B | Canada Since Confederation |
| HSTR 301 | The Historian's Craft |
| HSTR 309 | Race Riots in American Cities |
| HSTR 329G | Race and Ethnicity in Canada since 1900 |
| HSTR 515A | Public History |
Grad students
Completed:
Jacopo Miro, MA: "Visions of False Creek: Urban Development and Industrial Decline in Vancouver, 1960-1980"

Current:
Samuel Biagioni, MA
Topic: Italian Canadian Foodways
Kaitlin Findley, MA
Topic: Internment of Japanese Canadians
Vincent Gornall, MA
Topic: Expositions and Public Space in Seattle and Vancouver
Esther Rzeplinski, MA
Topic:History of Childhood in Canada
Steve Fielding, PhD
Topic: Ethnic Pluralism and Sport in Post WWII Toronto