Social media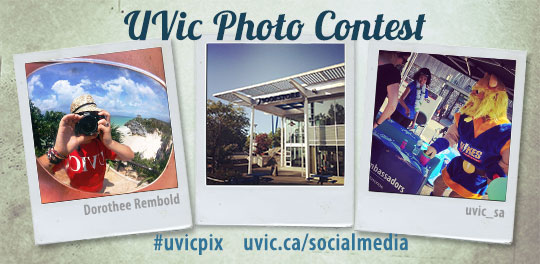 UVic photo contest
Every week in September, we'll announce a new theme on our Instagram and Twitter accounts.
How to participate
Take a photo that's inspired by the week's theme.
Upload it to Instagram or Twitter.
Tag your photo with #uvicpix.
At the end of September, we'll post our favourites on our Facebook page. Help choose the winner by liking your favourites!
Themes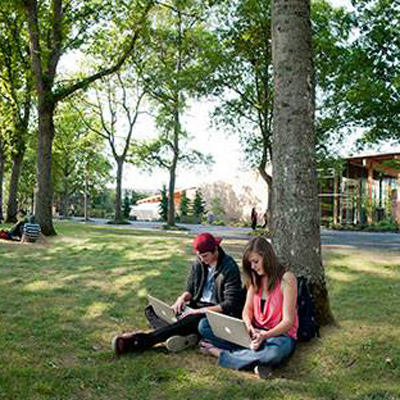 Week 1: September 15 - September 21
This week's theme is favourite places. Show us photos of your favourite spots at UVic and beyond.
Thanks to Nick Whyte for this photo taken at Thetis Lake.
Prizes
The person whose photo has the most likes on our Facebook page during the last week of September will receive a $50 deposit on their ONECard. The runner-up will receive a $20 gift certificate to the UVic Bookstore.
For more details, please see the rules page.
Sharing your photos
One of the best ways to show off UVic is the photos you take. We'll share some of our favourite photos from this contest on UVic's social media channels and website. (Not just the winner, but other photos we love.)
We'll always include a photo credit and a link back to your Instagram or Twitter account. This is great way to get a lot more exposure for your photos!
---
Social media
Find out what's happening on campus by joining the conversation on our social media channels. If you have a feed that represents some part of UVic let us know so we can add it, too!
University (main)
back to top
Academics
Department
Social media
Anthropology
Anthropology
Anthropology
Blog - Anthropolgy
Biochemistry and Microbiology
Biochemistry and Microbiology
Gustavson School of Business
Gustavson
Gustavson
Gustavson
Gustavson
Gustavson

Gustavson BCom

Gustavson MBA

Gill Graduate School

Gustavson Alumni
Gustavson Alumni
Gustavson MBA Alumni & Student Network

Gustavson JDC West
Gustavson JDC West

University of Victoria Commerce Students' Society (student group)
University of Victoria Commerce Students' Society (student group)

Gustavson Entrepreneurship
Chemistry
Chemistry
Chemistry
Chemistry
Computer Science
Computer Science
Computer Science
Computer Science
Computer Science

Computer Science (student group)
Continuing Studies
Continuing Studies
Continuing Studies
Continuing Studies
Continuing Studies
Continuing Studies
Continuing Studies
Co-op Program and Career Services
Co-op Program and Career Services
Co-op Program and Career Services
Co-op Program and Career Services
Co-op Program and Career Services
Cultural, Social, and Political Thought Program (CSPT)
Cultural, Social, and Political Thought Program (CSPT)
Cultural, Social, and Political Thought Program(CSPT)
Earth and Ocean Sciences
Earth and Ocean Sciences
Education
Education
Education

The Education Students' Association (student group)
The Education Students' Association (student group)
Engineering
Engineering
Engineering

Engineering Students' Society (Student group)
English
English
English
English Language Centre
English Language Centre
English Language Centre
English Language Centre
English Language Centre
Environmental Studies, School of
UVic School of Environmental Studies
Exercise Science, Physical & Health Education
Exercise Science, Physical & Health Education
Exercise Science, Physical & Health Education
Exercise Science, Physical & Health Education
Fine Arts
Fine Arts
Fine Arts
Fine Arts
Blog - Fine Arts
French
French
French
Graduate Studies
Graduate Studies
Geography
Geography
Geography

Society of Geography Students (student group)
Society of Geography Students (student group)
Germanic and Slavic Studies
Germanic and Slavic Studies
Greek and Roman Studies
Greek and Roman Studies (student group)
History
History

The History Undergraduate Society (student group)
The History Undergraduate Society (student group)
History in Art
History in Art
Human and Social Development
Indigenous Student Support Centre
Indigenous Student Support Centre
HSD Research
Humanities
Humanities
Humanities
Humanities
Indigenous Governance
Indigenous Governance
Indigenous Governance
Law
Law
Library
Library
Library
Library
Library

Law Library
Special Collections
Linguistics
Linguistics
Music
Music
Music
Philosophy
Philosophy
Pacific and Asian Studies
Pacific and Asian Studies

Pacific-Asian Students Society
Physics and Astronomy
Physics and Astronomy
Physics and Astronomy
Psychology
Psychology Organization of Students (student group)
Psychology Organization of Students (student group)
Public Health and Social Policy, School of
Public Health and Social Policy, School of
Public Health and Social Policy, School of
Social Sciences
Social Sciences
Social Sciences
Social Sciences
Blog - Social Sciences
Social Sciences
Social Work, School of
Social Work, School of
Sociology
Bureau of Sociology Students (student group)
Software Engineering
Software Engineering
Software Engineering
Theatre
Theatre
Theatre
Visual Arts
Visual Arts
Women's Studies
Women's Studies
back to top
Research units
Department
Social media
Aboriginal Health Research, Centre for
Aboriginal Health Research, Centre for
Aboriginal Health Research, Centre for
Addictions Research of BC, Centre for
Addiction Research of BC, Centre for
Addiction Research of BC, Centre for
Matters of Substance
Aging, Centre on
Aging, Centre on
ATLAS
ATLAS
ATLAS
ATLAS
Blog - ATLAS
Autism Research Technology and Education, Centre for
Autism Research Technology and Education, Centre for
CanAssist
Co-operative and Community-Based Economy, Centre for
EcoCar 2
EcoCar 2
EcoCar 2
EcoCar 2
Global Studies, Centre for
Global Studies, Centre for
Ocean Networks Canada
Ocean Networks Canada
Ocean Networks Canada Learning
Ocean Networks Canada
Ocean Networks Canada Learning
Ocean Operations
Ocean Networks Canada
Ocean Networks Canada
Ocean Networks Canada
Ocean Networks Canada
Pacific Institute for Climate Solutions
Pacific Institute for Climate Solutions
Pacific Institute for Climate Solutions
Pacific Institute for Climate Solutions
Studies in Religion and Society, Centre for
Studies in Religion and Society, Centre for
Studies in Religion and Society, Centre for
Tree-Ring Laboratory
Tree-Ring Laboratory
UVic Research
UVic Research
UVic Research
Vancouver Island Technology Park
Vancouver Island Technology Park
Vancouver Island Technology Park
Vancouver Island Technology Park
Vancouver Island Technology Park
Water Innovation Global Governance Lab
Water Innovation Global Governance Lab
Youth and Society, Centre for
Youth and Society, Centre for
back to top
Athletics
back to top
Alumni
back to top
Offices and services
back to top