A university of Indigenous focus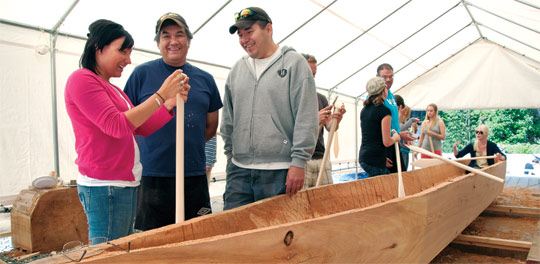 Situated on traditional Coast and Straits Salish territory, the University of Victoria is known for its leadership in innovative programs, research, and initiatives that support Aboriginal students and communities.
We offer a growing range of Indigenous courses, programs and community partnerships that reflect the cultural and historical perspectives of Indigenous people. Our goal is to create a welcoming environment, and to provide services and programs that will help students succeed as well as building on our greatly valued relationship with Indigenous communities across the country.
Student experiences: The "canoe" course
In the Faculty of Education, teaching and learning go hand in hand, but not always in traditional classrooms.
In its efforts to celebrate Indigenous ways of learning and teaching and incorporate them into UVic's teacher education programs, the Faculty of Education continues to push the envelope when it comes to innovative ways to learn.
One example is the extremely popular EDCI 499: Learning and Teaching in an Indigenous World, an innovative course series pedagogically based on Indigenous teaching and learning experiences. The sixth installment of the series, "CÁ E TTE SNEWEL" or "Working on the canoe," was recently underway in First Peoples House.
The "canoe course," as it's known on campus, provides insight into Indigenous pedagogy by leading learners down a path of respectful practice, community engagement and personal responsibility. Learn more about the canoe course.
More Indigenous initiatives