Vice-President Finance and Operations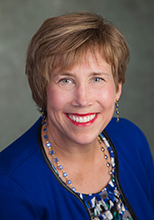 Gayle Gorrill has served as the Vice-President Finance and Operations at the University of Victoria for over a decade, appointed on September 1, 2006. Prior to her appointment at UVic, she held the Associate Vice-President, Administration position at the University of Calgary, and before that, in executive finance with the Calgary Health Region.
Gayle stays connected while simultaneously bolstering her business administration acumen by sitting on the Board of Directors for BCNET and Ocean Networks Canada. In addition to being awarded a fellowship by the Chartered Professional Accountants of BC in 2016, Gayle has the distinct honour of serving as President of CAUBO (Canadian Association of University Business Officers), through which she promotes excellence in Canadian higher education administration.
When not hard at work at the office, Gayle enjoys attending performances through UVic's Phoenix Theatre and cheering on our talented Vikes athletes, always wearing her blue and gold team colours on game days.  Lastly, Gayle delights in growing an impressive garden and shares the bounty by bringing in fresh flowers for the office.
About the vice-president
The vice-president finance and operations (VPFO) is the chief financial officer and a member of the executive at the University of Victoria. The vice-president leads a large and varied portfolio that includes financial, human resources, computing and systems, security and physical plant functions. The VPFO is responsible, through department directors, for the overall quality of services at the university, meeting legal and reporting requirements within portfolio areas, deploying resources and planning improvements that enhance the university's ability to carry out its mission and strategic plan.