Online Spotlight Forum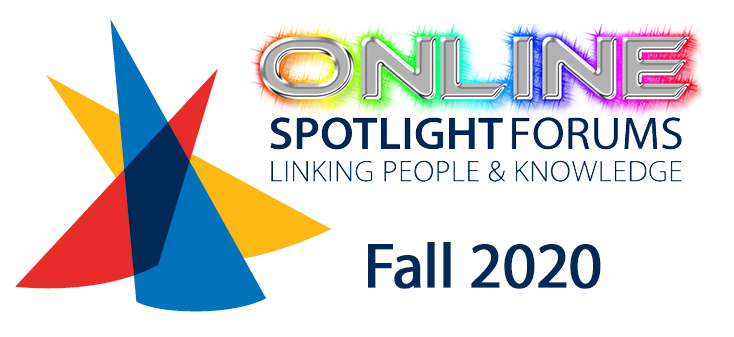 The Spotlight Forums are hosted and delivered by the VPFO, but the sessions are available for all UVic staff. 
As with most events this year, the Spotlight Forums will be a little different. Each session will be held through Zoom and will include some form of interaction and/or breakout rooms to enhance participant experience. All sessions will be recorded, email vpfoproj@uvic.ca to receive a link to the recorded sessions.
VPFO Portfolio Info Blast, for everyone!
Hosted by VPFO, Gayle Gorrill and a panel of experts, this kick-off session will provide succinct updates from across the portfolio with opportunities for interactive information sharing.   
Monday, November 2nd, 3:00 – 4:00pm
Facilitated by: 
Gayle Gorrill, Vice-President Finance & Operations
Wency Lum, Associate Vice-President Univeristy Systems & Chief Information Officer
Kane Kilbey, Associate Vice-President Human Resources
Janice Johnson, Executive Director, Financial Services
Ron Proulx, Executive Director, Facilities Management
Tom Downie, Director, Campus Security
Trevor Sanderson, Director, Internal Audit
Andrew Coward, Treasurer


Click here to watch the recording of this session
Cybersecurity & Remote Work:
Wherever you go, there you are
This session will discuss cyber security risks associated with working remotely and share some steps you can do to protect yourself and your friends and family while working and studying remotely.
Wednesday, November 4th, 10:30 – 11:30am
Facilitated by:
Nav Bassi, Director & Chief Information Security Officer
Click here to watch the recording of this session
UVic's Evolving Physical Landscape:
High-level updates on current and future Capital Projects 
This session will explore all the major physical changes that have been taking place on campus. Co-hosted by Facilities Management and Campus Planning & Sustainability, they will provide high-level updates on their projects. There will be plenty of opportunity for networking, sharing ideas, and feedback through break-out rooms and the Q&A portion of the session.
Tuesday, November 17th, 11:00 – 12:00pm
Facilitated by:
Ron Proulx, Executive Director, Facilities Management
Lorne Mack, Director, Project Management Services
Mike Wilson, Director, Campus Planning & Sustainability

Click here to register for this and other sessions
Financial Services is adapting to serve you better!
Financial Services has been busy! They are taking pro-active steps to maintain quality service and deliver new processes that will help UVic staff with their everyday financial service needs. Join the heads of each department, Treasury Services, Payroll, Research Accounting, and Purchasing Service, in a lessons-learned and new update session that you are sure to value.
Monday, November 23rd, 11:00 - 12:00pm
Facilitated by:
Catherine Nightingale, Director, Treasury Services
David Wolowicz, Director, Payroll
Melissa Joyce, Director, Research Accounting
Xavier Serrano, Director, Purchasing Services

Click here to register for this and other sessions
The Pushes and Pulls of Leading Remote or Mixed Teams
We have been leading remote teams for over 8 months but many of us have not moved out of the "emergency management" mode into a more intentional and strategic approach to supporting and leading virtual teams.  As we shift back to campus the re-entry to the workplace for all or part of your team provides an opportunity to consider and implement leadership practices and strategies that move your team from surviving to thriving.  Topics introduced by the facilitators (with resources) include:
Leading with mental health in mind
Clarifying expectations, setting goals and giving feedback
Supporting remote or mixed teams to thrive
This interactive session will allow time for leaders of teams to connect with other leaders about the challenges and opportunities of managing teams in this environment, so the session is intended only for team leaders (at any level) or those who have informal leadership roles such as responsibility for project teams, committees or other groups.
Tuesday, November 24th, 11:00 - 12:00pm
Facilitated by:
Sarah Hood, Director, OD & Learning Services
Cara Jones, Organization Development Consultant
Click here to register for this and other sessions
Essential Tips for Online Tools:
with a focus on Microsoft Teams 365
We've launched new online tools to support collaboration, communication, co-authoring, and planning that can help you, your team, and your colleagues work more effectively online and in-person. This session will show you how you can use these tools to facilitate brainstorming sessions, manage tasks, transcribe meetings, and concurrently edit documents with your committee, colleagues, or project team.
Wednesday, December 2nd, 11:00 - 12:00pm
Facilitated by:
Marcu Greenshields, Manager, Help Desk
Adam Gaudes, Senior Technical Analyst
Kelly Diether, Learning Systems Technology Support Analyst
Click here to register for this and other sessions
Document Digitization and Records Management Best Practices
This session will discuss tips for starting off your document digitization project and give highlights and lessons learned from Pensions Services' journey.
Thursday, December 3rd, 2:00 - 3:00pm
Facilitated by:
Dave Young, Records Management Archivist
Oliver Cowern, Associate Director, Pensions Services
Chandra Beaveridge, Director, Strategic Initiatives and Projects