Privacy Toolkit for Teaching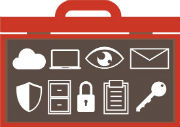 Faculty, instructors and teaching assistants collect, store and manage a great deal of student information. As part of the university's ongoing commitment to increase privacy, records management and information security awareness, UVic has developed a Privacy Toolkit for Teaching. Use the toolkit to find out how to protect student privacy in your courses and react to a privacy breach if one occurs. Complete the kit all at once or work through it piece by piece when needed.
Who is this toolkit for? The toolkit was designed for faculty, sessional instructors, and teaching assistants: anyone who has teaching responsibilities at UVic will find this toolkit helpful. We encourage anyone who is interested to access the toolkit!
What does the toolkit include? The toolkit was developed by the Chief Privacy Officer, the University Archives' records management program, and University Systems, in collaboration with Human Resources and Technology Integrated Learning. The toolkit contains five topics: 
storing student information and coursework,
collecting and distributing assignments and grades,
handling course emails,
adopting educational technology, and
dealing with privacy and security incidents if they occur.
Each topic contains an interactive scenario and a downloadable tip sheet you can use to solve the scenario. Complete all the topics or just choose the ones most relevant to you. You can leave and return to the kit any time. It is estimated that each scenario will take 5 – 10 minutes to complete.
How do I access the toolkit? The toolkit is available through CourseSpaces. You must have a NetLink ID and password to sign in.
   Click to enrol in the Privacy Toolkit for Teaching
Questions? For technical assistance, please contact the University Systems Help Desk at helpdesk@uvic.ca or 250-721-7687. Or, if you have any questions about the toolkit, please contact the Privacy Office at privacyinfo@uvic.ca.