Acting Vice-Provost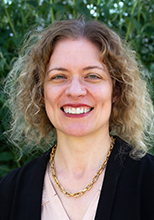 Dr. Susan Lewis
Phone: 250-721-6143
Email: viceprov@uvic.ca
University of Victoria, PO Box 1700 STN CSC
Michael Williams Building (MWB)
Victoria BC V8W 2Y2 Canada
Dr. Susan Lewis is appointed as Acting Vice-Provost until June 30, 2023. In this role, she will continue to contribute leadership in key strategic areas, including: UVic's response to the COVID-19 pandemic and embracing innovation post-pandemic; academic equity and diversity initiatives; the development of UVic's micro-credential framework; and advancing goals of UVic's Strategic Enrolment Management Plan, including initiatives to increase the representation of underrepresented groups at UVic.
Following this post, Susan will resume her position as Associate Vice-President Academic Planning (January 1, 2020 to June 30, 2025). Susan has a successful track record of academic leadership and excellence in research and creative practices, strategic and academic planning, experiential and work-integrated learning, research-enriched teaching, quality assurance and program innovation. Since last spring, she has focused her efforts on learning continuity and our campus-wide response to COVID-19. Susan holds a PhD in Musicology from Princeton University, and a Master of Fine Arts (Princeton), Master of Music (University of Arizona), and Bachelor of Arts and Bachelor of Music degrees from Queen's University. She has studied at the University of Glasgow and University of Edinburgh, and maintains active research and global partnership networks that span North America, Asia and Europe. Her past leadership roles include Dean of the Faculty of Fine Arts and Director of the School of Music at the University of Victoria, where she also has an appointment as Professor of Musicology.
Susan's research engages questions of cultural transfer and exchange in the fields of higher education and music, music history and cultural studies, digital bibliography and music reference and arts and technology. In addition to over fifty public lectures and addresses, she has published three sole-authored books and one co-authored book on European and global music from 1500-1750 with the support of a Standard Research Grant and Insight Grant from the Social Sciences and Humanities Research Council of Canada. Susan has fostered and practiced innovative teaching, with a distinguished record in course design and delivery, experiential and research-inspired learning, graduate student training and mentorship. She has extensive experience serving on executive boards for a number of regional, national, and international organizations that support higher education, research and technology and scholarship, including the American Musicological Society and the Canadian Association of Fine Arts Deans.
Member, President's Advisory Council
Member, Integrated Planning Committee
Ex officio member of the Deans' Council
Guest member of the University Senate
Chair, VPAC COVID-19 Advisory Group
Co-Chair, COVID-19 Transition Team
Co-Chair, Academic Advisory Committee on Equity and Diversity
Member, Reflection and Change Committee to develop the university's Equity Action Plan
COVID-19 leadership on academic continuity, return to campus, and innovation post-pandemic
Academic EDI initiatives
Planning Tools leadership
Leadership support for decanal searches
Leadership of the Distinguished Women's Scholars Series