Associate Vice-President Faculty Relations and Academic Administration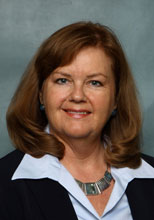 Michele Parkin
Phone: 250-721-7114
Fax: 250-721-7216
Email: avpfraa@uvic.ca
University of Victoria, PO Box 1700 STN CSC
Michael Williams Building (MWB), A263
Victoria BC V8W 2Y2 Canada
Administrative and professional experience
Michele came to UVic from Western University (London, Ontario) where she was the Director, Faculty Relations (2004-2017).  While at Western Michele introduced several successful initiatives, including a comprehensive academic leaders' development program, an efficient electronic process for part-time faculty appointments, and a faculty engagement survey which resulted in several institutional initiatives to build engagement and work satisfaction. During that time, she developed and maintained a positive and productive relationship with the faculty and librarian unions, as she hopes to do at UVic. Michele has also regularly taught a variety of courses in the areas of business and human resources, and has taken on extra-curricular roles which have enabled international experiences for staff and students, and advanced the university's United Way campaign at Western.
Michele is a lawyer, called to the Ontario Bar, holds a master's degree in Business Administration from the Richard Ivey School of Business and is also a credentialed human resources professional.  She brings prior experience as a civil litigator, labour and employment lawyer, and Director of Human Resources.  Michele is happy to be working with the UVic community to advance its mission and vision of excellence.
Member, Deans' Council

Member, President's Advisory Council

Member, Integrated Planning

Member, Cross Institutional Efficiency Project Steering Committee

Member, Privacy Steering Committee

Member, Employment Equity Advisory Group

Member, Joint Committee on the Administration of the Framework Agreement (JCAA)
VPAC is dedicated to recruiting and retaining a diverse group of exceptionally talented faculty and supporting them in ways that allow them to achieve their highest potential. In this position, reporting to the VP academic and provost, the AVP faculty relations and academic administration is responsible for all faculty relations matters at UVic including:
recruitment and retention issues
the negotiation, interpretation and administration of the faculty Collective Agreement
drafting new university policies and procedures and advice interpreting existing policies related to faculty
Working closely with the director, faculty renewal and academic leadership initiatives, and the adviser to the provost on equity and diversity, this portfolio includes support and training of academic administrators.
As a practicing lawyer, the AVP faculty relations and academic administration provides legal advice to deans, chairs, directors and senior administrators on matters related to faculty, students, and academic policies, procedures and regulations.