Associate Vice-President Academic Planning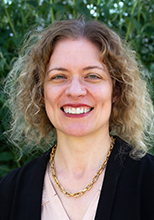 Dr. Susan Lewis
Acting AVP Academic Planning
Phone: 250-721-7012
Fax: 250-721-7216
Email: apasst@uvic.ca
University of Victoria, PO Box 1700 STN CSC
Michael Williams Building (MWB), A259
Victoria BC V8W 2Y2 Canada
Dr. Susan Lewis was appointed as Acting Associate Vice-President Academic Planning for the period of July 1, 2019 to December 31, 2019. In this acting role, Susan will ensure continuity of many important initiatives currently underway and provide leadership of the portfolio.

Susan holds a PhD in Musicology from Princeton University, and a Master of Fine Arts (Princeton), Master of Music (University of Arizona), and Bachelor of Arts and Bachelor of Music degrees from Queen's University. Her international experience includes studies at the University of Glasgow and University of Edinburgh, and active research and global partnership networks that span North America, Asia and Europe. Prior to her appointment she was Dean of the Faculty of Fine Arts and Director of the School of Music at the University of Victoria, where she also has an appointment as Professor of Musicology.

Susan has fostered and practiced innovative teaching and research, with a distinguished record in course design and delivery, experiential and research-inspired learning, mentorship, and publication in the field of musicology. She has published three sole-authored books and one co-authored book on European and global music from 1500-1750 with the support of a Standard Research Grant and Insight Grant from SSHRC.
Dr. Lewis has a distinguished record of achievement as a researcher, teacher and administrator. She has a successful track record of advocacy, leadership, and support with a strong emphasis on student success, teaching excellence, research and creative activity, experiential learning, and research-inspired teaching. Dr. Lewis has extensive experience serving on executive boards for a number of regional, national, and international organizations that support higher education, research and technology and scholarship, including the American Musicological Society and the Canadian Association of Fine Arts Deans.
Ex officio member of the Deans' Council
Ex officio member (non-voting) of the Senate
Designated chair of the Senate Committee on Planning
Ex-officio member of the Senate Committee on Libraries
Ex-officio member of the Senate Committee on Continuing Studies
President's appointment to the Senate Committee on Academic Standards
Ex-officio member of the Senate Committee on Learning and Teaching
Member of BC Council on Admissions and Transfer
Member, Educational Equity Committee
Member, Student Systems Steering Committee
Member, Information Systems Steering Committee
Island Medical Program member
Member, Distributed Program Planning Committee
Member, Interuniversity Planning Committee
Member of Campus Planning Committee, Ex-officio
Chair, Math Working Group
Senate Committee on Awards (president's nominee)
Member, Health Education and Research Council
Member, School of Public Health & Social Policy Advisory Committee
Member, President's Advisory Council
Member, Centre on Aging Education Committee
Chair, Course Experience Survey Advisory Committee
Member, Learning and Teaching Centre Advisory Council
Co-Chair, Academic and Student Services Committee
Co-Chair, Academic Steering Committee Meeting – CanAssist
Member, Classroom Infrastructure Committee
Chair, Timely Declaration of Majors Committee
Chair, Timetable and Course Scheduling Committee
Co-Chair, Indigenous Academic Advisory Council
Member, Integrated Planning
Member, Enhanced Planning
Chair, Learning Outcomes
Chair, Learning Spaces Initiative
Member, Student Mental Health Strategy
Member, Tuition Fee Committee
Member, CES Long-Term Planning Committee
Member, Council of Centre Directors
Member, JCURA Advisory Committee
Member, Risk Management Steering Committee
Member, Priority and Governance Review Council
UVic is committed to providing exceptional learning experiences for students. Reporting to the VP academic and provost, the AVP academic planning works to ensure the quality of current and future academic programs by:
coordinating all aspects of major emerging academic programs, from fit with the university and faculty strategic plans, pedagogical approaches, recruitment and marketing plans, and resources requirements through to advisory and administrative involvement once such programs are launched
overseeing academic issues related to major emerging research initiatives (e.g., appointments)
overseeing comprehensive reviews of current academic programs
liaising with external institutions involved in major emerging academic initiatives such as Vancouver Island Health Authority, Queen Alexandra Foundation and Ministry of Health
coordinating UVic's role in partnerships with other post-secondary institutions, external institutions, and governments related to planning and supporting academic program quality, sustainability and development
overseeing UVic's role in the Island Medical Program, a distributed program of the University of British Columbia Faculty of Medicine
The AVP academic planning oversees the Office of Institutional Analysis, the Office of Co-operative Education and Career Services, and the Learning and Teaching Centre.