Acting Associate Vice-President Academic Planning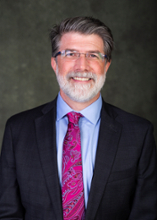 Dr. Robin Hicks
Phone: 250-853-3761
Email: avpap@uvic.ca
University of Victoria, PO Box 1700 STN CSC
Michael Williams Building (MWB)
Victoria BC V8W 2Y2 Canada
Dr. Robin Hicks is appointed as Acting Associate Vice-President Academic Planning for the period from October 15, 2020 to August 31, 2021. In this role, he leads the development and redesign of academic programs, oversees reviews of existing programs as part of the university's quality assurance reporting, creates domestic partnership agreements, and leads experiential learning through oversight of the Co-operative Education Program and Career Services and the Division of Learning, Teaching Support and Innovation. Robin obtained his Bachelor of Science (Chemistry, 1st class honours) from Dalhousie University and his PhD (Chemistry) from the University of Guelph. His international experiences include research and/or teaching at the University of California, Santa Barbara, the University of Washington, and Kyushu University. Prior to his appointment, he was Associate Dean Academic and also Acting Dean of the Faculty of Science at the University of Victoria, where he has an appointment as Professor of Chemistry.

Robin's research program at the interface of inorganic and organic chemistry has garnered a number of institutional, regional, and national awards. He has published over 80 peer-reviewed scientific articles and has published a book (as Editor) on Stable Radical chemistry. Robin has mentored a large number of students in his research laboratory, including graduate and undergraduate students -  many of whom have gone on to successful careers in a wide range of fields. Robin has also been heavily involved in his scholarly community, having served as Chair of the Inorganic Division of the Canadian Society for Chemistry, and will be Conference Chair for the 2023 Canadian Chemistry Conference and Exhibition; Canada's largest meeting in the chemical sciences field.
Member, President's Advisory Council
Ex officio member of Campus Planning Committee
Co-chair, Climate and Sustainability Action Plan Integrated Steering Committee
Member, Integrated Planning Committee
Ex officio member of the Deans' Council
Guest member of the University Senate
Chair, Senate Committee on Planning
Ex-officio member of the Senate Committee on Continuing Studies
President's appointment to the Senate Committee on Academic Standards
Ex officio member of the Senate Committee on Learning and Teaching
Chair, Academic & Systems Services Committee
Member, Risk Management Steering Committee
Member, VPAC COVID-19 Advisory Group
Member, UVic Health Initiative Advisory Group
The Office of the AVP Academic Planning offers planning services and support for academic operations of the university to further its vision: to be the Canadian research university that best integrates outstanding scholarship, engaged learning and real-life involvement to contribute to a better future for people and the planet.
UVic is committed to providing exceptional learning experiences for students. Reporting to the Vice-President Academic and Provost, the Associate Vice-President Academic Planning works to ensure the quality of current and future academic programs by:
Increasing experiential learning opportunities so that students are transformed by their time at UVic, and are equipped for personal success and to contribute effectively as alumni and global citizens
Overseeing all aspects of major emerging academic programs, from fit with the university and faculty strategic plans, pedagogical approaches, recruitment and marketing plans, and resource requirements through to advisory and administrative involvement once such programs are launched
Leading Quality Assurance through regular review of academic programs and accreditation
Developing strategic partnerships with other post-secondary institutions, external institutions, and governments related to planning and supporting academic program quality, sustainability and development
Overseeing UVic's role in the Island Medical Program, a distributed program of the University of British Columbia Faculty of Medicine
The AVP Academic Planning provides institutional leadership of experiential learning and oversees the Division of Learning and Teaching Support and Innovation and the Co-operative Education Program and Career Services.