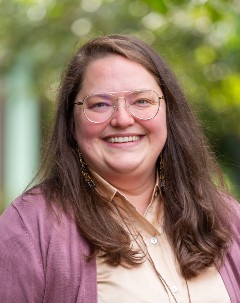 Helping Indigenous students across Canada
Indigenous students across Canada, and all students from Kelowna, Okanagan and Penticton
Quick facts
Hometown

Coquitlam, BC

Education

Diploma in Broadcast Journalism, BC Institute of Technology | Bachelor of Arts in Professional Communication, Royal Roads University

Random factoid

I won a gold medal in ringette at the BC Winter Games.
About Samantha
Aanii Boozhoo! Samantha IND IZH I NI KAAZ.
My name is Samantha, and I'm a registered member of the Wiikwemkoong First Nation on Manitoulin Island, Ontario. My grandmother taught me many Anishinaabemowin stories and words that I still use today, and I'm taking online classes to learn even more about the Anishinaabemowin language.
I started my post-secondary studies in broadcast journalism at BCIT, which led to working on TV and radio coverage for the 2010 Winter Olympics in Vancouver. My passion for education took me to China and Japan to teach English, and I'm now working on a Master of Arts in Educational Leadership and Management.
As an Indigenous Student Recruitment Officer, I focus on helping Indigenous students and communities discover the opportunities that are available to them at UVic.
My advice to future university students
Take advantage of all of the supports and services available to you at UVic, and make friends with your fellow students through clubs and other activities. I encourage every Indigenous student to get to know the people at the First Peoples House and participate in the many events and programs offered throughout the year.
Contact
Let's talk!
I'm here to answer any questions you have about UVic. We can connect over email, talk over Zoom, or meet in person if you're planning a visit to our campus.