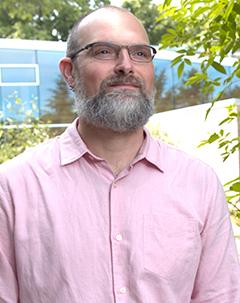 Transfer students
I work with students transferring to UVic from Canadian universities and colleges.
Quick facts
Hometown

Thornhill, Ontario

Education

Bachelor of Arts in Geography, University of Victoria | Master of Arts in Geography, University of Victoria

Random factoid

In the summer of 2022, I finally made it to Yankee Stadium and Fenway Park
About Brian
I am a social geographer, an aspiring novel writer and, most importantly, a father. I'm also a west coast convert, having moved from Ontario to British Columbia in 1997 (and on to Victoria in 2001), who returned to school after a nine-year absence to complete two degrees.
I spend my weekends tending to my garden, running my dogs tired, and hiking the great and numerous trails of this beautiful island. If all goes accordingly, there are a few innings of baseball watched as well.
My advice to future university students
If you have a question, ask it! If you don't get the answer you need, keep asking! This means getting to know your professors, lab instructors and tutorial assistants, as well as the countless members of staff at the university. UVic is full of useful resources that will help to make your university experience go smoothly. Finding out about them is the key.
Contact
Let's talk!
I'm here to answer any questions you have about UVic. We can connect over email, talk over Zoom, or meet in person if you're planning a visit to our campus.